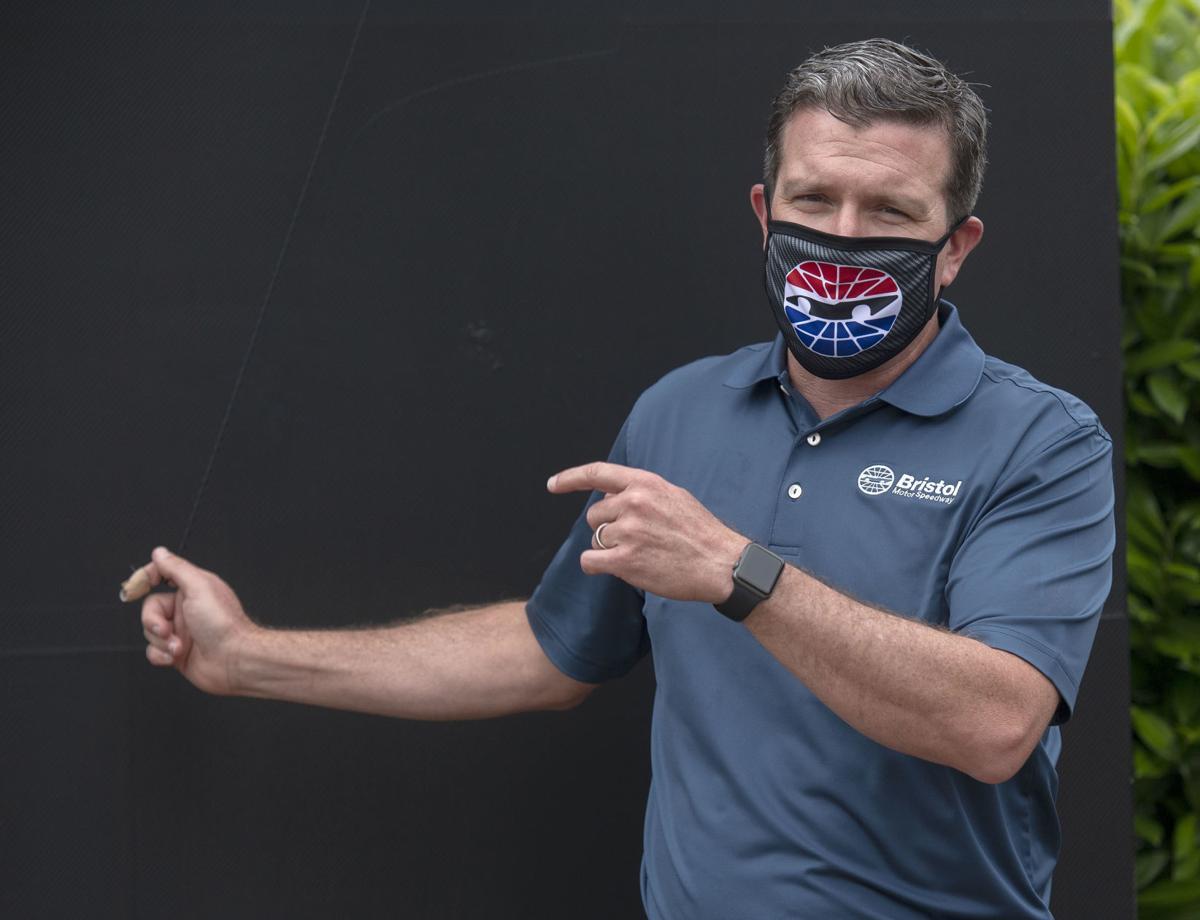 BRISTOL, Tenn. – For years there has been talk that NASCAR's All-Star race would fit perfectly at Bristol Motor Speedway, long considered one of the more popular tracks in the sport.
It took a pandemic to make it happen, but that will, indeed, be the case when NASCAR's best rolls into Bristol on July 15.
"It is huge. You think about what goes into putting on all-star events for any sport in a community," BMS Executive Vice President and General Manager Jerry Caldwell said. "It is years of planning, it is years of putting together bid packages and putting together host communities and trying to convince that sanctioning body for whatever sport it is."
Now Bristol has 27 days to prepare to do its part, not only for this landmark opportunity, but also to try to make sure it's not just a one-time deal.
 "I think the way for us to have our best chance for that is to put our best foot forward. Who knows if we will ever get to see this again," Caldwell said. "We have been given the gift of having this All-Star race.
"I think the best opportunity for having it again is to put on a great show and put on a safe event for the fans and welcome the NASCAR community and make it be something they want to come back to."
Thirty thousand spectators will be allowed, the largest gathering of people at a sporting event since the coronavirus shut down sports in mid-March.
While COVID-19 cases have spiked recently in North Carolina, numbers in Northeast Tennessee and Southwest Virginia have been fairly limited.
"It is because our people are disciplined, we are using good sense and personal responsibility. Even though we have guidance they know themselves what they need to do to protect themselves," Sullivan County Mayor Richard Venable said. "People my age and couple of us who have got some gray hair, we understand we are more vulnerable. If they use good old Northeast Tennessee and Southwest Virginia common sense we are going to be fine."
Started in 1985, the NASCAR All-Star Race has been held at Charlotte Motor Speedway every year but one, with Atlanta hosting it in 1986. When the move from North Carolina became necessary due to increased COVID-19 numbers, BMS was willing to oblige.
"We in Bristol have been given this gift. It has been dropped in our lap and it is a tremendous honor," Caldwell said. "I think it is a testament to the team at Bristol and the team at Speedway Motorsports and NASCAR as a whole that they can be nimble enough to move an event like this and really do it for the fans.
"We say all the time we work for the fans, but that is why this is being done, to move it so we can give access to the fans to be able to come and see the sport that they love."
Caldwell said there has been a "tremendous response" to ticket availability, with 30,000 people expected to follow social distancing and other CDC guidelines in a facility that seats more than 150,000.
"It is a process. That is probably the most complex part of this thing moving so fast was figuring out how to get people in the grandstands," he said. "Make sure everybody is safe, honor the ticket holders from Charlotte and making sure we are honoring the ticket holders here in Bristol and the other Speedway Motorsports tracks.
"We have got amazing, super-smart people in the ticketing system with Speedway Motorsports and they are figuring all stuff out."
It will mark the first of what is expected to be two night races at Bristol this year. The annual Bristol Night Race, long considered the most popular race in the sport, is slated to be held on Sept. 19.
Bristol, Virginia Mayor Neal Osborne will certainly be glad to see race fans back in town.
 "It is a huge deal obviously for us. All of a sudden we have a playoff race and an All-Star race coming up," Osborne said. "It is a big deal for us from a standpoint of raising the spirits of people morally, but it also going to be a big deal for the cities for tax revenue considerations. We need that money."
Bristol has achieved plenty of historic moments over the decades, and the arrival of the All-Star race will only add to a list that includes the Tennessee-Virginia Tech football game in 2016 and red clay added to the track in 2000-01 for late model and sprint car races.
 "It is one of those things that has been talked about forever," Caldwell said. "I have said previously, you think about other events like dirt [races] and the football game, those are events that were talked about for years and years and years and then they happened and people continued to talk about them.
"This will be one of those events that almost has folklore status."
Caldwell figures another reason NASCAR was so willing to move the All-Star Race to Bristol is the history of racing at the track, especially in recent years.
"The racing is always good at Bristol, but of late, the race fans have clearly spoken loudly that this has been great racing, some of the best racing they have ever seen," Caldwell said. "I am excited. A night race in Bristol, a million dollars on the line, no season impact, no points impact, who knows what is going to happen."
While the actual format for the All-Star Race is still being determined, the prize of $1 million to the winner remains the same.
What hasn't remained the same is NASCAR during this pandemic. Caldwell is pleased that the sport has been willing to try new ideas since returning to the track.
"It is awesome. What is not to like," Caldwell said. "Prime time racing, there are so many things that have been talked about for years that really through this pandemic has presented opportunities…
"Wednesday night racing is something that has been talked about for a long time. We are trying it. Moving some of these races, the All-Star Race to Bristol, has been talked about for a long time. We are trying it.
"I applaud our sport. I am really proud of the efforts that we have working together on all this."
Be the first to know
Get local news delivered to your inbox!