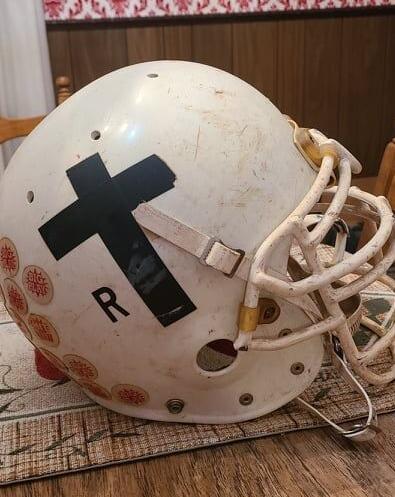 For Shane McDavid, the 1995 high school football season provided him with some of the best memories of his life and one of the most painful.
McDavid was a senior tight end and defensive end for the Twin Springs Titans that fall as the school from Nickelsville, Virginia, went through the regular season undefeated and won their second straight Cumberland District championship.
" It was special," McDavid said. "A bunch of us had played ball together since Little League. We lived in the weight room and we ran track in large part to stay in shape for football. We were like a big family. There was chemistry with that team that was really special. We knew where each other were without looking."
His teammates were there for him in a different and more important way on Oct. 28, 1995, when McDavid's father, Raymond, died unexpectedly three days prior to Shane's 18th birthday and six days before the Titans were to play their ninth game of the season against Thomas Walker.
" Life-changer to say the least," McDavid said. "Dad was a team dad. Many players came by my house after practice or school and Dad was often there to play ball with us or offer advice. I lived really close to Twin Springs, so there was lots of pickup basketball and my mom cooking for the team of guys. Dad was always at the games to cheer us on."
Cheers turned to tears for those in the Scott County community when they found out the news about Raymond McDavid. There are tight bonds on any high school football team, but those links are particularly strong when it comes to small schools like Twin Springs.
" We had to rally around our brother and be there for him," said Charles Quillen, also a member of the team and McDavid's closest friend. "Practice was not something we were really thinking about. Myself and some of the other guys were pallbearers at his funeral. I'm pretty sure some of us missed a couple of days of practice that week."
That Friday night when the Titans took the field they had a new look.
Players had removed the stickers of the Titan logo off one side of their helmet and replaced it with decals depicting a black cross and the letter R to honor Shane's father.
Perhaps still stunned and grieving, the Titans fell behind 17-0 at halftime as their perfect record became precarious.
"Honestly, a lot of that game seems like a blur," Quillen said. "We came out flat and let them jump up on us. It was a crazy hard week and I remember at halftime it was not only how we had to come back for us as a team, but we had to do it for Shane's dad."
The team's quarterback also made a promise at intermission.
"After I had given my halftime talk, Matt Bays stood up," recalled Twin Springs coach Bucky Meade. "He said, 'I got us into this mess, I will get us out.' "
Twin Springs got on the board in the third quarter on Wes Davidson's touchdown run and a two-point conversion pass from Bays to Jason Scalf, but still trailed 17-8 with less than 12 minutes remaining.
The Titans were down 17-14 when they got the ball back with less than two minutes left and more than 90 yards to cover.
Bays completed some long passes to get the Titans in the red zone and on the game's final play he faked an option pitch to running back Kelly Flanary and then dove over the goal line from 2-yards out as time expired.
Final score: Twin Springs 20, Thomas Walker 17.
It was the defining moment in the greatest season in program history and one of four tight games the Titans played that year.
In a 13-7 win over Honaker, Davidson scored the tiebreaking touchdown in the third quarter and then the defense of the Titans snuffed out a drive by the Tigers at the Twin Springs 22-yard line with 1:27 remaining.
Twin Springs trailed 21-6 at halftime in Chilhowie before rallying for a 28-27 victory.
" I remember the Chilhowie game well," Flanary said. "It was during the Apple Festival there and I think they scheduled us for an easy win."
Twin Springs was inspired in the second half and the rugged rushing attack put together scoring drives of 57, 75 and 64 yards over the final two quarters. Flanary (117 yards), Davidson (113 yards) and Bays (97 yards) led the way.
" When we went in the locker room at halftime, Coach Meade gave us a speech that you felt in your heart," said Jason Dockery.
The Titans were hard-nosed.
" We had a big, talented offensive line and I think we averaged about 350 yards rushing a game," Flanary said. "We were very versatile with Matt Bays at quarterback. He was like having a fourth running back in the wishbone, but he had a great arm also. We even had a version of a spread offense we used some, which wasn't common for small-school Southwest Virginia football at the time. We threw the ball when we had to, but we just tried to control the game with our running attack."
A week after that triumph over Thomas Walker, Twin Springs trailed by one point entering the fourth quarter against rival Rye Cove. However, the Titans would prevail 20-15 to complete a 10-0 regular season.
The Titans had gone 9-3 and finished as Region D, Division 1 runner in 1994 and with most of the starting lineup back in the fold, the expectations were high.
" At the end of the '94 season, we set our goal to be the first football team in Twin Springs history to go 10-and-0," Meade said. "We were driven by our goal and when things got tough we would rally together and we had each other's backs. … The '95 season was one of the highlights of my coaching career, but I have to give recognition to all the players and teams that preceded the '95 season as they were a big part as they were the framework and the groundwork to build the program."
That milestone season ended with a first-round playoff loss to J.I. Burton, but a postscript comes to this story 26 years later.
Twin Springs won the Cumberland District title this season for the first time since 1995 and the Titans have become the second team in program history to win 10 games. Charles Quillen and Matt Bays are among the assistant coaches on Keith Warner's staff.
Twin Springs clinched the 2021 district championship with a 16-12 win over Thomas Walker, overcoming a halftime deficit.
This fall has once again featured smiles and sadness for McDavid.
He was there on Saturday as his alma mater topped the Eastside Spartans in the first round of the Region 1D playoffs and his parents crossed his mind.
" My mother [Mary Lou McDavid] had dementia and lived with us for 3 ½ years," McDavid said. "We finally had to put her in assisted living when we could no longer meet her needs. She was there about six months. She passed away the Sunday before they played Thomas Walker this year. Twin Springs wins district [for the first time since '95] when my other parent passed. I have thought about this a lot in the last couple of weeks trying to find the connection or somehow the understanding of it all. But we have to trust the Lord's ways."
The memories never fade for members of that 1995 team and the image of Bays diving into the end zone that night against Thomas Walker to cap the unforgettable rally remains as vivid today as it did 26 years ago.
" For us to come back," Quillen said. "It felt like it was just something bigger than us."
Now, for a look at high school football moments which occurred this week in history:
Nov. 10, 1961
Bill Sutherland's touchdown run in the third quarter was the difference in Tazewell's 6-0 triumph over Saltville. Larry Brown blocked a punt by Saltville's Doan Oakes to set up the key TD. … Dick Truitt scored three touchdowns in Oak Ridge's 27-13 drubbing of Dobyns-Bennett.
Nov. 9, 1979
Dirk Gentry's touchdown pass to Randy Gross with 9:10 remaining helped Tennessee High seal a 14-6 victory over Virginia High. … Kelly Vanover (26 carries, 127 yards, two TDs) starred as Clintwood posted a 14-6 win over Pound. … Todd Heldreth threw touchdown passes to Jack Richardson and Barry Patton and also returned a kickoff 80 yards to the house for the Richlands Blue Tornado in a 42-32 triumph over Marion.
Nov. 13, 1987
Behind five touchdowns from Calvin Talford, Castlewood outlasted Fort Chiswell for a 33-32 overtime win in the first round of the Region C, Division 2 playoffs. … Jamie Webb's 34-yard touchdown pass to Shannon Logan as time expired gave Pound a 20-18 victory over Appalachia in the first round of the Region D, Division 1 playoffs. … Ricky Smith rushed for 187 yards to highlight Rural Retreat's 32-29 Region C, Division 1 playoff win over Holston.
Nov. 9, 1990
Tazewell trounced Virginia High, 29-0, as Brian Buckland rushed for 125 yards and three touchdowns. … Sam Daniels racked up 315 rushing yards in J.I. Burton's 60-0 thumping of Thomas Walker. … Jamie Bryant's 204 rushing yards and four touchdowns led the way for J.J. Kelly in a 41-6 beatdown of Rye Cove.
Twin Springs 20, Thomas Walker 17
Thomas Walker 0 17 0 0—17
TW – Smith 1 run (Brooking kick)
TW – Harris 1 run (Brooking kick)
TS – Davidson 3 run (Scalf pass from Bays)
TS – Davidson 3 run (pass failed)
TS – Bays 2 run (no attempt)
First Downs: TS 11, TW 12; Rushes-Yards: TS 45-182, TW 20-65; Passing Yards: TS 95, TW 173; Comp.-Att.-Int.: TS 8-15-1, TW 13-25-2; Fumbles-Lost: TS 2-2, TW 3-2; Penalties-Yards: TS 4-20, TW 6-55; Punts-Average: TS 4-27, TW 3-36.
1995 Twin Springs Titans
Twin Springs 34, Castlewood 0
Twin Springs 25, Pocahontas 0
Twin Springs 13, Honaker 7
Twin Springs 28, Chilhowie 27
Twin Springs 49, St. Paul 13
Twin Springs 40, Ervinton 14
Twin Springs 32, J.J. Kelly 6
Twin Springs 36, Whitewood 0
Twin Spring 20, Thomas Walker 17
Twin Springs 20, Rye Cove 15
Region D, Division 1 Playoffs
J.I. Burton 29, Twin Springs 14