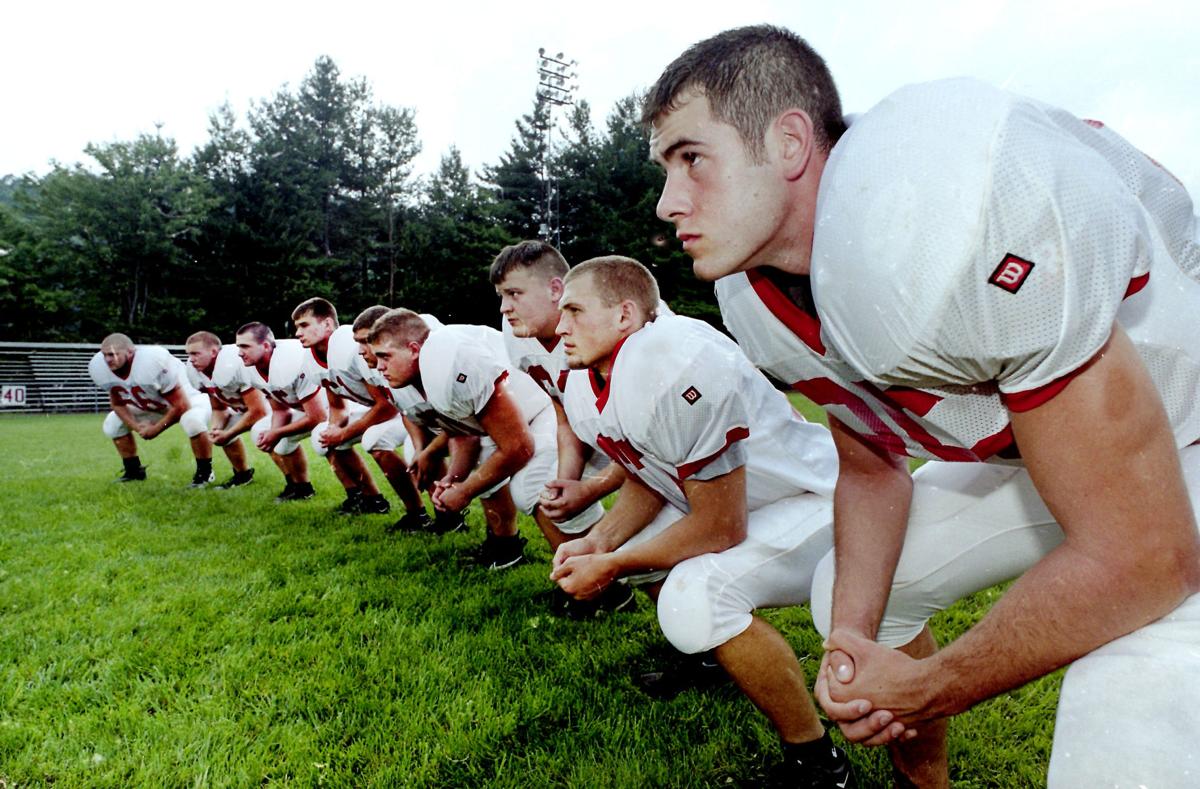 As the red-clad sea of fans began rushing the field at Carroll Dale Stadium on Oct. 15, 1999, the party was on in the town of Wise, Virginia.
For wide receiver/cornerback Adam Dotson of the J.J. Kelly Indians, exhaustion had begun to set in and his celebration was limited.
"Not much for me," Dotson said. "I was tired and sore."
The fatigued senior had indeed put in yeoman's work that night while also putting his name in Lonesome Pine District lore.
Dotson caught a 42-yard touchdown pass from Tommy Asbury and returned an interception 69 yards for a score in playing a pivotal part in one of the biggest upsets in the history of high school football in far Southwest Virginia.
J.J. Kelly 19, Powell Valley 14.
Powell Valley's 34-game winning streak was over as the two-time defending state champions were defeated for the first time since a 14-7 setback to Giles in the 1996 VHSL Group A, Division 2 semifinals.
The team that had beaten the bunch from Big Stone Gap had not done so since 1981.
The Bristol Herald Courier had drawn the ire of J.J. Kelly fans in 1998 when a writer had predicted Powell Valley to post a 99-0 win over the Indians. The final ended up being 55-0.
This newspaper had predicted Powell Valley to post a 32-14 win a year later. This time the scribes were flat out wrong.
"We had a huge chip on our shoulders," said Jonathan Rolen, a junior defensive end/tight end for J.J. Kelly that season. "Were we confident? Sure. But I believe we were more angry than anything – similar to the kid being bullied on the playground who finally snaps back."
"I remember breaking my hand in practice that week and thinking you would need to shoot me dead to miss the game," said Jared Brookman, a senior defensive tackle at J.J. Kelly. "We had a great week of practice. Everyone was focused and no one was screwing around. The magnitude of the game and who we were playing against fed into that. I think we thought we needed everything to go perfectly to win maybe. It was by far our best week of practice all season maybe ever."
Powell Valley found out quickly J.J. Kelly was no pushover.
"We ran into a team that was ready to play, that's what I remember," said Travis Maddux, who had 71 receiving yards for Powell Valley in the loss." I felt like we could win and were going to win almost the whole game honestly, but they were ready to take us down."
J.J. Kelly built a 13-0 halftime lead behind Dotson's big plays and an inspired defense.
"I heard stories of people hearing the score at halftime and thinking it was a mistake," Rolen said. "People were still arriving to the game during the second half because they couldn't believe it and decided to come to the game. The attendance almost doubled as the game was being played."
The most memorable play came with 10:08 remaining when Derrick Crabtree blocked a punt and Shannon Hall recovered the pigskin for a touchdown as Kelly went up 19-7.
"We practiced special teams as hard as offense and defense," said Rob Stinson, a sophomore wide receiver on the team who missed the game with an injury. "That blocked punt Crabtree had was not an accident. Every single practice we worked on little things like that."
Such attention to detail had been instilled in the Indians by Kevin Saunders, who was in his first year as the team's head coach. To put it bluntly, Saunders did not tolerate any B.S. and loathed excuses.
"Coach Saunders was the best coach I've ever had," Rolen said. "He turned the program around with an emphasis on fundamentals and technique and perfect plays. The weight room was a big part of it. Before he came we had a couch and a big-screen TV in the corner of the weight room. I remember him seeing it for the first time and flipping out and saying, 'No wonder you guys don't win any games. Throw out that couch and put that TV in my office. We are getting you all a real weight room.' And he did just that. … We mentally did not know what it took to win. He built up our confidence and gave us a grit about us that we never had before."
Kelly had lost 35 of its previous 40 games before Saunders arrived, but it didn't take long for him to turn the Indians into a contender. They'd go 6-4 in 1999, while reaching the playoffs in 2000, 2001 and 2002.
"He saw potential in you that you could not see for yourself," Stinson said. "Whenever we won, he gave all the credit to the players and his coaching staff. Whenever he lost, he took fault, claiming he had failed because he had not prepared us well enough. That was his mentality. During the year he would hold mandatory 7 a.m. study hall for anyone who did not have a B average. And if you had over a B average, you still had to come to help tutor your fellow teammates."
What did Saunders have to say after J.J. Kelly pulled the shocker?
"This ain't about me," he told Trey Williams of the Bristol Herald Courier the day after the game. "This is for these kids. I've got 12 seniors who have dedicated themselves to this football team and this community. I guess everybody thinks I'm a hothead, but I couldn't care less if anybody knows anything about me whatsoever."
Everybody knows that Saunders is a good coach and he's one at every stop. In a case of history repeating itself, he's 4-5 in his first season as coach of the Gilmer Bobcats in Georgia, a program which had lost 30 in a row before he took over.
Saunders has won a bunch of games, but that victory over Powell Valley 20 years ago is one that he's remembered most for around these parts.
A popular saying by J.J. Kelly's players at the time was "Red never dies."
The memory of that game never will for those who were there.
"Like a movie," Brookman said. "It kind of freaked me out. I remember shaking Powell Valley's players hands after the game and all of them were in tears. Most of those kids had never lost before, so I understand why they were emotional. … I think I broke down in the locker room after the realization hit me at what we did that night."
It would be the first of just two occasions that J.J. Kelly beat legendary PV coach Phil Robbins, who guided the Vikings from 1983-2010.
"I had a ton of respect for Coach Phil Robbins of Powell Valley," Rolen said. "He was a big reason I was selected to the [Virginia High School Coaches Association] East-West All-Star football game my senior year. My best football games were against Powell Valley and he took notice. Coach Robbins was a true coaching legend, but that night belonged to us."
Now, for a look at high school football moments which occurred this week in history:
Dick Cranwell threw touchdown passes to Bobby Chaffin and Buddy Meadows as Richlands edged the Big Creek (West Virginia) Owls, 14-13. … Lowell Terry, Bill Gilbert and Bill Williams scored touchdowns in Jonesville's 19-14 win over Wise. … Whitey Pullen's 87-yard kickoff return for a touchdown and 5-yard scoring jaunt highlighted Tennessee High's 34-0 victory over Virginia High.
Tommy Greer and Pat Loggins logged touchdowns in Gate City's 16-14 win over Elizabethton. … Behind two TDs from John "Raindrop" Rainey, Tazewell topped Grundy, 20-0. … David Reid's six touchdown runs highlighted Lebanon's 66-0 trouncing of Twin Springs.
Ron Sensky and Kevin Bourne reached the end zone in Tennessee High's 14-0 triumph over Virginia High. … A Mark Fields touchdown and David Qualls two-point conversion with 4:50 remaining gave Rye Cove an 8-7 win over Surgoinsville. … John Cato (nine carries, 137 yards, three touchdowns) was the star in Holston's 68-0 crushing of Cloudland.
Eddie Neel and Kimbo Spencer scored two touchdowns apiece in Graham's 32-0 beatdown of Grundy. … Jon White's interception return for a TD and Tom Cornett's fumble return for a score highlighted Sullivan East's 39-6 stomping of Sullivan Central. … Holston's Tim McVey scored two touchdowns and the Cavaliers finished with 323 yards of total offense in a 26-6 hammering of Honaker.