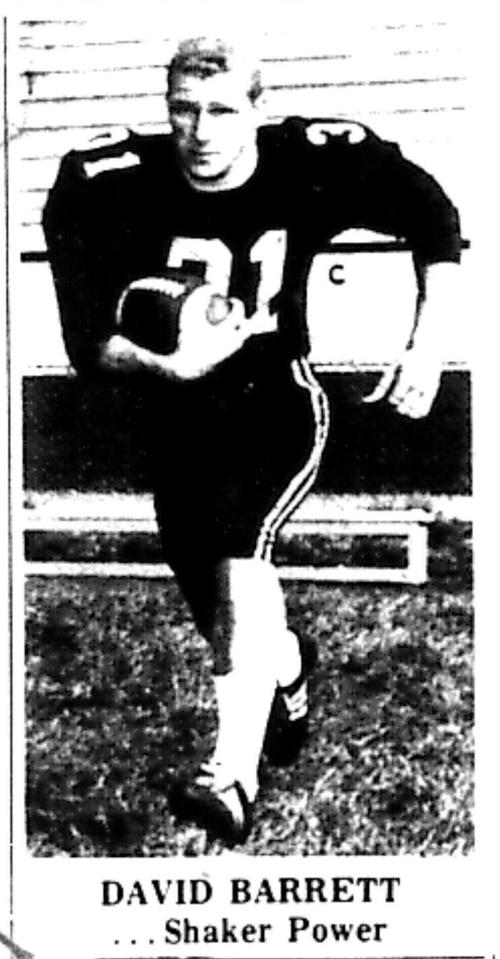 David Barrett's life has featured gridiron glory, a life-altering tragedy and an inspirational study in courage and perseverance.
He was a star running back at R.B. Worthy High School in Saltville, Virginia, a big and bruising ball carrier with a straight-ahead style who piled up yardage and touchdowns.
Heavily recruited by NCAA Division I programs, Barrett wound up at the University of North Carolina and played on both sides of the ball — first as a linebacker and then finding a starting spot as a guard on the offensive line for the Tar Heels.
Life forever changed for Barrett on April 14, 1975, when an automobile accident in West Virginia left him paralyzed from the waist down.
He spent many months at the Duke University Medical Center in Durham, North Carolina, recovering and undergoing rigorous rehabilitation. He eventually held positions with the Mount Rogers Planning District and had a stint as Town Manager of Glade Spring and still resides in Southwest Virginia.
"He was a great athlete and is a great person," said Frank "T-Bone" Lewis, the longtime basketball coach and guidance counselor at R.B. Worthy. "I respect him more for what he did after his football career though. He didn't let the accident get him down. He's just a No. 1 person."
Barrett stood 6-foot-3 and weighed 210 pounds as a senior in high school and would have been the anchor of many team's offensive lines at the time with that type of size.
"He was as big as he was fast and he was fearless," said Bill Farris, a high school teammate. "David by far was the biggest player on our team and he was very hard to tackle. Off the field, David was a gentle giant. … He was very knowledgeable about the game of football. He understood what needed to happen and he was a good on-field coach for the rest of us younger players."
Barrett accounted for 62 points in 1969 and surpassed that total in 1970 as the Saltville Shakers compiled a 5-3-2 record.
He scored all 16 of Saltville's points in a tie with Abingdon.
Barrett also rushed for a TD and two-point conversion in a draw with the Patrick Henry Rebels, a team that finished with a 9-0-1 mark.
Plenty of defenders would be shaking in their cleats when they saw the stud rusher for the Shakers coming their way.
"When we were in practice and had to get in a circle and do tackling drills," Farris said. "Nobody wanted to go up against David, because you were going to get hit hard."
College coaches took notice, including those at the University of Virginia and University of Tennessee.
However, the most persistent recruiter was a guy by the name of Billy Hickman, an assistant on head coach Bill Dooley's staff at UNC.
Hickman later served as an assistant coach with the NFL's Washington Redskins and Los Angeles Rams.
"Billy Hickman did more to get me out of Saltville than any coach anywhere," Barrett said. "His son would come home from high school and he'd say, 'Where's dad?' and his mom would say, 'He's up in Saltville trying to get that Barrett boy.'"
The Tar Heels succeeded and Barrett became a reliable contributor.
"David was a true Bill Dooley-type player," said Bobby Trott, a teammate of Barrett's at UNC "He was a team player and a tough, hard-nosed guy."
Barrett showed that team-first mentality when he changed positions, morphing from a linebacker to the right guard on the O-Line.
"Coach Dooley asked me about making that switch," Barrett said. "I said, 'Coach, I just want to play. It doesn't matter where.'"
His sophomore season, the Tar Heels were 11-1 and won the Sun Bowl.
He started as a senior in 1974 when UNC went 7-5 and reached the Sun Bowl again. Barrett paved the way for future NFL running backs James Betterson and Mike Voight, while playing alongside future Baltimore Colts and Washington Redskins standout Ken Huff on the offensive line.
Barrett more than held his own while battling in the NCAA Division I trenches.
"David Barrett and Mark Griffin opened a hole so wide Bill Dooley could have scored," wrote A.J. Carr of the Raleigh News & Observer in reference to a touchdown run by Betterson in a 31-0 whipping of Wake Forest.
Barrett let his play do the talking.
"He was a quiet, hardworking and devoted player at UNC," said college teammate Dale Lydecker.
Barrett was in West Virginia for a job interview when the accident that changed everything occurred. He had already been offered a job as an assistant coach with the Jonesville Bulldogs in Lee County that upcoming fall.
A David Barrett Day in Chapel Hill, North Carolina, raised $3,000 for Barrett's medical expenses and featured a softball game between members of the UNC football and basketball teams. A David Barrett Week was held in Saltville that May.
"David is one of the finest young men we have had in our football program," Dooley told a reporter from the Raleigh News & Observer a few days after the accident. "All of us are saddened by this tragedy and we are hopeful that David soon will recover."
Barrett did recover and became a success in his post-football career, overcoming the odds and focusing straight ahead. Just like he did as a running back with the Saltville Shakers and offensive lineman for the North Carolina Tar Heels.
"What I remember most about the accident was David never gave up and never let it beat him," Trott said.
Now, for a look at historical high school football moments which occurred this week in history:
Oct. 15, 1954
Jimmy Watkins scored the lone touchdown in East Stone Gap's 7-0 win over Coeburn. … Ronnie Wells and Jack Stallard reached the end zone as Wise posted a 12-0 victory over Pound. … Behind touchdowns from Bob Booth and Chain Lawrence, Saltville recorded a 13-0 triumph over William King of Abingdon.
Oct. 14, 1960
Marion's Ed Bales and Bobby Graybeal scored as the Scarlet Hurricanes stopped Grundy, 13-7. … Behind four touchdowns from James Lester, Lebanon romped past Rich Valley, 40-0. … Castlewood defeated Chilhowie, 13-6, as Texie Penland rushed for a score and also threw a TD pass to William Gibson.
Oct. 15, 1971
Ed Roberts kicked a field goal and David Bibee threw a touchdown pass to Larry Silcox as Tennessee High topped Erwin, 10-0. … Bill Hill rushed for two touchdowns and threw two TD passes to Larry Neese in Patrick Henry's 30-0 pounding of John Battle. … Joe Perry and Butch Shelton scored touchdowns in Virginia High's 14-6 victory over Grundy.
Oct. 16, 1981
Ricky Blankenship's 130 rushing yards highlighted Grundy's 36-22 victory over John Battle. … Behind three touchdowns from Bobby Tuell, Rich Valley rolled to a 41-20 win over Holston. … Hurley hammered Twin Springs, 43-8, as David Davis scored three touchdowns and kicked a field goal.
Be the first to know
Get local news delivered to your inbox!