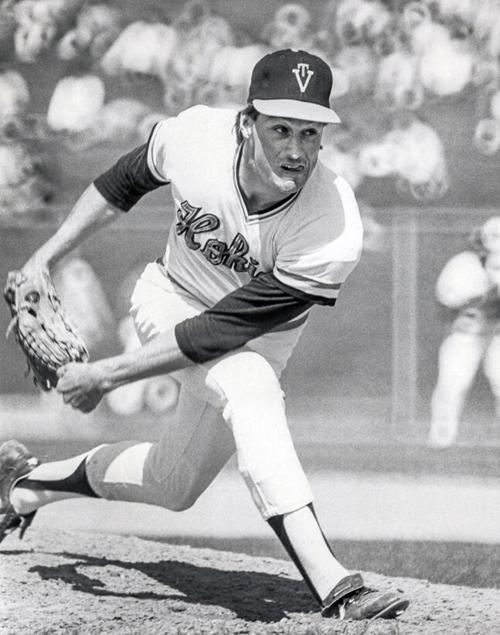 His birth name is Thornton Bayne Stringfellow.
Yet, for most of his life he's been known as Bean Stringfellow.
The original nickname was "String Bean," tagged on the 7-year-old Bristolian by neighbor J.P. White due to the kid's scrawny stature. It wasn't long before his moniker had been shortened to just "Bean" and the sobriquet stuck.
"If you saw me now, I've grown out of it," Stringfellow said with a laugh several days ago in a telephone interview. "They might forget how I played, but they'll remember the name."
People of a certain age in these parts recall both the name and the game for a left-handed pitcher who was a state champion at Virginia High, a record-setter at Virginia Tech and the owner of a 3.57 ERA over the course of five seasons in the minor leagues.
May 29 marked 40 years since Stringfellow struck out Scott Harrison of Colonial Heights to polish off a 4-0 victory at a packed DeVault Stadium that gave the Virginia High Bearcats their first VHSL state baseball title.
It was a team that finished 21-2 – splitting its series with Big 10 Conference champion Tennessee High and losing to Abingdon in the finals of the Southwest District tournament – and played all of its postseason games at home.
The lineup was led by the likes of first baseman Mark Wagner (.400 batting average), outfielders Mike Talley (.380), third baseman Eric Cross, second baseman Kim Key (.353) and outfielder Larry Campbell (.333) with clutch hits coming from those guys on more than one occasion.
The Bearcats were also motivated, having finished 13-8 and not qualified for the regional tournament in 1980.
"The year before we just laid an egg," Stringfellow said. "We were a little better than average which is not good at all for Coach [Eddie] Icenhour. I think we were more focused the next year in regards to winning the state championship."
It didn't hurt having two superstars at the top of the pitching rotation either.
Right-hander Mike Baumgardner posted gaudy statistics that included an 8-0 record and 0.40 ERA.
Stringfellow went 9-1 with a 0.74 ERA and struck out 88 batters.
The duo was selected as the Southwest District co-players of the year.
"Mike was our best pitcher," Stringfellow said.
Opponents of the bunch from Bristol were in a bad spot either way.
"Stringfellow and Baumgardner formed a powerful one-two punch," said Jeff Necessary, a freshman at Patrick Henry during the 1981 season. "They were great individually, but putting them together was incredible. They each seemed to have that extra gear to shift to when it was needed.
"As the game progressed, the tougher [Stringfellow] got. Baumgardner was the same way. If either of them ever got into a jam, you could just see the grit, the fire, the determination. They were winners, pure and simple. The intangibles they had can't be coached into players. What they had came from deep within. You sure don't see much of that these days with young people."
Stringfellow went all nine innings as VHS edged Patrick Henry, 2-0, in a nine-inning game in '81. He outdueled Bryce Waller of the Rebels as Baumgardner and Larry Campbell broke a scoreless tie in the top of the ninth inning with RBIs to help the Bearcats escape with the win.
"We knew they were really good and we were probably playing around .500 ball at that time," Necessary said. "We played them well that day. We didn't really do anything spectacular. We just made routine plays. We made one error, maybe two at the most. We made the right throws, backed up the bases and did the most basic things on defense.
"Offensively, we had a major challenge. As a ninth grader I certainly had never faced anyone like Bean Stringfellow. I remember swinging where I thought the ball was heading, then by the time I hit it, I was completely jammed. I never faced many people whose fastball moved like Stringfellow's did. He had amazing talent. We had a chance to win that game. We just couldn't push a run across when we needed to."
Neither could Narrows, who the Bearcats blanked 4-0 in the semifinals of the Region IV tournament. Stringfellow struck out eight in a five-hit shutout that time.
"He looked like he was throwing some smoke to me," Narrows coach Keith Rowland told Steve Bawden of the Bristol Herald Courier following the contest.
Baumgardner crafted a four-hitter against Abingdon in the Region IV title game, a 2-1 VHS victory.
The one-two punch continued to deliver the knockouts in the final two games of the season.
In the state semifinals, Appomattox could only meekly surrender as Stringfellow struck out 12 and yielded just five hits over seven innings in an 8-1 triumph over the Raiders. VHS ended the drama early with a six-run first inning with a two-run blast by Eric Cross being the highlight.
In the championship game played at DeVault Stadium, Baumgardner turned in a gem: 6 2/3 innings, three hits, zero walks, two strikeouts. However, it was a win he didn't get to polish off as he and Colonial Heights' David Waltman were ejected with one out remaining in the contest by home plate umpire P.G. Wingfield.
Here's what went down according to the involved parties when asked by sports editor Bill Evans of the Bristol Herald Courier in the moments following the game.
"He said something to me when he came to the plate, but I don't recall what it was. Then he put his bat toward my face," Baumgardner said. "I took off my glove and pointed my finger at him. I don't recall saying anything to him. I don't feel I should have been ejected."
Added Waltman, "When I came up to the plate, I told him that the umpires gave him the game. He said to come on out here. I think the umpires made the right decision to eject both of us."
That meant Stringfellow was called on to close things out.
"That's what made Mike who he was as a competitor," Stringfellow said. "Somebody was mouthing off and he didn't care for it and he let them know. .. He had done all the heavy lifting."
In the stands that day watching was Virginia Tech coach Chuck Hartman and he offered Stringfellow a chance to pitch for the Hokies following the game after seeing Stringfellow face just one hitter. The southpaw had originally planned to attend East Tennessee State University.
Stringfellow jumped on the chance to head to Blacksburg and all he would do was become one of the most productive pitchers in Tech history.
He was a two-time All-Metro Conference in selection and in 1985 won 10 games, compiled a 3.31 ERA and struck out 119 batters in 114 1/3 innings of work. That is still the single-season record for Ks by a Hokies pitcher.
He finished his career with 266 strikeouts, third-most all-time at the school.
Selected in the 17th round of the 1984 Major League Baseball Amateur Draft by the New York Yankees, Stringfellow spurned the chance to go pro and returned to the collegiate ranks.
The Atlanta Braves made him a ninth-round choice the following year and he'd advance to the Triple-A level with both the Braves and New York Mets organizations.
He pitched in the same rotations as youngsters Tom Glavine and John Smoltz, one of his catchers was future World Series-winning manager Ned Yost and he once struck out Bo Jackson twice and picked him off first base in one 1986 Southern League game.
However, he never got that call to the majors.
"My goal was always never to just play in the big leagues, but to be one of the best," Stringfellow said. "I don't think I exhibited enough patience and was a little immature at times just being honest. … I'm very happy with the memories I have and I was very fortunate."
He did become an agent for Major League Baseball players and Billy Wagner (Tazewell), Jose Bautista, Ron Gant and Francisco Cordero were among his All-Star clients.
"He knows how I was raised and where I came from," Wagner said in a 2010 interview with the Bristol Herald Courier. "I think that means a lot. He knows what I expect and what I deserve and stuff. I'm not into a lot of flashy stuff. He knows what I don't have to go out there and be seen in GQ, not that I would."
Stringfellow retired after 23 years in the agency game and now resides in Cape Charles, Virginia, with his wife.
As he reflected back on his baseball career recently, the memory that means the most from his time involved in the game occurred 40 years ago in Bristol.
"To this day, the highlight of anything I've been a part of and they can't ever take that away from us," Stringfellow said. "It was just a tremendous team."
Now, for a look at high school baseball moments which occurred this week in history:
Eric Meadows, Scott Allen, Darrin Morrison, Bobby Wolfe and Chad Musick scored for Lebanon in the bottom of the sixth inning, the difference in a 5-1 win over Pound in the VHSL Group A state quarterfinals. … Matt Cooper went 2-for-3 with two RBIs to pace Powell Valley in a 7-2 victory over Covington in the VHSL Group A state quarterfinals. … Tony Roop's first-inning RBI single was the only run Tazewell mustered in a 9-1 loss to William Byrd in the VHSL Group AA state quarterfinals.
Keith Davis struck out 11 in pitching a no-hitter as John Battle blanked J.J. Kelly, 2-0, in the VHSL Group A state quarterfinals. … Andrew Belcher homered and Josh Frazier struck out 11 in going the distance on the mound as Virginia High overpowered Alleghany, 10-5, in the VHSL Group AA state quarterfinals. … Brooks Willet's home run was among the highlights for Glenvar as the Highlanders downed Coeburn, 10-4, in the VHSL Group A state quarterfinals.
Nick Pruett's two-run homer in the fifth inning accounted for the Richlands Blue Tornado's only runs as they suffered a 5-2 loss to Hidden Valley in the VHSL Group AA state quarterfinals. … Matt Phillips and Chris Smith homered, but it wasn't enough as Castlewood dropped a 13-3 decision to Grayson County in the VHSL Group A state quarterfinals. … Northside pushed across two runs in the eighth inning in notching a 3-1 victory over Virginia High in the VHSL Group AA state quarterfinals.