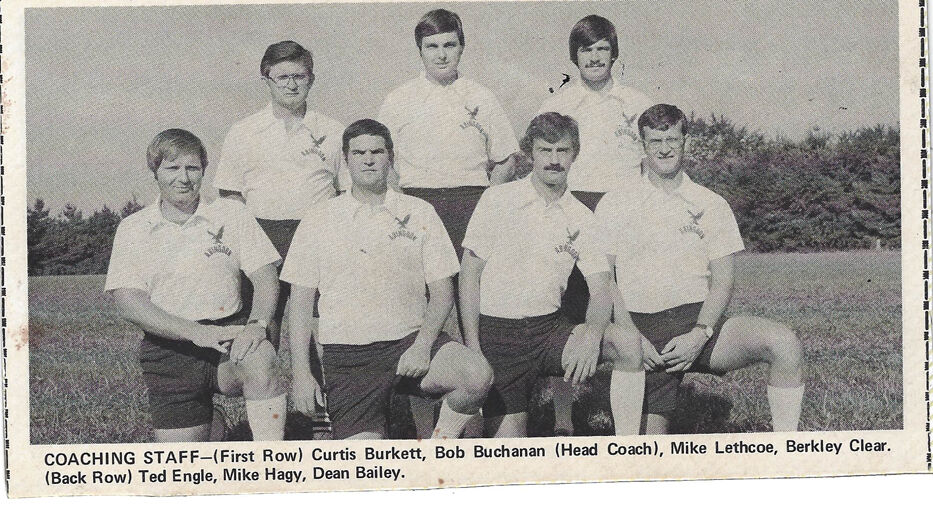 A Los Angeles Dodgers scout by the name of Tommy Lasorda was among the large throng gathered at Abingdon's Latture Field on May 21, 1962, to take a look at the high school prospects playing in a marquee District Seven baseball clash between the Abingdon Falcons and Damascus Indians.
Lasorda watched as Bob Buchanan, the ace pitcher for Damascus with the excellent curveball spun a complete game seven-hitter that day in being outdueled by Jimmy "Hawk" Henley of the Falcons in a 3-2 setback.
"I've seen more enthusiasm here today than at any high school game in years," Lasorda told Gene "Pappy" Thompson of the Bristol Herald Courier. "These are two fine young ballclubs."
Fourteen years later, Lasorda and Buchanan would experience seminal moments as leaders of men.
Lasorda took over as manager of the Dodgers with four games remaining in the 1976 season after Walter Alston retired and the next year led the team to a spot in the World Series with a Southwest Virginia native – former Fries High School and East Tennessee State University slugger Ed Goodson – on the roster.
Buchanan became the head football coach at Abingdon High School in 1976 and reversed the fortunes of a downtrodden program as the Falcons reached postseason play two years later for the first time in the modern playoff system.
The two men who both recently passed away couldn't have been more different in how they approached their jobs
Lasorda loved to bask in the glory, a California showman with an oversized ego.
Buchanan shied away from the spotlight as he was content with letting his players be the ones who shined under the Friday night lights in Southwest Virginia.
"I never heard him use the word I when we had success," said former Abingdon quarterback Sam McKinney. "It was all the players. The only time we heard I was when something went wrong."
Not much went wrong for Buchanan during his four seasons leading the football team at AHS from 1976-79 as the Falcons compiled a 33-11 record, made two playoff appearances, won a Region IV championship and reached the VHSL Group AA state semifinals during that successful span.
Buchanan, who died the day after Christmas at the age of 76, is fondly remembered by those who knew him.
"Well organized, all business, humble, no ego," McKinney said.
Buchanan had been a multi-sport star at Damascus and as an offensive lineman for the Indians helped pave the way for talented running back Tommy Francisco, who rushed for 4,097 yards over the course of his high school career. Buchanan was an honorable mention all-state selection on the O-Line in 1962.
"All those years we went to school together and played ball together, I can say that Bob was just a wonderful, wonderful person," Francisco said. "I loved Bob like a brother and I am sure that he will always be remembered by all that knew him as a good man."
Francisco and Buchanan both received football scholarships to Virginia Tech and their high school coach – Emory Hill – said that one of his biggest thrills was watching his former pupils compete in a game for the Hokies' freshman team against West Virginia University.
Buchanan transferred to Emory & Henry College to continue his football career after one season in Blacksburg. He entered the coaching profession and served as an assistant gridiron coach at AHS under Casto Ramsey and Larry Bales before taking over the struggling program himself.
"About five years ago, I went by and saw him and he told me something that I didn't realize," McKinney said. "My sophomore year, we had just gone 1-9 and had been 2-8 my freshman year and things didn't look like they were going to get much better. We still played at Latture Field, the Little League program was only three years old and our weight room was a universal weight machine.
"Jerry Bishop was the athletic director and at the time and he and Coach Buchanan had coached baseball together for several years. Jerry knew what type of person and coach Bob was, so he went to Bob and told him, 'Mr. [Ken] Mathews, the AHS principal, is going to present your name to the school board to be the next head football coach at Abingdon.' Coach Buchanan's reply was 'Jerry, I don't know about that. I am not sure I am ready.' Coach Bishop said, 'You are ready, and by the way, the newspaper will probably call you tonight.' "
Buchanan's first game as the boss of the Falcons was a 14-7 triumph over the John Battle Trojans, who were coached by Phil Robbins. Buchanan and Robbins had been teammates at E&H.
"He was an outstanding coach and genuine person," Robbins said. "He was a true believer in the split-back veer offense and the 4-4 defense. Bob was a good friend of mine."
The Falcons went 5-5 that first season and improved that mark each of the next three seasons as Buchanan and assistant coaches such as Curtis Burkett, Berkley Clear and Mike Lethcoe went to work and raised expectations.
"The talk in close games went from 'We can't blow this game' in a negatively reactive sense versus 'We're OK, let's talk about what just happened and fix it,' " recalled former AHS star Wade Lopez. "The entire environment was just better, especially when it came to handling adversity – just a huge culture change."
Buchanan and his coaches meticulously watched film of games following those Friday night clashes against Southwest District rivals.
"We used to love Monday's and watching game film," Lopez said. "He had a great way of showing the little things that happened to make a play work that gave credit to everyone from the guard reaching out on a difficult angle to cut off the linebacker or the wideout holding his block 10 yards downfield or a defensive guy making a play 15 yards downfield after he had gotten knocked off his feet, but didn't stop. He just kept everyone grounded and made it so no one individual was bigger than the team."
There was another particular aspect of those film sessions that made them memorable.
"It was always funny to see who, or how many of us, were going to get the coal bucket label," Lopez said. "He would be reviewing film with us and would say offhanded, 'Watch this coal bucket go the wrong way here' or 'Look at this coal bucket lining up offsides' and we would literally have to bite our lips off to keep from laughing out loud in the meeting room.
"I think four coal buckets was the most I can remember anyone ever getting in one session. But honestly, when the coaches handed out stars for wins and meeting certain goals, I think we talked more about how many coal buckets we were called out on more than how many stars we were putting on our helmets. That pretty much described Coach Buchanan's style – he could be critical in a way that made you not want to be a coal bucket, but that you were almost proud of because you knew he caught it and it wasn't acceptable. But you also knew if you were going to be a coal bucket the next week, it better not be for the same reason. And it usually never was."
Steve Knight's football career took him from Abingdon to the University of Tennessee to the NFL's Indianapolis Colts. A crucial decision made by Buchanan prior to the 1977 season marked a key moment in his path to the next level.
"In my sophomore year I was living out of town for the summer, debating on moving to Philadelphia or New York with my uncles and I wanted to get a better opportunity in sports," Knight said. "I ended up coming back to Abingdon two weeks too late for the summer workouts. Coach Bob Buchanan did not allow me to play on the team that year. What it did for me was it taught me a lesson and fueled my fire to become a better athlete and be better the next year, which was my junior year.
"I switched to basketball and worked on my footwork and quickness and became a much better athlete. Coach Buchanan fueled the fire that's still lit on the inside of me. He was one of my favorite coaches and had lots of integrity and drive."
His teams had plenty of depth as Buchanan used a platoon system and had very few guys start on both sides of the ball.
"If we had 50 players and that 50th player's biggest job was to hold a tackling dummy," McKinney said. "Coach Buchanan expected that player to do it right. … Everyone contributed."
Francisco remembers his former teammate recalling such a circumstance.
"He was telling me about one young man who played for him who had a lot of desire, but very little ability at the beginning of the season," Francisco said. "A lot of people wanted him to take the kid out, but he stuck with him and by the end of the year turned out to be one of their best players. He liked players that had desire."
He had plenty of those in 1979 when Abingdon put together the best season in school history.
The Falcons swept through the regular season unbeaten in claiming the SWD championship.
They beat Blacksburg and Narrows in the playoffs en route to the Region IV title, the latter win avenging a 20-13 playoff loss to the Green Wave from the year before.
The 12-1 campaign ended with a gut-wrenching 10-7 state semifinal loss at Jefferson Forest. The Falcons allowed just 82 points in 13 games that season and no AHS team has reached the state semifinals since.
Steering the ship was a steady captain.
"Coach Buchanan was not very emotional, so it was fun to watch him get excited when he was particularly pleased with someone's effort, so he got a shuffling gait or hop, threw his hat down and then sprinted to you, grabbed your helmet and got a small smile through gritted teeth and a gleam in his eye," recalled Doug Gardner, whose senior season was 1978. "It sure made you want to try harder to get to see him do that again."
Buchanan resigned his post following that '79 season and that turned out to be his only stint as a head football coach at the high school level.
He remained in education and continued making an impact, however.
Jamie Harless was a star player at Abingdon in the 1990s, an All-American at Emory & Henry College and is now the head football coach at VHSL powerhouse Lord Botetourt High School in Daleville, Virginia.
He fondly remembers the eighth-grade math class he took that was taught by none other than Bob Buchanan.
"Coach Buchanan asked me the first time I met him who Festus Haggen was," Harless said. "I said 'He's a character on Gunsmoke. Who wouldn't know that?' He grinned at me and said 'We're gonna get along just fine.' I had a 104 average in his Algebra class and he constantly encouraged me, even though he had given up coaching.
"I saw him at [legendary Emory & Henry College] Coach [Lou] Wacker's funeral [in 2019] and first thing he says to be me is 'Who is Festus Haggen?' I grinned at him and he gave me a big firm handshake. I loved the guy. He was a great man."
A sentiment shared by many.
The following is a look at high school basketball moments which occurred this week in history:
Tennessee High overwhelmed Erwin, 59-29, as Charlie Nickels and Manuel Garrison scored 17 points apiece. … Lonnie Quillen's 29-point performance highlighted Norton's 61-37 beatdown of Clintwood. … Phil Long scored 15 points and Bunny Saltz hit the go-ahead free throw with 15 seconds left in Virginia High's 46-45 victory over Happy Valley.
Howard Tester scored 13 points as Bluff City leveled Lynn View, 51-34. … Bill Allen erupted for 43 points in St. Paul's 63-55 victory over Pound. … Jay Baumgardner scored 15 points as Tennessee High bombed Erwin, 46-39.
Jeff Snider led the way with 18 points as Marion earned a 68-53 victory over Virginia High. … Mike Cheek (22 points) and Coy Pendleton (19 points) set the pace in Thomas Walker's 71-55 trouncing of Jonesville. … Behind 22 points from Larry Davis, Castlewood collected a 75-71 victory over Honaker.
Brad Goff tossed in 36 points to highlight Grundy's 66-60 victory over John Battle. … Doug Anderson scored 19 points for Clintwood in the Greenwave's 67-44 win over Appalachia. … Terry Hartsock (18 points) starred as Twin Springs recorded a 66-63 triumph over Rye Cove.