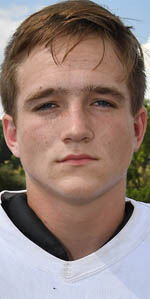 NICKELSVILLE, Va. – Don't blame Connor Beeson if he hits the snooze button on his alarm clock and catches a few more winks of sleep this morning, because the Patrick Henry High School senior certainly deserves some extra rest.
Making big play after big play on both sides of the ball and seemingly getting stronger as the game progressed, the tireless 5-foot-11, 175-pound speedster rushed for 380 yards and scored three touchdowns on Saturday afternoon as PH took a 50-40 triumph over the Twin Springs Titans in the VHSL Region 1D football semifinals.
Patrick Henry (9-3) travels to Hogoheegee District rival Holston (12-0) for Friday's regional championship game and the Rebels got there by prevailing in a shootout thanks to their primary weapon.
"I told Connor at halftime, 'Son, I'm going to put it in your hands and you lead us on' and that's what he did," said PH coach Seth Padgett.
Beeson ripped off an electrifying 65-yard touchdown run with 9:01 remaining in the third quarter to put PH up 26-8 and it appeared the Rebels were firmly in control. However, Twin Springs (10-2) was far from done.
Abel Dingus fired scoring strikes to Mason Elliott on the Titans' next two possessions and Ryan Horne was successful on the two-point conversions to pull the home team within 26-24 with 4:56 remaining in the third quarter.
Patrick Henry's coaches didn't panic and simply continued to feed the ball to Beeson.
His 16-yard touchdown run and Ben Belcher's ensuing two-point conversion plunge put the Rebels up 34-24 entering the fourth quarter.
That set the stage for a fourth-quarter goal-line stand keyed by Beeson that proved to be the turning point.
Twin Springs had it 4th-and-Goal at the 2-yard line when Ryan Horne carried the ball and was tackled by Beeson a yard short of the end zone. The top rusher for the Titans, Horne finished with 132 yards on the ground.
"I think it was like a sweep play and I saw Horne breaking my way," Beeson said. "I was just right there and was able to make the play."
Padgett wasn't surprised with who made the stop.
"That's two straight weeks he's made a play at the goal line on fourth down," Padgett said. "That was huge. If we don't stop them there, it's a different ballgame."
Two plays after that stop, Beeson ripped off an 87-yard touchdown run, the two-point conversion was successful and the Rebels lead was 42-24 with 7:57 remaining as the deal was basically sealed.
In a game that featured a combined 90 points, 12 touchdowns and 855 yards of total offense, it was that tackle and that touchdown run that changed the complexion of the game.
"Defense is what needs to be talked about," Beeson said. "It was good and bad at the same time."
Was Beeson emotionally and physically spent after that sequence?
"Physically more than anything," Beeson said. "I wasn't worried about emotionally. After that run, I went over to the sideline and puked."
Twin Springs supporters had to get a sick feeling in their stomach as Beeson took it to the house down the far sideline.
"He made you pay when you weren't in the right spot," said Titans coach Keith Warner. "Hat's off to that kid. He's a great player."
Freshman Alex Brown's interception return for a touchdown on the final play of the first quarter put Patrick Henry up 14-0 and Twin Springs was forced to play from behind the rest of the way. Warner blamed himself for the Titans' downfalls on defense.
"I adjusted way too much," Warner said. "My kids were thinking instead of reacting and I told them this was on me. That makes it tough knowing that I put them in tough situations. That's something I'll have to learn from myself as a coach."
Dingus threw for 219 yards and four touchdowns for the Titans, who won their first Cumberland District title since 1995 and matched the single-season program record for wins.
"This was a special year and I'm so glad these kids let me be along for the ride," Warner said. "It's heartbreaking for those guys. Those seniors have given everything they've got to this program."
A rash of injuries and a 26-8 loss to Grundy in the penultimate game of the regular season put Patrick Henry in a precarious position, but now the Rebels are one of just eight teams still playing in the state's smallest classification.
"After that Grundy game you could tell the difference in practice," Beeson said. "Everybody was focused after that and that's the big thing."
Teams are focused on stopping Beeson but few have been able to do it. He carried the ball 35 times on Saturday.
"You get that block on the edge," said Cody Pruitt, Patrick Henry's fullback. "He's gone."
Patrick Henry 14 6 14 16—50
Twin Springs 0 8 16 16—40
PH – Pruitt 2 run (kick blocked)
PH – Brown 83 INT return (Beeson run)
TS – Elliott 24 pass from Dingus (Horne run)
PH – Belcher 1 run (run failed)
PH – Beeson 65 run (pass failed)
TS – Elliott 52 pass from Dingus (Horne run)
TS – Elliott 22 pass from Dingus (Horne run)
PH – Beeson 16 run (Belcher run)
PH – Beeson 87 run (Kausch pass from Belcher)
TS – McCoy 53 pass from Dingus (Wagner pass from Dingus)
PH – Pruitt 5 run (Belcher run)
TS – McCoy 2 run (McCoy pass from Dingus)
First Downs: PH 20, TS 20; Rushes-Yards: PH 52-450, TS 46-183; Passing Yards: PH 3, TS 219; Comp.-Att.-Int.: PH 1-1-0, TS 10-21-1; Fumbles-Lost: PH 1-1, TS 2-1; Penalties-Yards: PH 1-8, TS 3-15; Punts-Average: PH 2-27.5, TS 2-29.5