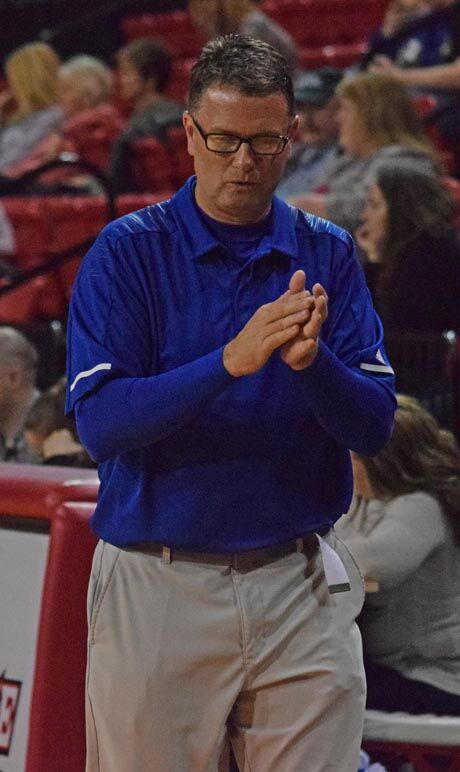 When Jonathan Lovelace took over the Thomas Walker girls basketball program three years ago, there was literally nowhere to go but up.
Thomas Walker followed up a 2-20 season with a 16-8 mark in Lovelace's first season as head coach of the Pioneers.
"It caused a great buzz in the community. It really helped the program," Lovelace said. "The little kids, the middle school kids, they were all excited about coming up and being a Lady Pioneer again."
What followed was a 21-5 mark in 2020, and a 16-3 record in the 2021 COVID-shortened season, reaching the Region 1D championship game for the first time since 1999, falling to eventual Class 1 state champion Honaker.
"I am sure we would have got to 20 wins again with a normal schedule," he said. "We are just super thankful and blessed and we give all the credit to the Lord, and God blessed me with good players."
That three-year run of excellence was worthy of praise, and Lovelace received it, having been chosen as the Bristol Herald Courier girls basketball coach of the year.
"It is a tremendous honor, and honestly I was kind of shocked when I got the email," Lovelace said. "It is a great blessing and an honor and again I give the Lord the credit and secondly the great players that we were surrounded with. Thank you so much, it is a great honor."
Lovelace, who is the pastor of The Promise Church in Church Hill, Tennessee, made the 1 ½ hour drive to Ewing for three seasons, leading the once-proud Pioneers back to prominence. One of his assistants, Sonya Baumgardner, was part of the 1993 team that advanced to the state's final four, and another assistant, Ashley Burke, played for the regional champions in 1999.
"It had been a little drought for them," Lovelace said. "They were a little discouraged, but we just came in, tried to be very positive and worked hard and it seemed to work for us."
A graduate of Volunteer High School, Lovelace didn't play organized basketball until making the junior varsity team at Lincoln Memorial.
"For the most part I just played ball on the street," he said. "I grew up in a very religious home and we had a youth service on Friday nights at my church so my mom made sure I was in church on Friday night, which paid off. I am a pastor now … I loved the game."
He eventually began serving as an assistant under Jerry Myers at Volunteer, and then followed him to Thomas Walker four years ago to be his assistant with the Pioneers. One year later, Lovelace accepted the girls position in Ewing, crediting his relationship with Myers for the opportunity.
"I joke with [Myers] a lot and tell him he has forgot more than most people know about the game," Lovelace said. "That helped, and I have a burden for young folks so I just try to make friends out of the kids and make a difference anywhere I can. I think those two combined made that impression that caused them to ask me to take that girls job."
He did it well, with the help of plenty of talent, including rising senior Lakin Burke, Shelbie Fannon, who will play next at Alice Lloyd, Abigail Bullins, Tenley Jackson, Kaitlyn Brown, Talyn Dibrell and Eden Muncy, the talented softball pitcher for the Pioneers.
"We prided ourselves on defense," Lovelace said. "Defense and rebounding and when we played to our ability and capability in those two areas we were pretty hard to beat."
Getting to and from Ewing isn't easy. It sits on the border of Kentucky in Lee County, and is a long drive to anywhere in Southwest Virginia. Yet, the Pioneers didn't use that as an excuse.
"That is a one of the challenges," he said. "When we go on road trips it is a long haul, but those kids responded. We worked hard, just tried to stay encouraged. Of course, the teams that came to us had the same challenge."
The tallest task for any Cumberland District team was conquering Eastside, but the Pioneers were able to do just that, snapping the Spartans' 44-game league win streak by splitting this year's season series, and then beating them again in a special playoff game to determine regional seedings.
"They hadn't lost in the Cumberland in a number of years so to finally get over that hump was probably the highlight, outside of making a difference in the kids' lives and church and stuff," Lovelace said. "As far as on the basketball floor, I guess that would have been the highlight, finally beating Eastside."
Thomas Walker advanced to the Region 1D championship game, but ran into Honaker, which won its second straight Class 1 state title, this time with an unbeaten record along the way.
"Who do you guard? [LeeAnna] McNulty had about 2,000 career points, they had another girl with a 1,000 and another girl that hit like 300 3-pointers in her career," Lovelace said. "You just had to pick your poison and hope the others were off that night, but that wasn't how it worked for us.
"They were a great team and I wasn't shocked to see them win it."
Lovelace resigned after the season for a variety of reasons, including the lengthy drive and needing to be closer to his church family, which numbers around 150, including many of his players and their families.
"One of the cool things about it is a lot of the kids and parents that I coached over there at Lee County, they drive to our church every Sunday," said Lovelace, who has been replaced by JV assistant Allen Trent. "They made that their home church. I got to baptize a lot of my players and their brothers and sisters and moms and dads so it was pretty awesome."
Thomas Walker athletic director Landon Smith expressed his appreciation for Lovelace's efforts in an email after receiving his resignation.
"When he was initially hired, we obviously wanted to win ballgames, but even more than that we hoped that he could spearhead changing the culture and dynamics of our girls basketball program, and he more than certainly achieved that goal as well as having quite a bit of success along the way," Smith said. "We wish him the absolute best and still hope to see him at some games next winter supporting the Pioneers."
The 51-year-old Lovelace isn't ruling out a return to the bench. He could wind up as an assistant at Volunteer in the season ahead.
"I have actually had a few schools approach me. I have just been praying about it, thinking about it," he said. "It is about the love of the game and making a difference in kids for me."
Leaving the program wasn't an easy decision, but Lovelace's legacy and that of his team will live on.
"We had a meeting and I talked to all of them," he said. "We shared some tears and some hugs, but they certainly understood my reasoning. We have a good relationship, hopefully we will for a lifetime."