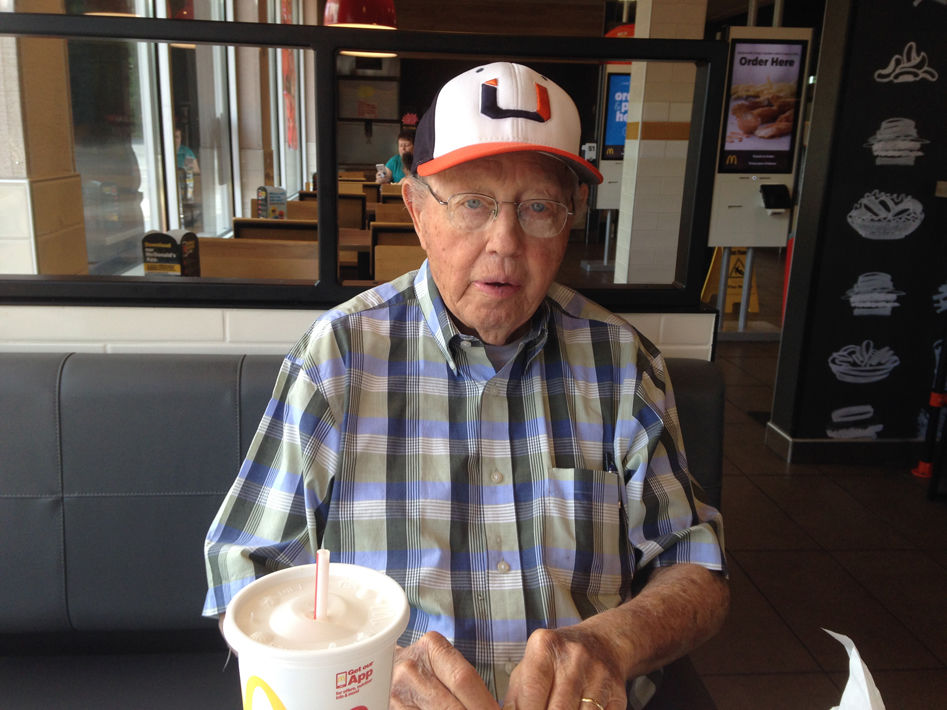 BIG STONE GAP, Va. – It was fitting that Ben Allen kept a reserved seat overlooking the 50-yard line at Bullitt Park.
The humble Big Stone Gap resident was a guiding force in far Southwest Virginia athletics and culture right up until his death on July 10 at age 87.
From airman and businessman to mayor, historian and radio personality, "Gentle Ben" played many roles.
According to longtime friend David Bary, Allen's upbeat outlook on life never wavered.
"Ben was the epitome of class and dignity," said Bary, an attorney from Big Stone Gap. "I always enjoyed being around him."
Allen earned folk hero status among the rabid football fans in the coalfield counties. In addition to serving as the public address announcer for the Powell Valley Vikings for over 40 years, Allen hosted the popular Pigskin Picks radio show for 20 years.
"We all listened every Friday before games along with everyone else," said Terry McKinney, a retired Big Stone Gap resident whose seat at Bullitt Park was just across from Allen.
McKinney said he grew up in the same neighborhood as the Allen family.
"I played ball with Ben's sons in the driveway of his home," McKinney said. "Ben was a very outgoing man who always had a smile and kind word for people. He was just a first class person who had a lasting impact on the community."
A graduate of Tennessee High and East Tennessee State University, Allen served from 1951-54 in the United States Air Force where he was awarded the Strategic Air Command's Outstanding Achievement Award.
Allen worked as the president of Southwest Oil Company in Big Stone Gap for 32 years. After retiring from that position in 1991, Allen operated Lonesome Pine Raceway in Coeburn for several years.
In his spare time, Allen devoted countless hours to his community by serving on various committees, board of directors and foundations. He was also selected as the mayor of Big Stone Gap twice.
Phil Robbins, who coached the Powell Valley Vikings to seven state football titles, said that Allen earned his place in the rich football lore of the old Lonesome Pine District.
"One of my favorite stories involving Ben occurred during a regular season game in 1997," Robbins said. "Ben was out of town and he had somebody filling in for him on the public address."
As pregame warm-ups began, a PV player rushed up to Robbins with a question.
"He asked me where our regular PA guy was and if he was OK," Robbins said. "I had no idea that our players paid much attention to things like Ben's voice.
"Ben set the bar high for high school announcers. He had that great voice and enthusiasm for the game but there was no cheerleading from the press box and he always knew the right thing to say."
Allen, who was also the announcer for the expansive youth football program in Big Stone Gap, was a stickler for research and preparation.
"A week before the start of each season, Ben would come to me to get our two-deep roster including specialists," Robbins said.
The preseason study didn't stop there.
"Ben would read the name of each player aloud to make sure his pronunciation was exactly right for our team and for the opponent. Now that's a true professional," Robbins said.
Every studio guest on Pigskin Picks came away amazed at the lengthy notes package that Allen prepared for each broadcast.
The show, which still airs on Norton radio station WAXM, 93.5 FM, is a staple of the football experience in far Southwest Virginia with a live airing on Thursday night followed by a replay on Friday afternoon leading up to kickoff.
Bary, who worked on the WAXM Friday night scoreboard show, offered some insight into Allen's appeal.
"Ben was a one of a kind of man with a heart of gold," Bary said. "He loved to share his treasure trove of stories with his fans every week on Pigskin Picks."
For years, the regular Picks panel included witty golf pro Ken Crowder, Big Stone Gap businessman Greg Kress and Ben's son, Mike. The jokes and skits flowed freely as did the classic rock songs from the 1970s.
"Ben had this unmatched ability to steer the crew back on track even when the guys veered off on topics ranging from Burt Reynolds to the perfect angel biscuit," Bary said. "I will always admire the love and appreciation Ben had for his family, for youth and high school sports, and for Southwest Virginia."
Ricky Webb was one of the many hometown heroes for the Powell Valley Vikings. The athletic receiver authored one of the greatest moments in program history on the final play of the 1989 state title game against Lunenburg Central.
"That was my senior year," Webb said. "Lunenburg took a 20-14 lead with 58 seconds left in the game."
The game come down to one play with 11 seconds remaining. After sprinting down the field, Webb turned to look back at PV quarterback Robbie Duncan. What happened next has long been referred to as "The Catch" by PV supporters.
"Robbie, who is my cousin, threw a 46-yard pass that I was able to take in for the score. We ended up winning 21-20," Webb said.
Powell Valley and Appalachia High School were consolidated to form Union High School in 2011, but the memories are evergreen
"I caught up with Ben at a Union basketball game a couple years ago and he wanted to talk about 'The Catch,'" Webb said. "The smile on his face and the genuine joy he shared in telling what he remembered about that game is what I will always remember about Ben. I'll never his forget trademark phrase over the PA – "First and 10, Powell Valley."
David Moore, who serves as the administrator for Dickenson County, shared his memories of Allen Tuesday night via Twitter.
"Ben was my neighbor growing up in Big Stone Gap," Moore said. "He gave up most of his evenings in the summer and fall to Little League and to Viking football as the voice of Bullitt Park. Ben will always mean Viking football to me and thousands of others, but he was an even better gentleman and friend."
Allegiance to high school football teams run deep in Southwest Virginia, so Webb said he appreciated how Allen would take time to discuss all schools.
"Ben loved his hometown Vikings and Bears, but he liked Appalachia and respected other top notch programs," Webb said. "He was a big fan of coaches like Tom Turner, Phil Robbins and Nick Colobro.
"For me, one of the best Pigskin Picks show aired around 1996 when Ben had on coach Big Daddy Riggs from Appalachia and they talked about the Stonega Stallion."
The first episode of Pigskin Picks this season featured a tribute to Allen with excerpts from several of his interviews.
Former Appalachia football star and current Union head coach Travis Turner described Allen as a "special man."
"When our Appalachia teams would play at Bullitt Park, Ben would never do anything to show up the opposing team. He was all about sportsmanship and class, and I appreciated that," Turner said.
Turner, the low-key son of longtime Appalachia football coach Tom Turner, later become one of Allen's favorite guests on Pigskin Picks.
"I always enjoyed talking to Ben," Turner said. "He came prepared, asked smart questions and was supportive of all teams. Ben would also try to get me going on different topics. Ben's death was a big loss to Union High School, to the town of Big Stone Gap and to the region."
As per the custom, dozens of eager fans lined up at the entrances of Bullitt Park long before the start of last Friday showdown against Richlands. When the scoreboard horn sounded, many fans sprinted to their seats exactly two hours before the 7 p.m. kickoff.
One part of the tradition was missing.
"It's strange not seeing Ben at games," McKinney said. "He knew all the stories and history of Powell Valley and Union football.
"You could call him the nucleus of football here at Bullitt Park, and we all miss him."
Be the first to know
Get local news delivered to your inbox!