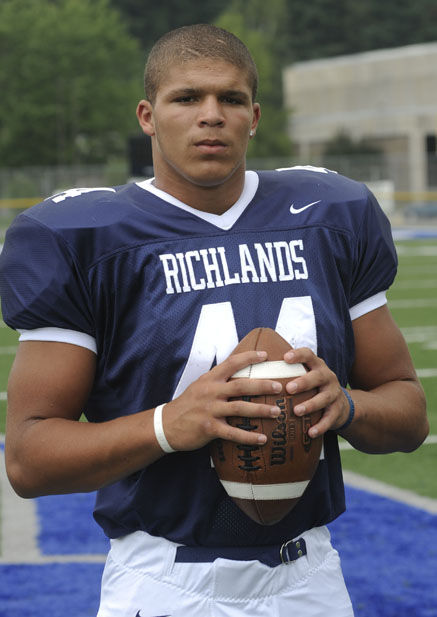 Devon Johnson, one of Southwest Virginia's most accomplished football players of the past decade, died Tuesday at the age of 25.
Johnson was a star running back at Richlands High School and Marshall University, while spending the 2016 season on injured reserve with the National Football League's Carolina Panthers.
"I am shocked and saddened at the news of Devon Johnson's passing," Marshall coach Doc Holliday said in a statement issued by the school. "Devon was a force in our program, both literally and figuratively. Whether on the field or off, his impact was immeasurable and he will be missed by so many at Marshall. Our thoughts and prayers go out to his friends and family."
The Twitter account of Richlands High School's football program — @BlueTornadoLive – posted news of Johnson's death at 6:24 p.m. while offering condolences. The cause of death was unknown Tuesday evening.
Johnson played his freshman season of high school football at Big Creek in West Virginia, before transferring to Richlands. He starred on the Blue Tornado's 2010 state runner-up squad and as a senior in 2011 finished with 1,825 rushing yards and 26 touchdowns while making 121 tackles.
"Richlands is a very special place to me," Johnson said in a 2016 interview. "Everybody there holds a special place in my heart."
Johnson finished his four years at Marshall with 2,373 rushing yards, 423 receiving yards, 29 tackles and 31 total touchdowns to his credit. The rugged 6-foot, 245-pound rusher who was nicknamed "Rockhead" by his teammates gained a single-game school record 272 yards in a 2014 contest against Florida Atlantic.
"Marshall never has had a back quite like him," Huntington Herald-Dispatch columnist Chuck Landon told this newspaper that season. "But then again few schools have. He is a very rare blend of size, strength, quickness, speed and all that is topped off by high-end ball skills."
Johnson was extremely popular among those he met no matter where he was playing.
"He never cared about individual stats," Richlands coach Greg Mance said in a 2016 interview. "You can talk to anybody in Richlands. All his teammates love him, all his teachers love him, all the coaches love him."