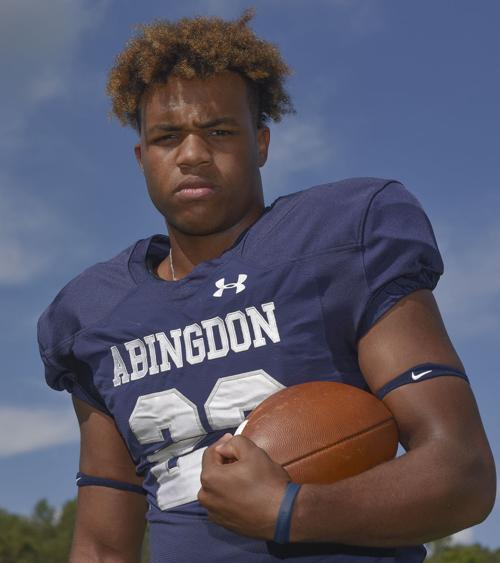 ABINGDON, Va. – Martin Lucas put together a breakout season last year as a sophomore running back for the Abingdon Falcons.
More good news came a few months later.
"I hit a growth spurt," Lucas said. "Thankfully, I gained a couple inches and put on about 10 pounds. It's definitely made a difference."
Lucas was easy to spot during Thursday's media day session at Falcon Stadium. He was the chiseled 6-foot-3, 230-pounder in the No. 23 jersey.
"I'm feeling good," Lucas said. "My time in the 40 has gone down and all my numbers in the weight room have gone up."
That mix of power and speed helped Lucas account for 1,339 total yards last season, including 1,232 yards rushing.
With the graduation of 1,500-yard passer Gabe Boothe at quarterback, look for Lucas to have a more prominent role in the clever spread offense employed by head coach Garrett Amburgey.
"Martin is versatile," Amburgey said. "He has great size and runs the ball hard. We've been stressing the importance of not letting just one tackler bring him down."
Lucas learned the basics of the tailback position at a young age. His uncle (Sean Lucas), father (Martin Lucas) and cousin (Isaiah Ellison) all worked at running back for the Falcons. Sean Lucas, who also wore No. 23, started at safety at Virginia Tech.
"Football runs in my family," Martin Lucas said. "We grew up playing backyard ball and learning from each other. Sean was too old to get out there with us, but he watched and gave us tips. I've seen a couple of tapes from Sean playing at Virginia Tech and he's a big role model."
Ellison has provided motivation in a couple ways. He hold the single-season school rushing record with 1,300 yards in 2004.
"Isaiah and I actually talked about that over Thanksgiving dinner last year," Lucas said. "We had a few jokes about how close I came to his record, but I know he really wants me to break it."
For Lucas, that path to school history will be led by proven linemen such as seniors Dylan Hale (6-2, 250) and Major Cook, a 6-3 and 302-thumper who has attracted interest from the likes of Princeton.
"I love running behind those guys," Lucas said. "They are looking good in practice and they give me a big comfort zone in games."
Lucas said he gained extra confidence this summer by participating in one-day prospect camps at Virginia Tech and Tennessee.
That was only part of his off-season of sweat.
"I didn't give myself any breaks," Lucas said "I worked with the track team, spent time in the gym and put in a lot of hours into the weight room. My legs are so much bigger now."
Lucas has a couple extra piece of motivation pieces this season. His younger brother, Dasean, is a 6-foot, 265-pound freshman lineman for the Falcons while his 5-8 cousin, Malique Hounshell, is following the family tradition as a sophomore running back.
"Our coaches want me to step up into a leadership role and I'm ready for that," Lucas said.
After years observing of prolific rushers such as Ellison and National Football League star Alvin Kamara, Lucas want to expand his game by finishing off runs.
"I have to stay on my feet, so I've really been working on my balance," said Lucas, who will also see time at outside linebacker. "My favorite part of playing running back is making defenders miss and running them over, and I want to keep improving."
With his added strength and size, Lucas said he realizes that opposing defensive coordinators and linebackers will have him circled in scouting reports.
"There are high expectations, but that's a good thing. That's why I worked so hard in the off-season," Lucas said.
Be the first to know
Get local news delivered to your inbox!