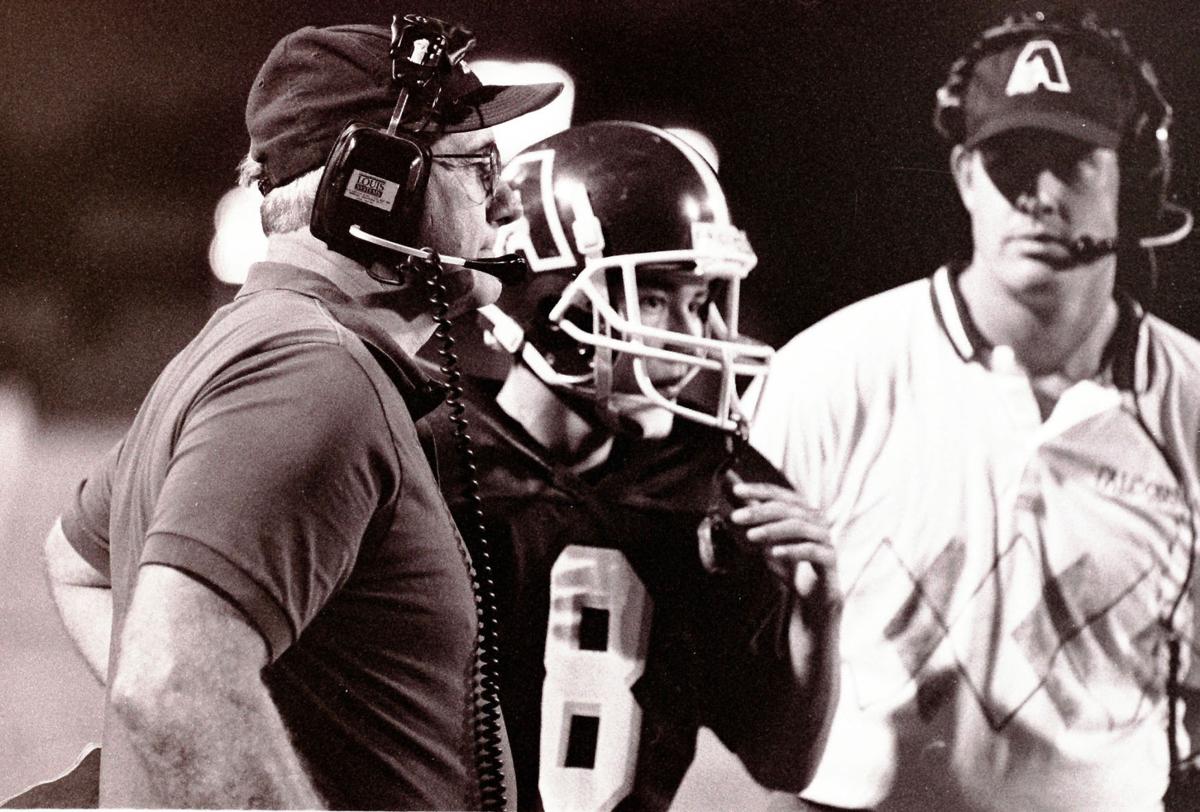 The last time the Abingdon Falcons won a playoff football game it was a five-star classic at Five-Star Stadium.
The school located off Exit 19 hosts Rustburg tonight in the first round of the VHSL 3A playoffs and the Falcons are searching for their first postseason victory since 1996.
That '96 triumph was most memorable.
Abingdon was 6-4 entering that Region IV, Division IV first-round contest on the road against the Lee High Generals, and the Falcons were a heavy underdog. This was the same Lee team that had ran all over Abingdon in the eighth week of the season, compiling 532 rushing yards en route to a 49-22 victory.
"Losing was definitely a motivating factor for our second chance," said Randy Flinchum, who was Abingdon's head coach at the time.
However, the rematch looked like it was going to shape up to be a replay as Lee High jumped out to leads of 23-7 and 31-17.
Then Angus Pochyla took over.
The hard-nosed senior running back rattled off three second-half touchdowns – including the go-ahead score with 34 seconds left – as Abingdon rallied.
Final score: Abingdon 38, Lee High 31.
It was no surprise that Pochyla, who led the team in scoring that season, was the player to deliver.
"Angus was a leader by example," Flinchum said. "He wasn't a rah-rah guy, but he was tough and respected by everyone on that team."
Abingdon lost the following week to Grundy in the regional championship game, but it was still a season to remember. After all, those '96 Falcons were the last team from the Washington County school to fly high after a playoff win.
"Great team with the right attitude," Flinchum said. "Our guys got along and genuinely liked each other."
Now, for a look at high school football moments which occurred this week in history:
November 6, 1953
Randall Jones scored three touchdowns and Ronnie Odum reached the end zone twice as Tennessee High collected a 32-13 triumph over Clintwood. Clintwood's TDs came from Dick Bailey and Harold Lester. … Behind three touchdowns from Red Hutchinson, Grundy grabbed a 32-13 victory over Virginia High. … A first-quarter touchdown from Johnny Cregger and a stingy defense allowed Saltville to collect a 6-0 win over Richlands.
November 14, 1975
David Neikirk and Pete Sturgill combined for five sacks as Chilhowie rolled to a 25-7 win over Riverheads in the Region C championship game. Jimmy Lee scored a pair of touchdowns for Chilhowie, which held the Gladiators to negative-12 rushing yards. … Craig Freeman scored three touchdowns as Oak Ridge overwhelmed Sullivan Central, 35-0, in the TSSAA Class AAA playoffs. … Ketron – which received touchdowns from Dennis Cox, Benny Gill and Mark Clark – suffered a 21-19 loss to Maryville in the TSSAA Class AA playoffs.
November 11, 1983
Tyrone Meadows rushed for 138 yards – 95 coming on a second-quarter touchdown run – as Giles earned a 27-0 win over Abingdon in the Region IV playoffs. … George Wythe received touchdowns from Curtis Hash and Charlie Winborne in a 14-0 Region IV playoff triumph over Tazewell. … Dobyns-Bennett suffered a 21-14 double-overtime defeat to Jefferson County in the TSSAA playoffs. D-B built a 14-0 advantage on touchdowns from Bobby Hill and John Dillihunt, but couldn't hold the lead.
November 13, 1999
Justin Hamilton rushed for 189 yards on 32 carries in Clintwood's 18-13 win over Powell Valley in the first round of the Region D, Division 2 playoffs. … Seth Padgett scored St. Paul's only touchdown in the Deacons' 46-6 Region D, Division 1 playoff loss to Pound. Pound quarterback Brandon Cantrell threw four touchdown passes. … Tazewell blocked two punts in the fourth quarter in a 21-14 playoff win over Graham. Drew Barrett threw a touchdown pass and rushed for a score to lead the Bulldogs.