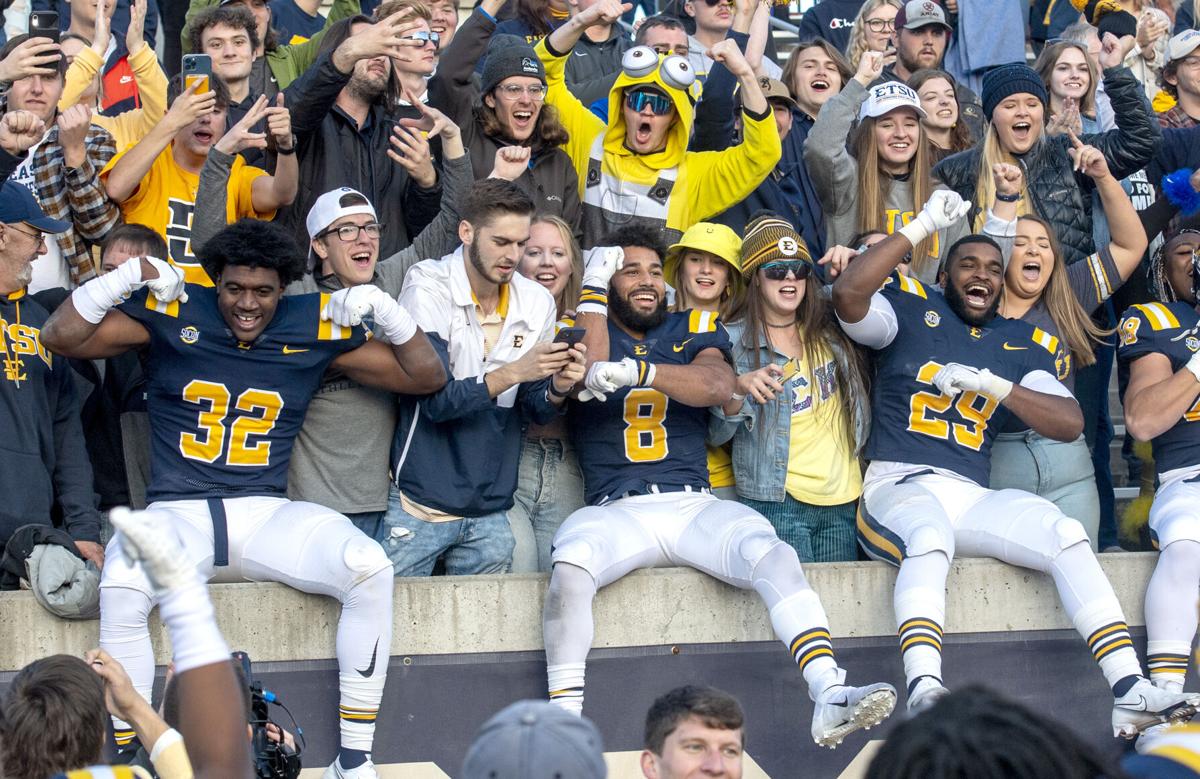 East Tennessee State has long been thought of as a basketball school. At least for this season, football has become the primary passion.
The Buccaneers have noticed too.
"We have broken attendance records nearly every home game this season. People keep coming out and the support has always been there ever since I have been here," said ETSU eighth-year linebacker Jared Folks, who's Buccaneers have set single-game attendance records three times this season. "I know that Johnson City is seen as a basketball town, but we have always had support and love from the fans.
"Great things happen in Johnson City. Johnson City is just a beautiful place and it isn't the flashiest. The support is just really what ETSU and Johnson City is all about – working hard and appreciating the little things."
ETSU (10-1) could set another mark on Dec. 4 when the Buccaneers host either Big South champion Kennesaw State (10-1) or Pioneer League champ Davidson (7-2) in the FCS playoffs at William B. Greene Jr. Stadium. Kickoff is already slated for 2 p.m.
"My initial thought was that I am excited to be in the top eight and get a bye. I was also excited to get a home game," said ETSU head coach Randy Sanders, after the pairings were released on Sunday. "The 'who' at this point, anybody you play is going to be good. It's not like you are going to get an easy opponent or anything else.
"I was excited about the home game because it means a lot to our fans. By us having a home game is a way to show appreciation to our fans and what they have done. Whoever we play is obviously going to be a good team or they wouldn't be at this point in the playoffs."
By winning the Southern Conference with a thrilling 38-35 win over Mercer last Saturday, the Buccaneers earned a seventh seed and a first round bye into the Football Championship Series playoffs. It will be their first playoff appearance since 2018, and first home postseason game since 1996.
"We were excited," said ETSU record-setting running back Quay Holmes, during a press conference earlier this week. "There wasn't as much suspense as in 2018 because we knew we would be in. It was just good to see it and to see that we got one of those top seeds so that we could get a bye week and have an extra week to prepare and heal up."
Holmes and fellow ETSU running back Jacob Saylors can share their experiences from the 2018 team, which earned a share of the SoCon title, losing at Jacksonville State 34-27 in an opening around playoff game.
"I would tell them that it was going to be a big moment. We are going to be facing teams that we aren't used to seeing every single year," Holmes said. "We just have to come out and just be prepared, be focused and don't let the moment get too big. Obviously, we know it's a playoff game, but we just have to do what we have been doing these 11 weeks and apply it to this game."
When Sanders replaced Carl Torbush as ETSU's head coach prior to the 2018 season, he saw potential in the program that hadn't won any kind of football championship since claiming the Ohio Valley Conference title in 1969. Even Sanders was a little surprised by that team, which finished 8-4, sharing the SoCon title with Wofford after going 4-7 the previous campaign.
"The playoff appearance in 2018 kind of came out of the blue on all of us. It was easy to see when I looked at film that Coach Torbush and the staff had built a team that had real potential," Sanders said. "We just had to convince them that they could do it and that it was okay to do it.
"Now, I expected to compete for championships when I took the job. I thought we had a chance for sure in 2018, but I felt that it was going to take a bit of time. That team continued to get better as the season went on."
ETSU, which went 6-0 in games decided by three points or less in 2018 to finish at 8-4, fell to 3-9 in 2019 and were 4-2 last spring. The Bucs started this season by upsetting Vanderbilt in Nashville, and have been 5-1 in games decided by seven points or less, with the lone loss coming at Chattanooga.
"This spring and this fall, I thought we would be very competitive. It is hard to win a lot of games without upper-class leadership and that is one thing that surprised me about this team this fall," Sanders said. "We don't have many upper classmen. I knew this team had talent and had potential, but I was concerned about the maturity of it.
"These guys in the back of the room have done a great job in not letting our young guys think like young players. They have demanded and expected that they be mature, tough and competitive."
Now that ETSU has reached this point, don't expect the Buccaneers to be satisfied. There is still plenty of football left to play.
"We just need to continue doing what we do. Approach each day the same and never try to get too up or too down emotionally," ETSU offensive lineman Tre'Mond Shorts said. "We just have the stay focused on staying the same and continue bringing the energy and the effort."
ETSU is ranked eighth in the most recent AFCA Coaches Poll and ninth in the Stats Perform FCS Top 25. Kennesaw State is ranked 4th and 10th in the two polls, while the Wildcats are receiving votes in the both polls. The Bucs have played Kennesaw State twice, winning in overtime in 2016 one year after falling to the Owls in their first game back on the gridiron in 2015. ETSU is 2-0 against Davidson.
"It is a great feeling. You know, it is just fitting," Folks said. "We don't want to get caught up in it too much because we still have work to do. Tomorrow we have practice. At this point, it is just another week and another game."
Win on Dec. 4 and the Bucs could face a trip to FCS powerhouse North Dakota State in the quarterfinals. The Bison will play either Southern Illinois or South Dakota next weekend.
Sanders expects the Bucs to be ready.
"There is no question that the more success you have, the more you want," Sanders said. "Now success is the worst teacher because it can make you lazy and make you feel like your old success. You learn more from failures than you do successes. I think that this team has handled success very well.
"They have stayed hungry, they've kept competing and they haven't let their accomplishments go to their heads."