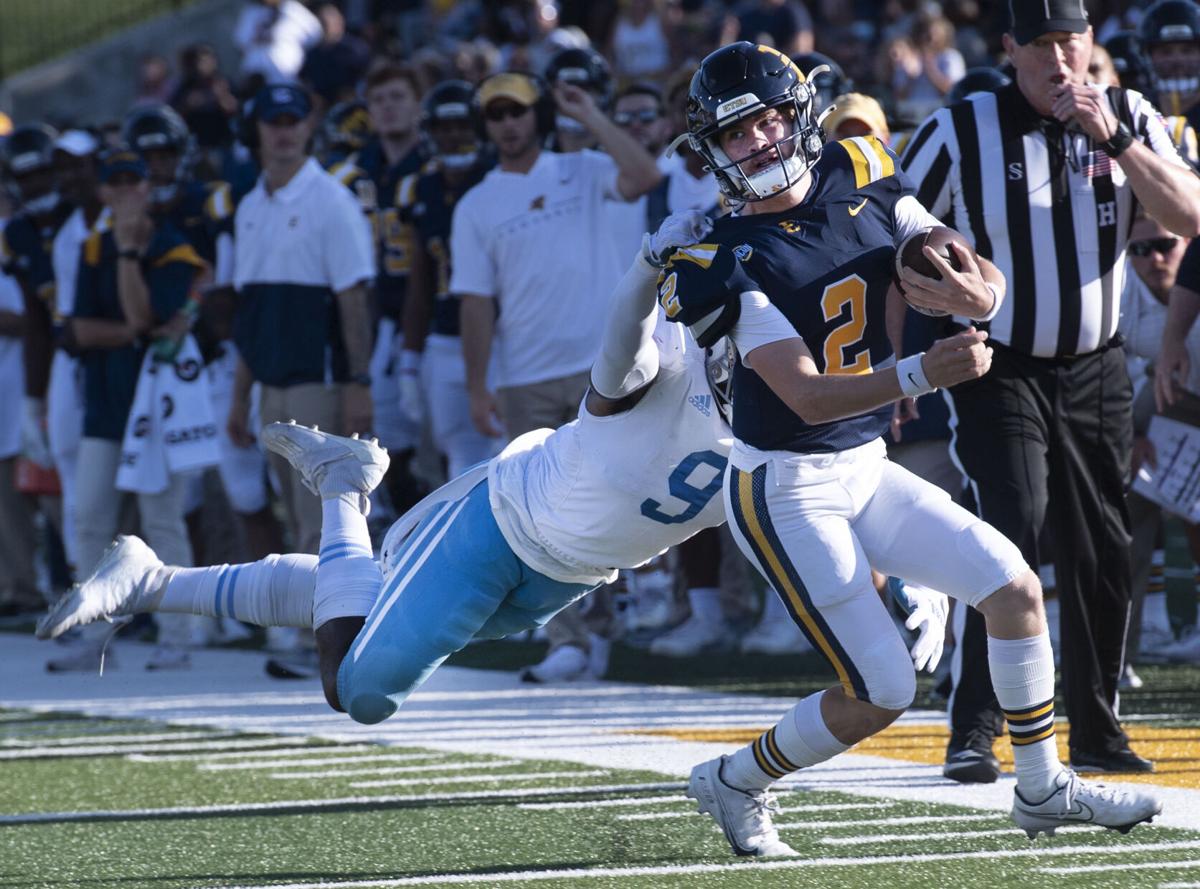 It is well documented that East Tennessee State is 6-0 and ranked 10th in the country, with the first of those victories being a 23-3 decision against SEC opponent Vanderbilt.
How many know that Kentucky, which is 6-0 and facing Georgia in a huge Southeastern Conference game this weekend, had its closest call against…Chattanooga. The Wildcats trailed the Mocs 16-14 in the fourth quarter before surviving 28-23.
The Rail Rivalry Series will be renewed on Saturday as ETSU (6-0, 3-0) travels to Chattanooga (2-3, 1-1) with the Buccaneers tied with Mercer at the top of the Southern Conference. The Buccaneers have never started a season at 7-0.
Staying unbeaten against Chattanooga and at Furman the following week will be a challenge.
"We're getting ready to go on the road for two tough conference opponents right here back-to-back," said Sanders, whose Buccaneers defeated The Citadel 48-21 last Saturday. "We're worried about the one this week more than anything else, but it's nice to be where we are.
"Dinner tasted a little better on Saturday night. Breakfast tasted better Sunday morning. Everyone walks with a little more of strut, but for the most part, this team has done a good job keeping our focus on what it needs to be and not forgetting what allows us the opportunity to win."
ETSU enters the game ranked 10th in the FCS Coaches Poll and the Stats Perform FCS Top 25.
"We've been able to take care of each opportunity to this point. As you win, good things happen," Sanders said. "The big thing is, once you get there, it's a lot harder to stay there. We have to keep staying the course. Keep doing the things we've been doing to get to this point. It doesn't get any easier."
While ETSU showed terrific balance in last week's win over the The Citadel, producing 558 yards – 288 rushing and 270 passing – the Mocs did the same in its 37-34 overtime loss to VMI, with 242 rushing yards and another 192 by Cole Copeland through the air. Tyree Price ran for 122 yards and two scores and Ailyn Ford added 118 yards and two more touchdowns.
The Mocs, who were ranked 19th in one FCS poll before the loss to VMI, had four tacklers with 10-16 stops in the game. Chattanooga has the top rushing defense in the league.
"They are doing a really nice job running the football. They had two backs run for over 100 yards last week. Watching the tape at VMI, it was pretty crazy," Sanders said. "When I saw the final stats and saw VMI had over 480 yards of total offense, it seemed like half it came on four or five plays. Watching and studying it, as a coach, you didn't think VMI had that good of an offensive day. They made some plays and were able to take advantage of it, but Chattanooga defensively is really good,"
The Mocs, who were the preseason pick to win the SoCon, have wins over North Alabama (20-0) and Western Carolina (45-17), while losing to Austin Peay (30-20), in addition to Kentucky and VMI.
"Their formula for winning seems to be very similar to ours now," said Sanders, whose Bucs are 1-3 against the Mocs since football returned in 2015. "They are playing really good defense, running the football and playing the kicking game well. It's going to be fun Saturday. It's going to be a big challenge.
"It's going to be a good, physical, hard-fought SoCon game. I expect it to be a 60-minute football game. I'll be shocked if it's more than a one score game, one way or another. They are a good football team. It's easy to see, once you watch the tape, why they were picked preseason favorites."
ETSU has been led by Quay Holmes and Jacob Saylors on the ground, a duo that is averaging nearly 190 yards per game, and combined for 17 touchdowns. Tyler Riddell has been efficient at quarterback, throwing for 1,305 yards, nine scores and just two picks.
Much of the credit for an offensive unit that is averaging 39.3 points a game goes to the interior line, led by massive 6-foot-4, 335-pound redshirt lineman Tre'mond Shorts, who passes the accolades on to
ETSU offensive line coach Matt McCutchan.
"It all comes down to coaching. Coach McCutchan does a great with preparing us during the week and talking with us during film," Shorts said. "He sends us extra film to look at and what to expect in certain situations. It's just preparing us throughout the week, every week."
ETSU has also been stingy defensively, surrendering just 18.8 points a contest, with 48 of 113 points allowed coming in one game. Donovan Manuel leads the Bucs with 52 tackles, while eighth-year senior Jared Folks is third on the squad with 38 stops, three tackles for loss and two sacks.
Much like Shorts, Folks is a proponent of coaching, with that unit led by defensive coordinator Billy Taylor.
"Coach Taylor wants us to be the most physical unit out there," Folks said. "We got to prepare the same way every week. We can't get into thinking about what guy we play this week or what guy we play next week. We got to be physical every time or else it's going to come around and bite us."
Chattanooga leads the overall series 23-19-1, including a 15-8 mark at Finley Stadium. The Rusty Wright-coached Mocs won the last meeting 16-13 in 2019. The spring game between the teams was canceled due to COVID-19.
Sanders was part of a win over the Mocs in 2018, but the Bucs still haven't won on the road against the Mocs since before the program was disbanded in 2003. That is another milestone for Sanders to meet, after his squad snapped a nine-game losing skid to weeks ago against Wofford.
"Chattanooga and ETSU have a long history of competing against each other. I have a history with this being year four and a couple of these players may have a history of being year five, but that's about it," Sanders said. "Every game we play, for us, needs to be a rivalry game, whether it's Chattanooga or Western Carolina.
"No question, this probably means more to the fans, probably means more to some of the alumni, but most of these guys are like me – you fight and claw to win every game. It seems like every week we play there's some reason to accomplish something.
"We beat Wofford for the first time [since returning the program]. That was the first time we beat Citadel here. We haven't beat Chattanooga in Chattanooga, so let's go try and do that."
Kickoff is slated for 1:30 p.m. on Saturday.