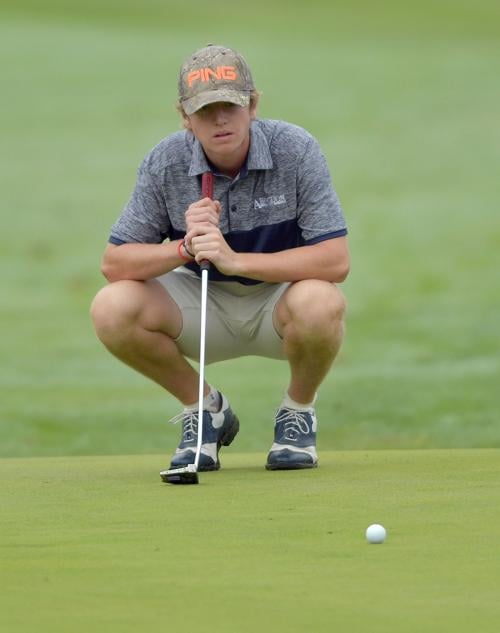 It didn't end like Connor Creasy would have liked, but he certainly took plenty from the experience of playing in the 118th Western Amateur.
"I think I just take this confidence and build off of it," Creasy said. "I think it kind of lets me know I can play with the best amateurs in the world so that is exciting for me."
A three-time state champion and two-time individual state champ at Abingdon High School, Creasy placed 15th through four rounds of stroke play to qualify for match play that began on Friday morning.
The University of Georgia sophomore golfer made the most of it, defeating Sam Bennett of Texas A&M 4&3, as six of the eight lower-seeded players advanced to the next round.
The duo each won three holes apiece on the first nine holes at Crooked Stick Golf Club in Carmel, Ind., but Creasy won four of the next six holes on the back nine to secure the win after the 15th hole.
"This morning I kind of started off slow and got things rolling and kept my composure and hit a lot of good shots and got the win," said Creasy, who rallied from shooting a 75 on Thursday morning, advancing to match play with a 1-under 71 that afternoon.
That was followed by an afternoon match with University of Texas golfer Pierceson Coody, who started fast, winning five of the first eight holes, adding wins on the 13th and 14th holes to finish off the match 5&4. Creasy won the first and ninth holes.
"This afternoon around the greens I kind of struggled and I didn't make any putts," Creasy said. "I wasn't really putting any pressure on him so he was just getting some momentum and he just kept building off of it.
"I made a couple of birdies and kind of got back at him, but then I think he was 3 up and I kind of made a bad swing on the 13th hole, made a bogey and he won 14th hole as well to win the match."
Creasy, who placed 20th in the Western Amateur last season, was still pleased to have reached the quarterfinals in an event that includes past winners like Jack Nicklaus, Tiger Woods, Phil Mickelson, Tom Weiskopf, Ben Crenshaw, Justin Leonard and Hal Sutton.
"Pretty good," said Creasy, in comparing his game in what is always a stacked field. "Today I played against a really highly ranked player and my game compared pretty well to his so that is exciting."
He isn't finished with summer golf just yet. Creasy will travel next Friday to Bandon, Ore. for the U.S. Amateur at Bandon Dunes Golf Resort. This will be his second appearance in the event, having finished "3 or 4 shots" out of match play while still a high school student at Abingdon in 2017.
Instead of four rounds of stroke play like this week, the U.S. Amateur includes just two rounds of 18 holes, followed match play.
"I think my goal would be to make match play and then take it one match at a time from there," he said.
Creasy is slated to return to the University of Georgia on Aug. 20, with hopes that the Bulldogs' golf team can get in a few fall events despite the continued impact of the COVID-19 pandemic across the nation.
"As of now we are still supposed to have a couple of tournaments," he said. "It is still kind of day by day, but we haven't found out for sure yet.
Creasy was accompanied to Indiana by his father, Todd, who served as his caddy, and his personal coach Jerrod Funk. He expects that duo to make the trip to Oregon as well, but knows he'll have plenty of family and friends back home cheering him on.
He certainly appreciates it.
"Absolutely" he said. "I am very thankful for that."
Be the first to know
Get local news delivered to your inbox!