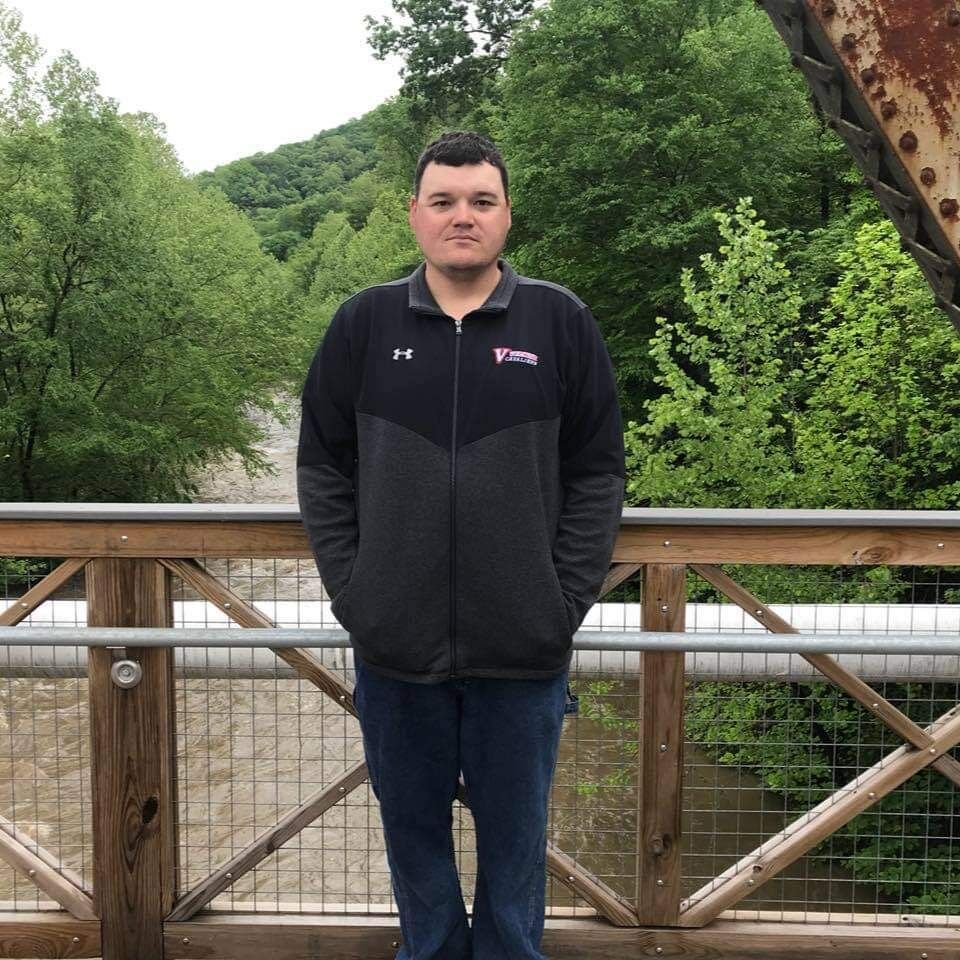 BIG STONE GAP, Va. - The nightmare for Darrell-Dingus Ely began on Aug. 22 with a sore throat.
A few hours later, the 33-year-old Big Stone Gap resident developed a fever that peaked between 101 and 102 degrees.
"It felt like I had a large weight on my chest, and it was getting difficult to breathe," Dingus said.
Two days later, Ely tested positive for COVID-19.
"I moved out of my house as soon as I had a fever in hopes that I wouldn't infect my family, but that obviously was still a major concern," said Ely, the assistant athletic director for communications at the University of Virginia's College at Wise.
"I was also hopeful that I hadn't infected anyone else. To the best of my knowledge, no one else that I've been around has been infected. That's a blessing."
Breathing issues and that sensation of weight on his chest hounded Ely for days. Ely also encountered a burning sensation in his nose while battling extreme fatigue.
"I had one night where my fever peaked out and I began shaking with chills," Ely said. "But by the following morning, the fever was gone. And thankfully, it hasn't returned."
Next came dream sequences that Ely described as "random."
"I dreamed about my uncle Jim who lives in North Carolina," Ely said. "I usually only see him once a year or so at a family reunion which we canceled this year due to COVID. So I actually haven't seen him in around 18 months."
The worst of this coronavirus ordeal was yet to come, as Ely's oxygen level fluctuated for several days.
"I was concerned," Ely said. "I went outside for a walk, and almost immediately I couldn't catch my breath. I went back inside and spent the next few hours trying to catch my breath. I decided to call an ambulance if my oxygen level dropped much more, but my numbers came back up and I was able to avoid going to the emergency room."
Ely said he gradually felt better over the next couple weeks, but his daily routine has been altered.
"My cough is still there, I still struggle to breathe and I have been put on an inhaler," Ely said. "For example, driving to town and back to my house is exhausting. It takes a long time for me to breathe correctly again once entering my home. And going up steps is pretty rough."
As has been the case around the United States, there have been bitter debates in far Southwest Virginia regarding COVID-19 and its implications.
But the coronavirus is real to Ely.
"Obviously, the numbers show that COVID-19 is increasing in our area over the last couple months," Ely said. "I know a few people that have tested positive. Two people that I know are still fighting the virus now, and the rest have beat it. All experienced similar but different symptoms to what I have had."
Ely said his biggest concern involves the lack of rapid testing in certain areas of the region and the slow turnaround time for results.
With no rapid tests offered near his home, Ely decided to make a nearly 130-mile trek to Middlesboro, Kentucky, to receive a rapid test.
"I was told it would take 5-to-14 days to get test results back if I went to the health department here in Big Stone Gap" Ely said. "Hypothetically, someone could try to be responsible and do the right thing by getting tested. They would quarantine and wait for results that come back negative while missing that much time at work without even being sick."
Along with a quicker and more efficient testing process in far Southwest Virginia, Ely said there's a need for more education and understanding.
"The economic impact of folks missing work or the health impact of people not getting tested due to availability is too large right now," Ely said. "I also think more testing and access to testing would allow us to get back to school and other extracurricular activities."
Ely said he still encounters area residents who are skeptical about the severity of COVID-19 and question the claims of national health experts.
"I know a segment of the population thinks the virus is a hoax, but I don't think it's a large number," Ely said. "Many likely don't think it's that serious. Nothing short of experiencing the virus with symptoms will change their opinion. And I wouldn't wish this virus on anyone."
As for a stigma attached to his positive test, Ely said most people he has been associated with, including employers and co-workers, have been empathetic.
"I have faced some issues since getting out of quarantine where I've had to go to town to pick up medicine or the post office," Ely said. "Some are fearful to be around me thinking that I'm still contagious.
"I try to explain that I've followed all the guidelines from the health department and that I am days beyond when they say I was contagious. But you can tell it doesn't really sink in."
Ely follows the COVID-19 protocols by wearing a mask daily and practicing social distancing. He has not traveled beyond Southwest Virginia or Northeast Tennessee since March, and he went several months without even entering a store.
So what sort of advice would Ely give folks who worry about testing positive for COVID-19?
"Wear your mask and follow all the guidelines," Ely said. "We have to get out in society, go to work, buy groceries and do other things, so we just have to take as many precautions as we can to be safe and not spread the virus.
"For those that have tested positive, just rest and monitor your symptoms closely. We know so little about this virus but staying hydrated really helped me. I would also suggest sleeping on your back because that helped my breathing. For those who have played sports and remember a coach telling them to put their hands over their head after running sprints to get more air, it really does help to do that."
Ely, who has three children under the age of six, said his troubles are far from over. Just this week, he has experienced more issues with the burning sensation in his nose.
"I still can't function properly," Ely said. "Throwing a football with my son in the yard or playing tag with my daughter is something I just can't do yet.
"I couldn't imagine someone in poor health or an elderly person dealing with this virus. I guess I'm more aware now that I've lived it. Like anything else, I don't think you realize how serious any issue is until you or someone close to you has had to endure it."
So is Ely worried about his nightmare starting over again with another positive COVID-19 test?
"From what I can find, there isn't enough research yet to say how long you have immunity from it, Ely said. "So sure, on some level I am worried."
Concerned about COVID-19?
Sign up now to get the most recent coronavirus headlines and other important local and national news sent to your email inbox daily.