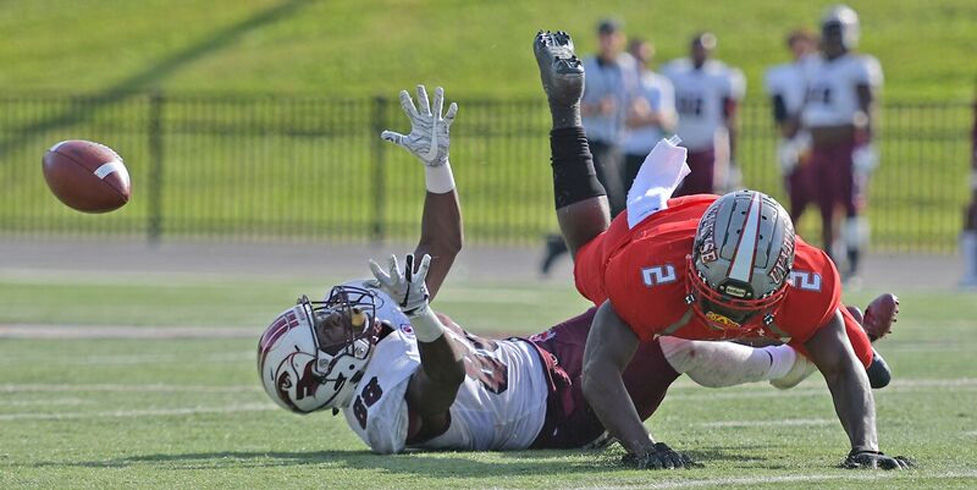 It's not a typical season-opener, but Marquis Hamilton of the University of Virginia's College at Wise is still amped up none the less.
"I am really excited," said the 5-foot-10, 190-pound junior cornerback from Washington, D.C. "I love how our team has come together. We've got some young talent and our younger talent really listens better than years past. They actually take notes, heed that advice and get things done."
Hamilton will be of the few experienced players on the field as the Highland Cavaliers open a four-game spring season on Saturday when they host the Carson-Newman Eagles at noon at Carl Smith Stadium.
Saturday marks 484 days since UVa-Wise wrapped up the 2019 season with a 20-7 road loss to North Carolina-Pembroke. The South Atlantic Conference announced on Sept. 28 that its fall sports would be shifted to the spring with a truncated schedule due to the coronavirus (COVID-19) pandemic.
"The main thing is we just took it day-to-day," said UVa-Wise coach Dane Damron. "The thing we tried to do with our kids was just keep them up to date as much as we possibly could and be honest with them. We got our kids here in August with the report date, because they still hadn't canceled the season at that point.
"We brought them in and from August through October we didn't have one COVID case. We've just had three or four, overall, and that was back in January. Our kids have accepted the challenge, accepted the reality of things and have done a great job working with each other. We want to play."
The Cavs also want to play better after going just 2-9 in the fall of 2019 in what was their first season in the SAC after previously competing in the Mountain East Conference.
"The 2019 season was definitely an eye-opener for us," Damron said. "We knew the South Atlantic Conference was good – we didn't know it was that good. There's no way you can know until you play in it and we weren't ready for it. I think this four-game season is going to allow us to see if we have closed the gap a little bit."
How is Damron going to approach this season?
"We want to get a lot of kid's reps," Damron said. "If they're spotting the ball and snapping it, we want to win and we're going to do everything we can to put the best product on the field. … I told these kids that if they've been practicing, we're going to do everything we can to get them in the game. We'll play some kids that in a normal situation might not get to play, but we're going to give those kids a shot because they deserve to play with what they've been through."
Hamilton has earned his keep as he finished fifth on the 2019 squad with 41 tackles to go along with two interceptions and 327 yards on kickoff returns.
Defensive back Demetrius Mann was a 2019 College Football Network All-American as a return specialist as the Tampa, Florida, native took two punts to the house for scores.
Defensive tackle Chavon Fields, linebacker Deandre Williams and offensive tackle Daric Cotman are other veterans expected to play big roles.
Garrett Cropp (36-of-69, 259 yards, one touchdown, one interception) and former Dobyns-Bennett High School star Lendon Redwine (57-of-106, 321 yards, two TDs, 10 INTs) are both back in the fold and competed for the starting quarterback job in the preseason. Cropp is listed as Saturday's starter on the initial depth chart.
They will have a promising newcomer to throw to at wide receiver in Greeneville High School graduate Dorien Goddard, who began his college career playing for Bronco Mendenhall at the University of Virginia before transferring.
UVa-Wise's opening opponent reached the second round of the NCAA Division II playoffs in 2019 and has a new head coach in Mike Clowney.
Linebacker Caleb Goins (John Battle), offensive lineman Reese Fain (Science Hill), punter Michael Harrah (Elizabethton), freshman tight end Tyler McCloud (John Battle) and sophomore running back Drew Morrison (Science Hill) are on the Carson-Newman roster. Goins, a junior, played in 10 games last season and finished with four tackles and a touchdown.
"I think everybody in this league is a tough opener," Damron said.
One thing is for certain on Saturday: Hamilton will hold down his spot in the secondary and on special teams.
"I try to lead," Hamilton said. "I'm not too vocal, but when I do speak up they know I'm really serious. It's a four-game go-around right here, so we have to leave everything out there."