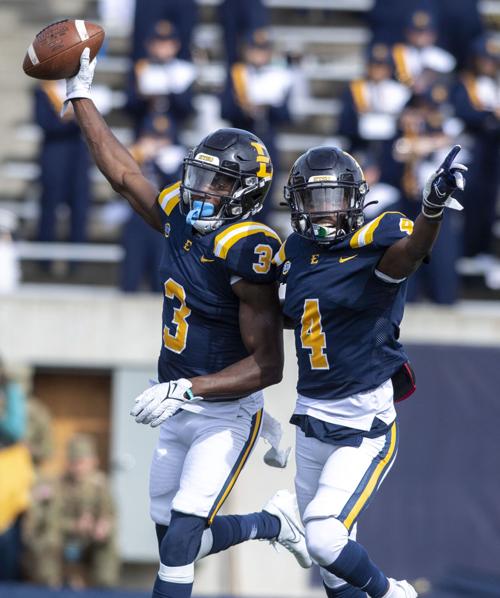 East Tennessee State won the Southern Conference championship in 2018, but had to share the title with two other teams.
Win on Saturday and it is all theirs.
"We had to share it in 2018 which was cool to win, but two other teams got a ring as well," said ETSU redshirt sophomore linebacker and leading tackler Donavan Manuel, who has 97 stops, 34 more than second place Jared Folks. "We were happy because it had been a long time, but we want to be at the top all by ourselves."
That opportunity comes Saturday as the Buccaneers (9-1, 6-1) host Mercer (7-2, 6-1) at Greene Stadium with kickoff slated for 1 p.m. ETSU could possibly set an attendance record for a third time this season, which would be fine with head coach Randy Sanders.
"Well, our fans have been awesome this year, no question. I feel that there are a lot of good atmospheres in the conference, but none as good as ours," said Sanders, during a Monday press conference. "I think that we have the best atmosphere and some of our success as a team has helped. I also think that not being able to have this last year has brought fans to the stadium.
"We have been very fortunate weather-wise at our home games. The students and the fans have shown up. I certainly hope we have another record crowd on Saturday. It is our responsibility to get the fans fired up this weekend."
ETSU enters ranked eighth in the Stats Perform Top 25 and 10th in the FCS Coaches Poll. The Bucs defeated Western Carolina 56-35 on Saturday, with both Jacob Saylors (school record 266) and Quay Holmes (212) eclipsing the 200-yard mark. They also have three touchdowns apiece against the Catamounts.
"It really was an easier game for holes because all of our offensive linemen did their responsibilities," Saylors said. "All week long we had practiced on trying to get running backs one-on-one with the safety. It is fun to be able to go out on Saturday and just do what you have practiced all week."
Mercer did its part to set up the winner-take-all scenario by defeating Chattanooga 10-6 last Saturday, the lone club that has beaten ETSU this season. The Bears prevailed despite being outgained 285-163, but did force five turnovers.
"They are a much different scheme that what you see every week. It will take a lot of discipline, especially eye discipline and attention to detail," Sanders said. "They try to get one or two guys out of position a couple of times. You can play great for 65 plays, but if you have four plays that somebody loses discipline, then you look up and you have given up 28 points. The mental toughness it takes to play a team like Mercer is challenging."
ETSU fell to Mercer 21-13 in the spring, despite the Bears being outgained by 173 yards. Manuel thinks this team will be better prepared for this meeting.
"The difference is the mindset of this team. We have a new strength coach who did a great job of pushing us all summer long," Manuel said. "The team had lacked in finishing games and finishing workouts strong. He really pushed the motor that we have to finish everything that we do and that we have to start faster."
ETSU last won the Southern Conference in Sanders first season in 2018, sharing the crown with Wofford and Furman. Sanders has noticed both similarities and differences between that squad and this one, which would become just the second team in program history to win the SoCon crown.
"Some of the similarities is that the 2018 group had some older guys that were very, very hungry. That team was willing to listen to what they thought might give them some success and when we began winning, they truly bought in," Sanders said. "I think this group has a group of older guys will trust and believe in the process. They have a lot more experience and they just try and play the next play. This group is more talented and I feel this road has been harder for this team."
ETSU had been just 11-22 in its three previous seasons since the program prior to 2018, and had won just four games in two years in the return to SoCon play.
"In 2018, we caught some teams that didn't think we were going to be that good. That if they just played for 60 minutes, somewhere along the line they would beat ETSU," said Sanders, in his fourth season with the Buccaneers. "I don't think we have surprised anybody but the first team [Vanderbilt] this year. For the most part, we have gotten teams' best shots and that is what you want as a coach."
Playing on friendly turf is certainly a good thing for the Bucs, who can earn an FCS playoff berth in addition to the SoCon title with a win on Saturday.
"It has been a blessing, especially coming off the COVID year where we didn't really get to have fans," Saylors said. "It is very exciting, especially for us because like coach said, we feed off the energy of the 12th man. They drive us and it has been great."