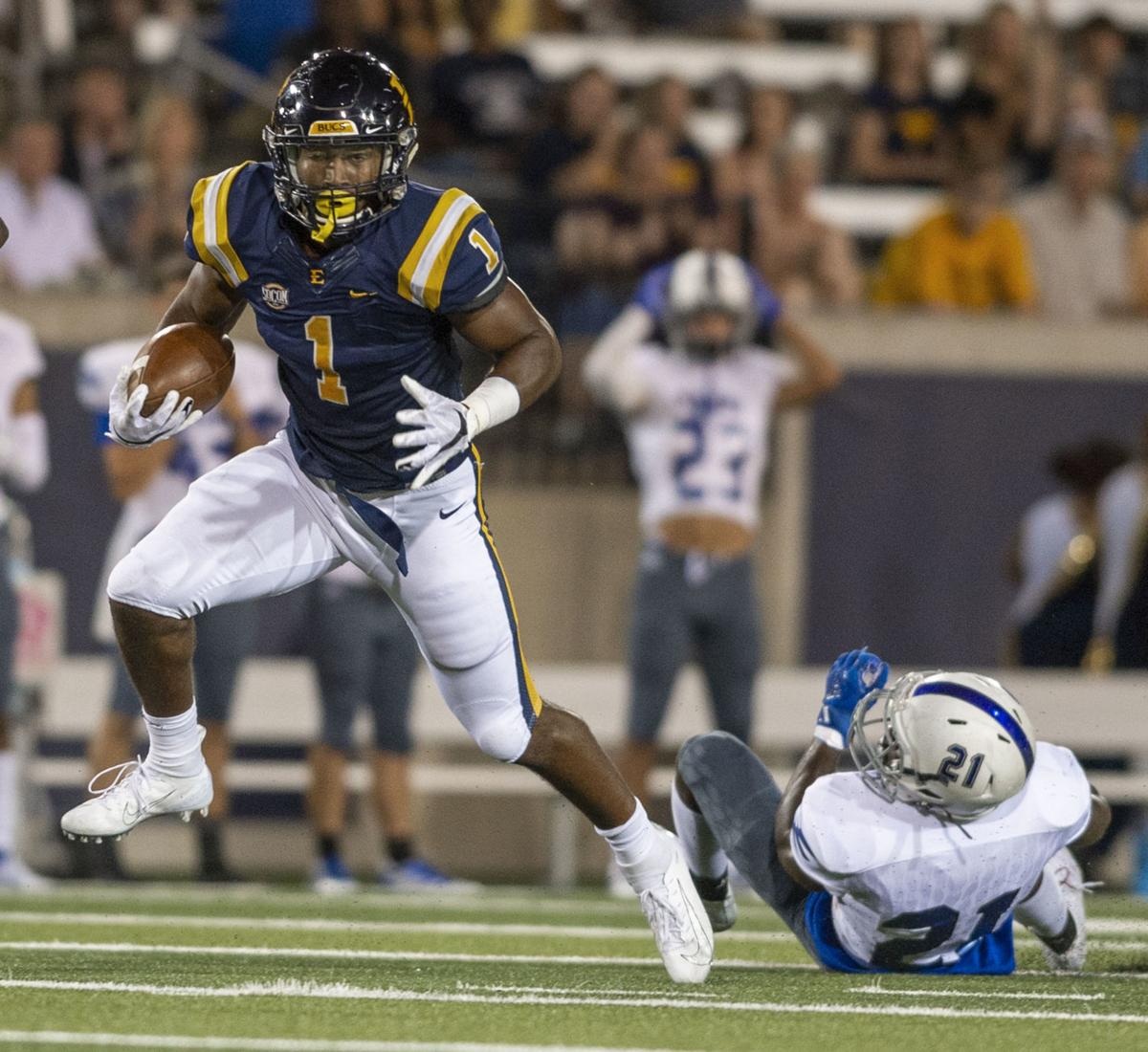 Coming off an upset win over 10th-ranked and previously undefeated VMI, East Tennessee State still has hopes of a Southern Conference championship and an FCS playoff berth.
"I think every victory we put together is big for this program," ETSU linebacker Jared Folks said. "Especially being such a young team. Every game is big. We have to treat every team with the respect they deserve, just play hard and go out and compete."
ETSU (4-1, 4-1), did that last week, with Quay Holmes scoring the second of his two touchdowns in the fourth quarter to lift the Buccaneers past the Keydets 24-20. The Buccaneers have won three games by seven points and one by four. Their lone loss was by four points to Furman.
"If we can win by more than one possession, I would love it," ETSU head coach Randy Sanders said. "I'm just glad that we are able to win the one-possession games this year. It speaks to the character of our players and the ability of our coaches. It speaks to the culture that we are trying to build that we're able to win those close games."
Winners of three in a row, ETSU will travel to Mercer on Saturday ranked 20th in the AFCA Coaches Poll and 21st in the STATS Perform FCS national rankings.
Mercer (4-2, 4-2), which is receiving votes in the national polls, has also won three straight, two against ranked foes, defeating Furman 26-14 last week with Carter Peevy throwing for 406 yards. The Bears played three games, all losses, in the fall so they have experience on their side.
"Mercer has played a good bit of football," Sanders said. "As the spring has gone on, they have gotten better and better as they are getting more comfortable with their schemes. We have our hands full going down there, playing a team that has won three in a row.
"We aren't expecting it to be easy and if you are a competitor, you don't really want it to be easy."
ETSU must defeat the Bears and then hope VMI falls to The Citadel next Saturday to secure a second SoCon title and FCS playoff berth in the last three seasons. There is a chance ETSU could still claim an FCS all-large bid, although the playoff field has been trimmed from 24 to 16 teams for the spring.
ETSU has been led on offense by Holmes, who ran for 255 yards and three touchdowns in the Bucs' last meeting with Mercer, a 38-33 victory in 2019.
Holmes is second in the nation in all-purpose yards with 184.8 yards per game, and also has eight of ETSU's 14 touchdowns.
Defensively, the Buccaneers are ranked in the top 25 in four different categories among FCS teams.
No matter what lies ahead, Shorts is confident the spring schedule has helped prepare the Buccaneers for what is expected to be a "normal" fall campaign.
"Absolutely. This spring schedule has given guys, who didn't get a lot of playing time in the past, a chance to compete this semester," Shorts said. "This spring has slowed the game down for them and allowed them to gain that playing experience."
Sanders said that ETSU, which had next week's game with Chattanooga canceled due to the Moccasins opting out for the remainder of the spring season, could pick up a non-conference opponent next week.
ETSU also had a scheduled trip to Wofford on March 6 canceled when the Terriers didn't have  enough players available at key positions.