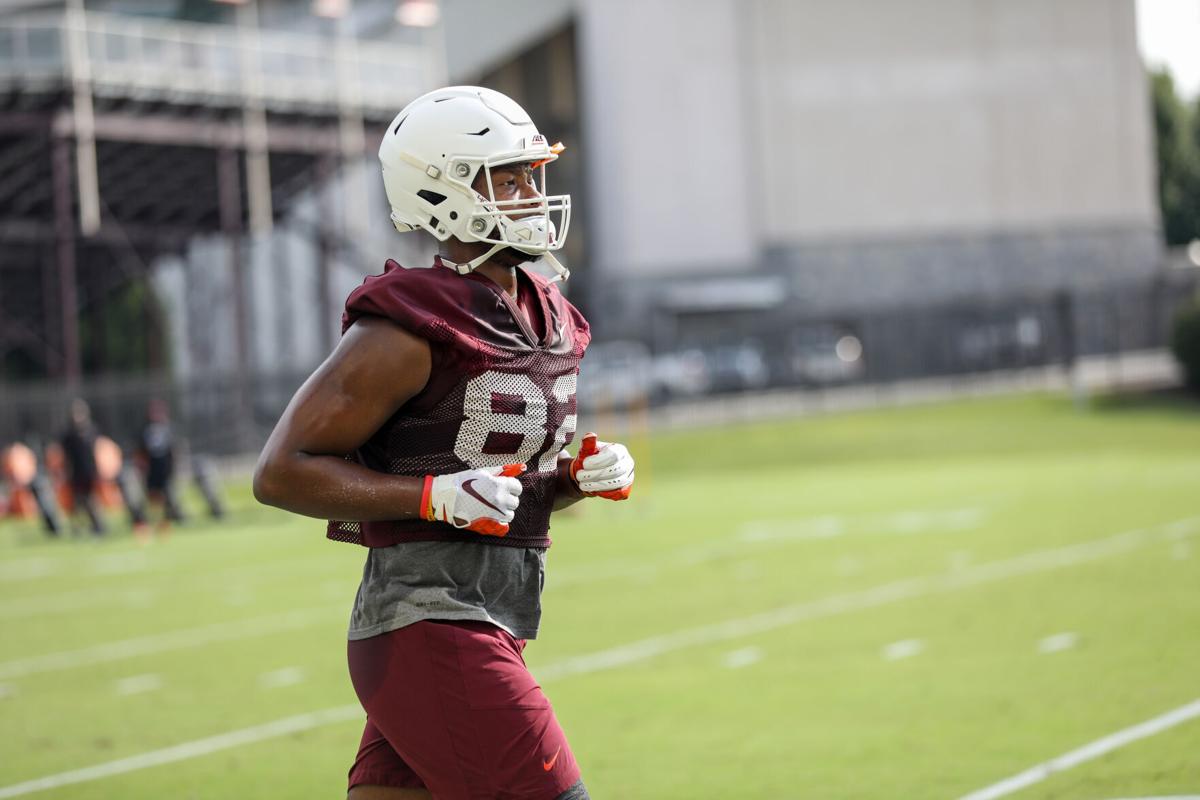 BLACKSBURG, Va. — Virginia Tech coach Justin Fuente was spending a few minutes with his daughters on Saturday when the training staff found him.
Fuente, who had just finished speaking to reporters about his team's 35-14 win over Middle Tennessee, instinctively knew it wasn't a good sign and he was right.
The trainers told him they ordered an MRI for tight end James Mitchell, a test that would reveal he suffered a season-ending right knee injury in the win.
Fuente announced the news at his weekly press conference on Monday.
"We are disappointed for him, what a great leader and great young man," Fuente said. "A great player, team captain and leadership council member. Just incredibly disappointed for him, I know how much this football team means to him. That's immediately where his thoughts went."
Tech's trainers initially thought Mitchell avoided a serious injury, and told Fuente as much during the game.
Mitchell was knocked out of the 35-14 win over Middle Tennessee when safety Greg Grate stuffed him for no gain on a handoff at the 2-yard line. The tight end spent the rest of the half working with the trainers trying to get back into the game.
The noticeable limp he had when was helped off the field slowly went away as he walked around the sidelines, did some light jogging and got on the exercise bike.
Fuente was optimistic Mitchell wouldn't be out long term until he rewatched the hit over the weekend.
"I only watched it once," Fuente said. "When I saw it on video, I knew we were in trouble. I knew he was hurt."
Mitchell had five catches for 42 yards with a touchdown this season. He had 52 career catches with 838 receiving yards and 12 total touchdowns (seven receiving).
Fuente met with Mitchell on Monday morning to chart a path forward. The goal is for Mitchell to be on the sidelines and travel with the team when he's mobile enough to protect himself on the sidelines.
"James is a special case, obviously," Fuente said. "...That was one of the things we discussed. When he's able to move around a little bit better than we are going to want him back out there."
The tight end considered entering his name into the NFL draft last season, but opted to return for one more season to get his sports media and analytics degree and improve areas of his game that scouts told him to work on.
"He still has decisions he has to make," Fuente said, when asked how the injury will impact Mitchell's NFL aspirations. "We don't have to worry about that right now...Right now, his thoughts are centered on this football team, having the surgery and getting healthy. When we get down the road we will talk about all those things.
Tech will turn to backup tight ends Drake DeIuliis and Nick Gallo as Mitchell's replacement. They also have walk-ons Cole Blaker and Ty Eller at the position.
DeIuliis is a fifth-year junior who has played in 29 career games. Gallo, a 2019 signee, jumped into the rotation at tight end last season and had 11 catches for 83 yards with a touchdown.
"There's no replacing James, but I think collectively those guys have a chance to fill those shoes," Fuente said.