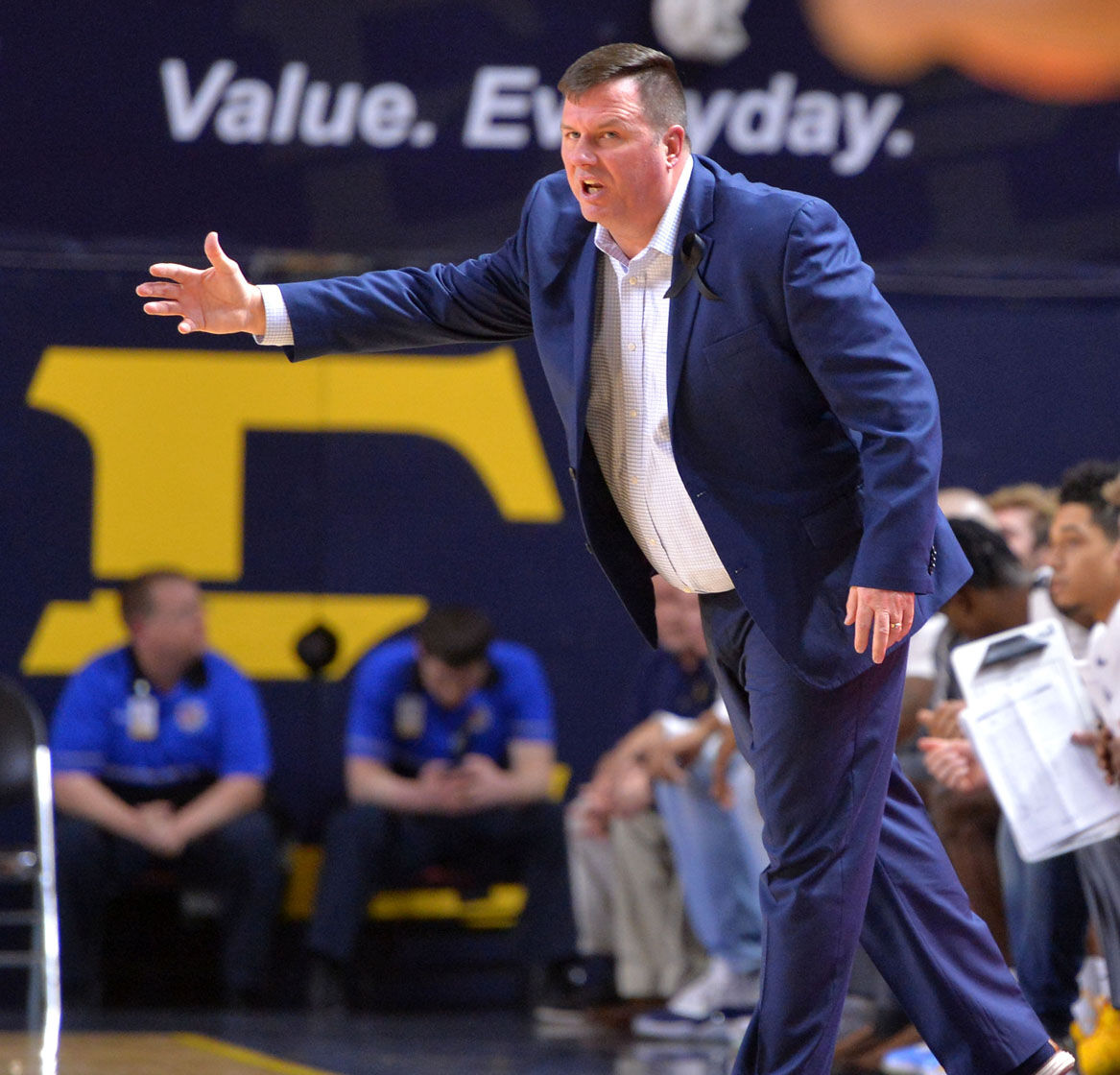 In the bubble: not a good thing. In a bubble: not a bad idea.
East Tennessee State men's basketball coach Jason Shay has confirmed that the Buccaneers are looking into possibly hosting some type of "bubble" scenario to allow as many as eight to 10 college basketball teams to play non-conference games in a short time span.
"We have met for the past three weeks trying to prepare a bubble just for non-conference games," said Shay, during a zoom conference call on Thursday. "Non-conference games are important to the Southern Conference and so we are just trying to come up with an alternative way that we can play games.
"We have been working through logistics on everything that goes into hosting a bubble and trying to keep it as cost-effective as we can as we go through the numbers."
The bubble scenario would only be needed if the NCAA does as expected and pushes the season back due to concerns related to the COVID-19 pandemic. That decision is expected to be announced on Wednesday.
"We have had a lot of interest," Shay said.
He expects the NCAA to make at least three declarations, including a start date, which is thought to be Nov. 25. In addition, the NCAA could also set a minimum and maximum number of games teams can play, in addition to health protocols that must be followed to allow basketball to begin.
Currently, the season is slated to begin on Nov. 10. ETSU has six games scheduled between then and Nov. 25, including four games in the Cancun Challenge, one of which includes a visit to Mississippi State. Whether those games would be played at a later date or at all remains to be seen.
"We are just preparing for what is going to happen after that announcement as far as non-conference games moving forward," Shay said. "Are we staying pat with what we have from the 25th on. We don't start conference normally until the first of January, or are those contracts going to be null and void and now it is a free-for-all in what happens with scheduling.
"We just want to be prepared and have an option as far as being able to host a bubble and play some non-conference games."
Shay feels like ETSU has the facilities needed to host an on-campus bubble scenario, similar to what the NBA been doing for more than two months, with eight the preferred number of teams. In addition to plenty of court space, he touts the school's ability to offer weight-training, meeting space, housing and food, all without leaving campus.
Freedom Hall, which normally hosts ETSU men's games, could be an option as well, but Shay would prefer to keep it isolated to on-campus facilities.
"I would rather play them on campus because we can put two or three courts in the Dome. We have got Brooks [Gymnasium] and then we have got plenty of practice facilities with our practice facility and the women's practice facility," said Shay, who added that three courts in the Basler Center for Physical Activity could also be used. "There is ample space and keeping it on campus."
Shay didn't comment on which schools have expressed an interest in being included, in addition to when or how often the bubble would be utilized.
"We are looking at more of a 10-day window so you can play every other day, play five non-conference games," he said. "Is just a weekend enough where you can play three games in a weekend, I don't know. If you are doing that every weekend, now you are bringing in different teams every weekend, where is the testing going, where do the protocols fall with that.
"Right now the proposal that we are looking at is for 10 days and trying to play five games in within those 10 days and kind of go from there. Again, it is all going to be determined after the decision is made [Wednesday]."
Shay has spoken for weeks about the importance of non-conference games for mid-major schools like ETSU, which doesn't have the revenue to test for the coronavirus as often as power conferences.
"I think a big concern from the power conferences is they can test more readily because they have more money," Shay said. "They are testing three days a week, five days a week, can we feasibility do that as mid-majors.
"Some conferences are willing to play non-conference games. You hear other conferences, they are thinking about just going strictly to playing conference games because the protocol within those leagues is fairly similar."
He said that would be an advantage for larger conferences, such as the Big 10 or ACC, who have significantly more schools than the 10-team Southern Conference.
"That is why we are trying to come up with an alternative way with the bubble for us to play non-conference games because the numbers don't fit as far as the Big 10," said Shay, who is also concerned about how the NCAA selection committee would determine at-large bids with such a discrepancy in not only games, but quality of those games played. "They said maybe they are going to go to all conference games. They have 14 teams, if they play everybody twice, they can play 26 games. We only have 10 so we would play only 18 conference games if we played everybody twice.
"How are we are going to make up those 8 to 10 games. The ACC has 15 teams so they can get closer to 28 so that is why the bubble has become an option that we are considering."
Shay feels like Johnson City is an ideal location for a basketball bubble since the region has had a low amount of positive coronavirus tests compared to other areas. He also thinks the creation of an on-campus bubble can be more economically feasible than trying to do it in a hotel or other off-campus site.
"We are trying to have a competitive price, one that is going to be efficient enough for these teams to play in," he said. "Moving forward we are trying to keep it as feasible as possible and hopefully it will attract teams.
"We have got some interest so we will just keep plugging away."
The ACC made news early this week, proposing that all 353 NCAA Division I programs be admitted to the 2021 NCAA Tournament. Shay certainly found the idea interesting, but added that wouldn't be an easy task to pull off.
"It is pretty crazy. All the logistics of how are you going to go through 350 teams, how is that going to work," he said. "We are in a unique year, but logistically how are we going to play that amount of games in that amount of time.
"We will just wait and see how those decisions move forward, but I think it would be a logistics nightmare. However, it is an unusual year, can we make it work. We will just continue to see how that proceeds, but right now I don't see how that would work."
"I am not opposed to it," he added.
Be the first to know
Get local news delivered to your inbox!