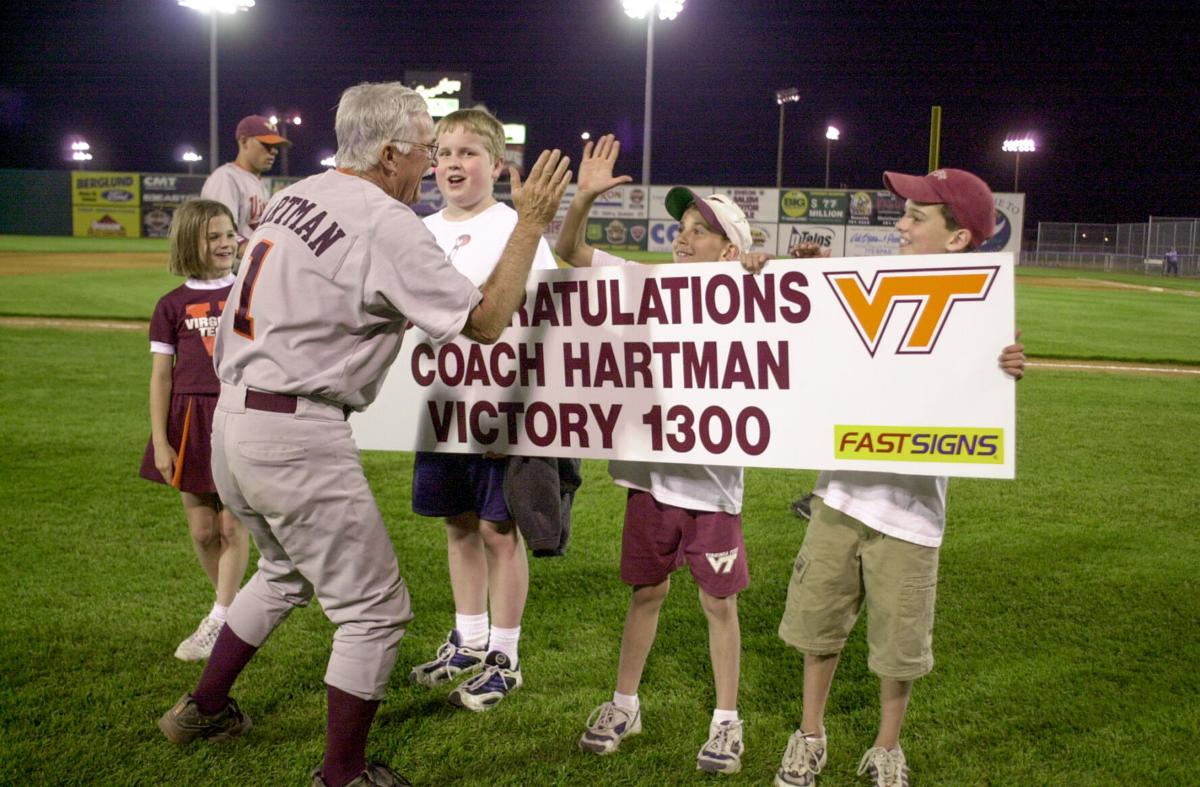 After playing baseball for Virginia Tech and in the major leagues, Franklin Stubbs became a minor league coach.
He adopted the style of the man who coached him at Virginia Tech — the late Chuck Hartman.
"I kind of coached the way he did — never got boisterous or loud, basically just stayed calm and talked to the players like a man," Stubbs, 60, said Tuesday in a phone interview from his Louisville, Kentucky, home. "You get more respect from the players when you do that."
Hartman died Monday night at a Blacksburg assisted living facility at the age of 85.
Hartman, who steered the Hokies from 1979-2006, was the winningest coach in the history of Virginia Tech athletics. He went 961-591-8 in 28 seasons with the Hokies.
"He was like the silent assassin, where he smiled at you, smiled at the other team, … but he was very competitive and wanted to win at all times," Stubbs said. "He always stayed calm and cool, but you knew underneath all that, he wanted to win as bad as you did.
"He was humble, like he was on the golf course — you think he was going to take it easy on you, but he's trying to beat your brains out. It was the same way when he coached."
Hartman was a father figure to former Virginia Tech and major league player Kevin Barker.
"Ever since the time I [first] shook his hand till the time he sent me off to be a professional baseball player, he was my second father," Barker, 45, said Tuesday in a phone interview from Toronto, where he co-hosts a radio show.
"He was just always there for me. He would stay after with me all the time and do soft toss in the [batting] cage."
Hartman won 1,444 games at High Point and Tech combined in his 47-year head-coaching career. He was inducted into the American Baseball Coaches Association Hall of Fame in 2004.
"He was easy to get along with," said former Virginia Tech and major league pitcher Mike Williams, 52, who lives in Giles County. "We bonded really well. He was an outdoors person; I'm an outdoors person.
"I remember we went to UVa and played one … weekend. … We got out somewhere and went turkey hunting. He killed a turkey."
Williams, Barker and Stubbs were among seven major leaguers to play for Hartman at Tech, along with George Canale, Brad Clontz, Brian Fitzgerald and Joe Saunders.
"[Hartman] really cared about his players," said Canale, 55, who lives in Roanoke County. "We'd have killed for that man. He was awesome. We loved him."
As a sophomore in 1981, Stubbs became the first Hokie to earn first-team All-America honors. Tech went 48-9 that year and went 50-9 when Stubbs was a junior.
"[Hartman] made you feel at ease. Didn't put any pressure on you," said Stubbs, who played first base for Tech. "He was easy to talk to.
"He didn't yell. He didn't scream. He talked to you like you were a grown man."
Stubbs was chosen by the Los Angeles Dodgers in the first round of the 1982 draft, and played in the majors from 1984-95. He coached in the minors from 1997-2019.
After pitching for Giles High School, Williams joined the Hokies as a walk-on. He earned All-Metro Conference first-team honors in 1989 and 1990.
"[Hartman] was definitely a great coach," Williams said. "We were in a pretty tough conference back then. We were in the Metro with South Carolina and Southern Miss. and … Florida State."
Williams, who was chosen by Philadelphia in the 14th round of the 1990 draft, pitched in the majors from 1992-2003.
Hartman recruited Canale out of Cave Spring High School. Canale had already committed to James Madison, then coached by the late Brad Babcock, but Hartman persuaded him to change his mind.
Canale, who played first base for the Hokies, earned first-team All-America honors in 1986. Canale, Stubbs and Barker were among 12 All-Americans to play for Hartman.
"He was laid-back, but when he got mad, he'd get all over your [butt]," Canale said. "He wasn't a big man, but it felt like he was 6-foot-8 when he was mad at you."
Canale, who was chosen by Milwaukee in the sixth round of the 1986 draft, played in the majors for parts of three seasons.
From 1994-2000, Hartman steered Tech to four NCAA Tournament berths, one Metro Conference tournament crown and three A-10 tournament crowns.
Barker was part of Tech's first NCAA tournament team in 1994.
He first met Hartman after Hartman came to see him pitch for Virginia High School in Bristol.
"I was so nervous when I first met him," Barker said. "But when I left, it was like I'd known him forever. … He would warm your heart."
Hartman recruited Barker as a pitcher. But Hartman noticed Barker's hitting prowess at a Tech practice and turned him into a center fielder.
Barker became a second-team All-American in 1996, when he was named the A-10 player of the year.
Barker was chosen by Milwaukee in the third round of the 1996 draft. He played in the majors for parts of five seasons.
"I owe a lot of who I was, … not only as a baseball player but as a man, from Chuck," Barker said.
Hartman coached the Hokies in the Metro, the A-10, the Big East and the ACC. He had just three losing seasons.
Hartman continued to live in Blacksburg after he retired. Hartman's second wife, Ellen, died in 2014.
According to ex-Hokies and former Tech assistants Jon Hartness and Jay Phillips, Hartman had been hospitalized after suffering a bad fall in August. He went into a rehab facility before going to Warm Hearth Village in Blacksburg to continue his rehab. He was placed in hospice care there last week.
Warm Hearth Village called Phillips on Monday night to inform him of Hartman's death. Phillips was part of a group of people in Blacksburg who looked after Hartman in recent years.
Phillips both played for Hartman at Tech and coached under him.
"He taught us all how to play [the game] properly," Phillips said. "It was just fun to show up at the yard. He wanted to compete as much as we did.
"You felt comfortable around him whether you were playing baseball, playing golf, watching a basketball game."
Hartman enjoyed playing golf at Blacksburg Country Club in his retirement, and playing cards in the club's card room.
But there were some things he missed about coaching.
"I miss the kids — watching them grow up, watching them mature," he said in a 2018 interview.
A look at the career of Chuck Hartman, who died Monday night.
Head-coaching record: 1,444-816-8 at High Point and Virginia Tech combined
Tech coaching record: 961-591-8 from 1979-2006
NCAA bids: 1994, 1997, 1999, 2000
Honors at Tech: 1989 and 1995 Metro Conference coach of the year
League titles at Tech: 1981 Metro Conference regular-season crown; 1994 Metro tournament title; 1995 Metro co-regular season title; 1996 A-10 West Division champ; 1997, 1999 and 2000 A-10 tournament titles; 2002 Big East co-regular season title.
Winning seasons at Tech: 25
Halls of fame: member of eight halls of fame, including the American Baseball Coaches Association Hall of Fame, the NAIA Hall of Fame; the Virginia Sports Hall of Fame; the Salem-Roanoke Baseball Hall of Fame and the Virginia Tech hall of fame.