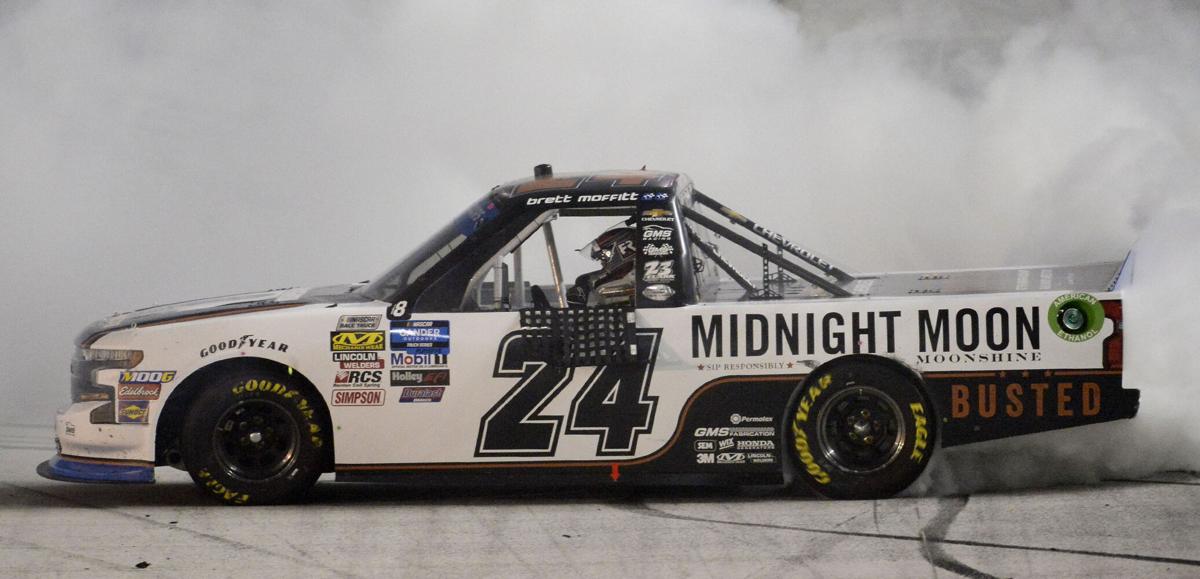 When Brett Moffitt fractured both legs during a motocross bike accident in mid-March, the veteran Truck Series driver would have expected to miss a few weeks of racing.
"Obviously 2020 has been wild for everyone. You start off the year and get going and then I break both of my femurs," said Moffitt, the driver of the No. 23 GMS Denali Truck. "My mental strength was just shattered at that point in time and thankfully for my sake - and obviously nobody wants this COVID situation that we are in - but thankfully it was long enough before we returned to racing that I was able to get healed up and get back in the car right away."
Not only did Moffitt return, first in an Xfinity race in Darlington, but the 2018 champion is one of 10 qualifiers for the Gander RV & Outdoors Truck Series playoffs that begin tonight with the UNOH 200 presented by Ohio Logistics at Bristol Motor Speedway.
"Darlington was my first race back in an Xfinity car," said Moffitt, who won the Truck Series race at Bristol last August. "I didn't know what to expect so getting through that race and having a good day there was a huge weight off my shoulders.
"It has been all over the place, but I am thankful to be in the playoffs and in a great position here at BMS to compete for a championship. Hopefully everything negative is behind us at this point and we can focus on racing and focus on winning a championship."
Moffitt fought through the pain, and there was plenty of it, leaving the hospital three days after the accident with a walker. He ditched that for crutches a week later, and soon threw them out and went back to work.
"It was extremely, extremely painful, but I was the one that went and made the mistake and broke my legs," said Moffitt, who has since sold his motocross bikes. "I felt like I owed it to my team and the Gallagher family to push as hard as I could to be back in the car when racing returned."
Moffitt, who has won 11 races in 75 Truck Series starts, has participated in 16 of 17 Series races this season, recording seven top 5 and 11 top 10 finishes. He still has seven races to go, but if he was to win the championship without a win, it wouldn't be first time that has occurred. Matt Crafton did it last season.
"Going to Bristol you have just got to maximize points any way you can. Even if something bad happens during the race, you have just got to keep your head in the game and never give up," said Moffitt, who won six races to capture the 2018 Series title, and four more last year in finishing third. "[They] showed last year you can win a championship without winning a race. That is not what we want to do, we want to win races, but at least it is possible so just keep working."
The 28-year-old Moffitt, who has driven in 45 Cup races and 24 Xfinity events, is one of four GMS racing teammates in the playoffs, joining Sheldon Creed, Zane Smith and Tyler Ankrum. Moffitt targets those four, in addition to Austin Hill as favorites to win the seven-race playoff slate that begins tonight in Bristol.
"I would say right now my teammates and 16 [Hill] are definitely the guys to watch and that you are going to have to beat," he said. "I could be pretty wrong, I could be caught off-guard by saying that, but just the way that things have been ramping up here getting ready for the playoffs, I believe that is where the competition is going to be at."
Moffitt, who drove in 31 Cup races in 2015, and seven apiece in 2014 and '17, would like to get another chance at the highest level of the sport. Perhaps a good showing down the stretch will help make that happen.
 "Certainly I feel like whenever I get in an Xfinity car or a truck, you feel like it is an opportunity to sell yourself basically to a Cup team," Moffitt said. "I think showing you can manage a playoff situation, a high-pressure situation of racing for a championship and coming out on top ultimately goes a long way.
"I know it is not the level of competition on Sundays, but it is still showing you can manage that pressure and manage those situations to steer your team to a championship. I think it speaks volumes if you are successful with it in racing and hopefully we can go do that."
While Moffitt acknowledges the advantages of having so many teammates vying for the same championship, he also understands there are sure unwritten rules about having to "rough" up a fellow driver to get to the finish line first.
That could very easily happen tonight.
"Getting here is one thing, winning it is another," said Moffitt, who will start second out of 38 trucks tonight, next to pole sitter Grant Enfinger. "You have got to do what you have got to do for yourself at the end of the day when it comes to the playoffs.
"Hopefully we don't get put in a bad situation, but at that point, we are racing for a championship now and that brings the level up ten-fold compared to the regular season. We have got to go out there and race for the 23 team, race for Brett Moffatt and that is about it."
Be the first to know
Get local news delivered to your inbox!