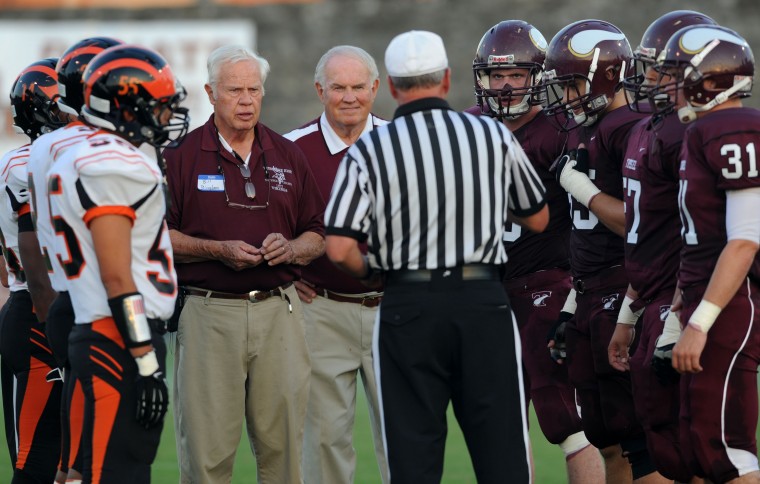 There was no football game played between the Virginia High Bearcats and Tennessee High Vikings in 2020 due to the coronavirus (COVID-19) pandemic.
There won't be a matchup on the gridiron in 2021 and 2022 between the Bristol rivals either because of a decision by the school on the Virginia side of town to put the V-T game on hiatus.
VHS athletic director Brad Harper confirmed to the Bristol Herald Courier on Saturday night that the Bearcats will not play Tennessee High in the next two-year scheduling cycle for football. Patrick Henry will replace the Vikings on Virginia High's schedule.
"It was a tough decision," Harper said. "We have a great relationship with the people over there at Tennessee High and there is so much history and tradition. However, we feel like we are in different places right now in terms of enrollment, in terms of resources and we're trying to take care of our kids. Depth probably plays more of a role in football than anything else when you start looking at the numbers game. It's kind of a mismatch for the time being."
The series dates back to 1911 and in those early days the teams sometimes played multiple times in the same season. THS holds a 75-30-5 advantage in the series and has won eight straight against the Bearcats and 21 of the last 22 meetings.
Virginia High has an enrollment of 640 and competes in the second-smallest Virginia High School League classification.
Tennessee High's enrollment is 1,190 according to the Tennessee Secondary School Athletic Association's website and the Vikings compete in the TSSAA's second-largest classification in football.
This year's game was not played due to the VHSL shifting the season to the spring amid the pandemic. The TSSAA proceeded with a fall schedule, so that meant for the first time since 1943 – when World War II was raging – the Bearcats and Vikings did not play each other on the gridiron.
Now, it will be 2023 at the earliest before the teams clash again in a football game.
"I can tell you the decision was not made lightly," Harper said. "We know there are a lot of people in Bristol who are probably going to wonder why. When we talked in our camp and on our side, our job is to do right by our kids and we understand that we're losing a big gate and all that, but at the same time, this is high school athletics and we want to give our kids the best chance to be successful.
"A lot of times it becomes a coach's decision or an athletic director's decision or a principal's decision. We were all very involved in this decision. We even had a couple of Zoom [virtual] meetings with [THS administrators], just out of respect for them. This is not done with a bad taste in our mouth and hope it doesn't leave one in there's."
This isn't the first time a nearby opponent of Tennessee High has decided to not play the Vikings in football. Sullivan East played THS every season from 1969-2010 before deciding to sever the series. 
For now, Tennessee High's 46-23 triumph over VHS on Sept. 13, 2019 at Gene Malcolm Stadium on the Virginia side of town will be the last matchup for the foreseeable future.
Harper said he hopes the Bearcats can continue playing THS in other sports and reiterated this doesn't mean that the football series is over for good – it's just on hold.
"We hope to have that conversation every cycle," Harper said. "If we can get our numbers back up in our program and feel like we're developing some depth and on that right trajectory, we would hope to revisit it. We certainly don't want to shut it down forever by any stretch of the imagination. … We hope to continue to have a good relationship with our neighbors over there."
Read Monday's Bristol Herald Courier for more on this developing story.
Be the first to know
Get local news delivered to your inbox!