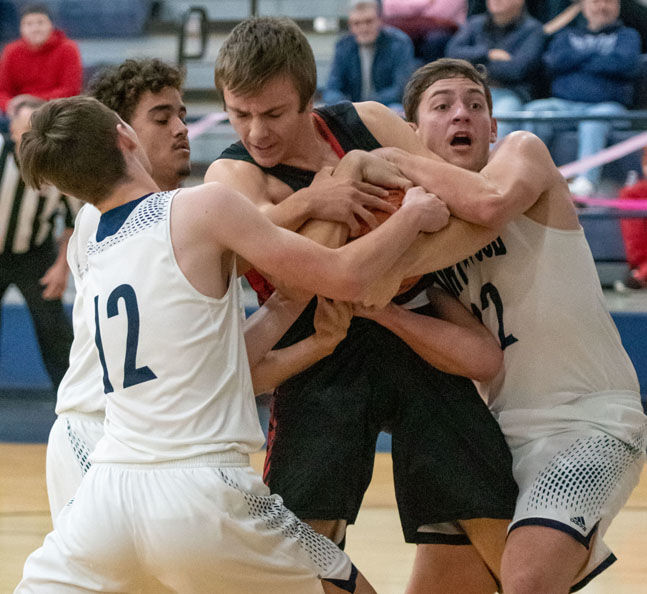 Key returners: Quaheim Brooks, G, sr.; Nick Delatos, G, sr.; Brycen Sheets, F, jr.; Lane Blevins, F/C, jr.
Promising newcomers: Trent Johnson, jr.; Randy Norris, jr.; Cade Morrison, jr.; Jayden Henderson, jr.
Key losses: Jordan Keith, Austin Faris
Outlook: Many folks are pegging the Holston Cavaliers to be the top team in the Hogoheegee District and they certainly have one of the league's top scorers in senior guard Nick Delatos.
Delatos averaged 19.0 points, 4.7 rebounds, 2.5 steals and 2.5 assists per game last season, while shooting 36.3 percent from 3-point range in earning first-team All-Region 1D honors. He's put up 15 and 22 points in Holston's first two games of the 2020-21 season.
Quaheim Brooks (7.8 points per game), Lane Blevins (5.6 ppg) and Brycen Sheets (5.3 ppg) are varsity veterans too, while seniors Braxton Vannoy, Ethan Norris, Brady Bishop and Sam Anderson will also contribute.
Juniors Trent Johnson, Randy Norris, Cade Morrison and Jayden Henderson are other players to watch.
Holston tied with Northwood for the Hogoheegee District's regular-season title last season and then lost a one-game playoff to the Panthers. A late-season injury to point guard Jordan Keith hampered the Cavaliers.
Defense and quickness will be key for Holston this season.
Coach's Quote: "This year's team has the potential to again be one of the teams vying for a district championship. We are extremely excited to have some experienced players returning and a bunch of players who have had success on the junior varsity level. They key for us will be to figure out who is going to step up and establish themselves as a player that can withstand the pressures of playing tough games night in and night out. Mental toughness will definitely be required as we expect to possibly be playing three and four games a week to complete our regular-season schedule."
Key returners: Michael Frye, G, sr.; Cole Rolen, G, jr.; Chris Frye, F, sr.; Eli Carter, C, jr.; Dyson Briggs, F, sr.; Seth DeBusk, F, jr.
Promising newcomers: C.B. Johnson, soph.; Robert Burkett, sr.; Nick Prater, jr.; Skyler Thompson, jr.
Outlook: It was a history-making season for the Northwood Panthers last winter.
The team from Saltville won the Hogoheegee District tournament for the first time since 1993 and won a regional tourney game for just the second time in program history. Meanwhile, senior guard Luke Carter became the school's all-time leading scorer and was selected as the Hogoheegee District player of the year.
As Northwood goes for the encore, the Panthers will do so without the services of Carter and with a new head coach in Tim Johnson.
Four starters are back in the fold, however, with Michael Frye, Cole Rolen, Chris Frye and Eli Carter. Michael Frye and Eli Carter were second-team all-region selections a year ago.
Athleticism and experience are strengths for Northwood.
Coach's Quote: "Losing a player the caliber of Luke Carter will be a challenge, but we have guys who have experience playing in big games. We feel we have an exceptional group of young men who will put in quality work that will make us a tough out this season."
Key returners: Ethan Puckett, G, sr.; Josh Tuell, G, sr.; D.J. Martin, G, jr.; Dawson Walters, G/F, sr.; Jonathan Gilley, F, jr.; Jonathan Phelps, G, sr.
Promising newcomers: Zac Hall, G/F, soph.; Lucas Blevins, G, jr.; Wade Martin, G, jr.
Key losses: Ray Berry; Lucas Doss
Outlook: It was a season of ups and downs last season for Chilhowie, but the Warriors did make a trip to the regional tournament and will look to build off that.
Point guard Ethan Puckett, 6-foot-1 senior Josh Tuell, D.J. Martin, Dawson Walters, 6-foot-2 junior Jonathan Gilley, senior guard Jonathan Phelps and sophomore Zac Hall all played valuable minutes last season. Tuell is the top returning scorer (8.5 points per game), while Walters averaged 5.5 rebounds per contest and Puckett dished out three assists per game.
Lucas Blevins and Wade Martin will provide valuable contributions for the Warriors, who are athletic, but lack size in the paint.
The team faces a tough season-opener today against Holston.
Coach's Quote: "We have a real challenge this winter to maintain our culture six feet apart. It will be difficult to build our team without helping our teammate up when he falls down or giving high fives as players come off the court. However, we appreciate the opportunity that we have been given to play the game we love and we will not take it for granted."
Key returners: Kade Gobble, G, soph.; Hamilton Addair, G, soph.; Ean Rhea, C, sr.; Ely Hale, G, sr.
Promising newcomers: T.J. Pecina, F, jr.; Cody Pecina, F, jr.; Lucas Lynch, G, jr.; Connor Beeson, G, jr.; Dylan Bassett, G/F, jr.; Jake Hall, F/C, soph.; Isaac Presley, G, jr.; Dalton Fore, F/C, jr.; Hunter Wachob, G/F, sr.; Clay Mora, F/C, jr.
Key losses: Zach Brown; Cody Smith; Dakota Rector; Cameron Fulton; Andrew Belcher; Jake Arnold; Jacob Pierce
Outlook: Patrick Henry has a lot of new faces on the roster this season after the departure of some valuable seniors.
With that being said, big man Ean Rhea (8.5 points, 7.5 rebounds, 2.3 steals, 1.7 assists, 1.0 blocks per game) and the sophomore duo of Kade Gobble (4.6 ppg, 2.2 rpg, 1.2 apg) and Hamilton Addair (1.5 ppg, 2.5 rpg, 1.1 apg) are the cornerstones who will be relied on heavily, especially in the season's early stages.
Gobble had 15 points in Saturday's season-opening loss to Twin Springs, while junior Cody Pecina put a dozen points in the scorebook.
Coach's Quote: "I am extremely excited to see what this group can do. Every chance that we've had to be in the gym, our kids have shown up and worked their tails off. This group wants to see change in our program and they've done everything they can during the COVID time to push their game."
Key returners: Garrett Worley, G, soph.; Brady Smith, G, jr.; Gatlin Hight, G, soph.; Gavin Crowder, F, sr.; Chase Musser, F/C, jr.; Hunter Lemmon, C, sr.; Jacob DeBord, G/F, sr.; Justin Pugh, G, sr.; Andrew Sayers, F, sr.; Jacob Alford, G, jr.
Promising newcomers: Jacob Crouse, jr.; Bryson Smelser, fr.
Outlook: Rural Retreat took its lumps last season as the Indians joined Council and Thomas Walker as teams from far Southwest Virginia who did not record a victory during the 2019-20 season.
However, the squad has all 10 of its players from last season back in the fold to go along with newcomers Jacob Crouse and Bryson Smelser.
Gavin Crowder, Hunter Lemmon, Jacob DeBord, Justin Pugh and Andrew Sayers are the seniors, Brady Smith, Chase Musser and Jacob Alford comprise the returning juniors and sophomores Garrett Worley and Gatlin Hight will be counted on to make major contributions.
The Indians are improved after those players matured both mentally and physically after enduring last year's tough campaign.
Coach's Quote: "We are just excited to be back playing the game of basketball. This has been a crazy sports year and we are going to make the best out of every day and enjoy every minute of the season."
Key returners: Peyton Coe, F; Daniel Goode, F; Joe Wilkins, G; Davion Tillison, F;
Promising newcomers: Ty Campbell; Colton Green; Benson Blevins; Devan Patel; Leyton Fowler; Tyler Catron
Key losses: Dayson McMillian; Dorrien McMillian; Avery Mabe.
Outlook: The George Wythe Maroons failed to reserve their usual spot in the state tournament last season and if they are to get back to that point, they will do so with a youthful squad.
Peyton Coe, Daniel Goode, Joe Wilkins and King University track and field signee Davion Tillison are the only players returning for GW with varsity experience.
Coe is one of Southwest Virginia's top playmakers as he averaged 15.4 points, 3.5 rebounds and 3.1 assists per game last season. Goode (8.0 ppg, 3.3 rpg) played valuable minutes as well, while Tillison and Wilkins also contributed off the bench.
Freshman Ty Campbell and sophomore Colton Green lead the crop of prospects for the Maroons.
With 2019-20 VHSL Class 1 state co-champion Auburn residing in the Mountain Empire District, GW will certainly get to test itself against the best.
Coach's Quote: "With our considerable youth and inexperience at the varsity level, we will need to mature quickly to have a good year. Our football coach, Brandon Harner, and advanced PE coach, Stephen James, helped our kids get stronger this preseason. I believe our physicality could be a factor in our success."