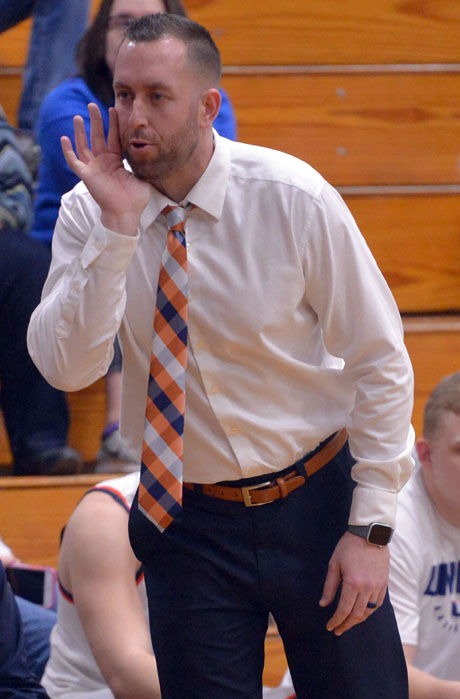 Zack Moore's most recent game as a high school boys basketball coach occurred on Feb. 21 and it was a contest that will be remembered perpetually around these parts as his Union Bears played about as well as a squad can play in collecting a 62-47 victory over East Rockingham in the VHSL Class 2 state championship game.
Yet, long before Moore's coaching journey traversed all the ups and downs and featured heartbreak and heroics to reach the pinnacle, it goes back to some undistinguished origins.
Rewind to Nov. 30, 2004 and the setting was a gym in Hyden, Kentucky.
Moore was fresh out of the University of Virginia's College at Wise when he became the basketball boss of the Jenkins Cavaliers, calling the shots for the tiny high school in Eastern Kentucky.
The guy who had been featured in Sports Illustrated's "Faces in the Crowd" a year earlier for his college hoops exploits probably wanted to bury his face in his hands as his overmatched team suffered a 74-49 setback to the Leslie County Eagles.
The 23-year-old rookie head coach finished with a 14-16 record that first season leading a program that did end up qualifying for the regional tournament. Talk about on-the-job training.
"You think you know what you're doing, but you don't and you just try to survive," Moore said. "It was a difficult year and I learned a lot about dealing with parents, the pressure to play certain kids and stuff like that. Without that year, I don't know if I would have progressed as a coach. You learn so much.
"Really, you learn something new every year, about the game and about as yourself as a coach. I'm still learning and I'm far from knowing half the game."
Moore is a state champion and the Bristol Herald Courier's selection for 2020-21 coach of the year honors.
"Coach Moore has been more than just a great basketball coach to me, he has taught me how to act in certain situations, how to stay calm no matter what position we are in and he has taught me how to grow and learn as a man," said Alex Rasnick, a senior point guard for the Bears back in the winter. "He's such a great mentor to me and he has been, and will be, to many others."
Moore's 12-year-old daughter, Aubrey, and 7-year-old son, Drake, both have a passion for the game of basketball and relish every opportunity they have to get on the court. Zack's wife, Kim, was a star athlete herself back in the day and is the head volleyball coach at Union.
Growing up in Wise County, Virginia, Zack Moore's first love was actually baseball and he lived for the excitement of games at Pound Little League as he manned shortstop and did some pitching for a team known as the Braves.
Basketball soon became his best sport, however, as he blossomed into one of Southwest Virginia's best players at Pound High School and was the top playmaker for the Wildcats in 1999 when they finished as VHSL Group A state runner-up.
That was followed by four sterling seasons at UVa-Wise where he became a 2003 NAIA All-American and scored a school-record 2,348 career points.
He explored opportunities to play professionally overseas, but nothing came to fruition.
"I wanted to stay involved in the game," Moore said. "I'm not a referee, so the only other way you can do it is coaching."
That led him to the job at Jenkins, followed by a year as an assistant at Letcher County Central, also in Kentucky, before returning to Southwest Virginia as the head coach of the Powell Valley Vikings.
When Powell Valley and Appalachia consolidated to form Union and the school opened in the fall of 2011, Moore became the leader of the hoops program and is the only boys basketball coach the school has ever known.
Always one of the top teams in the area, Union suffered its share of postseason heartbreaks in the ensuing seasons and of course there are always the critics who believe they can coach better from the stands. One thing is true though: nobody liked seeing the Bears on their schedule.
"His teams were always tough," said Scott Vermillion, the longtime boss of the Gate City Blue Devils. "They were strong and didn't beat themselves."
In a season like no other, it all came together.
What does a coach say to a team in the moments leading up to a state championship game, a seminal showdown that leaves teenagers with sweaty palms and churning stomachs knowing 32 intense minutes for the ultimate prize awaits?
"A thing I've learned from getting advice from other coaches about big games is that kids already know what's at stake," Moore said. "You don't have to go in there and say 'This is the state championship, blah, blah, blah.' You try not to harp on it and just go over what we need to do and remind them to have fun."
As Moore entered the locker room at the gym in Big Stone Gap on a Sunday afternoon a little more than five months ago, he could tell that there wasn't much that needed to be said anyway.
"They were locked in," Moore said. "There was no speech that fired them up. I came in and knew right away they were ready to play."
That the game was being played in Union's own gym and not the spacious Siegel Center in Richmond was a result of a schedule turned upside down by the coronavirus (COVID-19) pandemic.
The VHSL regular season consisted of just 14 games, there was no Mountain 7 District tournament and Union had to halt its schedule at one point early on to quarantine due to the procedures in place.
"It's a year you really hope you don't go through again," Moore said. "I was always afraid we were going to get eliminated from our season without losing. … It made you rethink everything you did. I just told our guys that we wanted to get to the finish line and see if we could win the race."
The path wasn't easy, but the bunch from Big Stone Gap did indeed take the checkered flag and finished with a 16-3 record.
Two of Union's losses came to perennial Northeast Tennessee power Science Hill and the Bears split a pair of games with eventual VHSL Class 3 state runner-up Abingdon.
The Bears dispatched longtime nemesis Gate City in the finals of the Region 2D tournament.
Previously unbeaten Radford fell to Union in the state semifinals.
East Rockingham was considered the favorite by many in the title game, but Union shot 50 percent in the first half in blitzing the Eagles.
Alex Rasnick was the definition of steady at point guard.
Bradley Bunch, who was the Virginia High School Coaches Association Class 2 player of the year, was fearless as he attacked the basket and crashed the boards relentlessly.
Sean Cusano put together a 24-point, 12-rebound, three-assist masterpiece.
Peyton Honeycutt and Caiden Bartee brought the defensive intensity as usual, making East Rockingham star Tyler Nickel – the state's top prospect who recently received a scholarship offer from the University of North Carolina – work for every shot.
It was a microcosm of what Union had been all season, an unselfish squad that never got rattled or frustrated and carried out the gameplan. The Bears played with a quiet confidence and workmanlike approach.
"Our guys just really bought into the team concept," Moore said. "Just being around those guys made it an enjoyable year."
Rasnick dribbled out the clock in the game's waning seconds and moments later Moore had the state title in his grasp.
The gym might not have been at maximum capacity due to pandemic protocols, but Moore's heart was certainly full.
"I'm still kind of in awe of what happened," Moore said. "Those guys have created lifelong memories for themselves, for me and our coaches."
After a parade through downtown following that win over East Rockingham, Moore was eating a postgame meal with his squad when a Union fan made an observation.
"I had a guy come up to me," Moore said. "He said, 'You know you've got to win it again next year, right.' "
Thus the life of a coach as next season is always around the corner and Moore began preparations for the 2021-22 campaign shortly thereafter as expectations will be through the roof.
Rasnick, the team's heart and soul and a clutch shooter has graduated, while Cusano moved with his family to Hilton Head, South Carolina.
Plenty of talent is still in place, however, and the 40-year-old head coach will implement those valuable lessons he learned that first year as a rookie coach at a tiny school in Kentucky and the wisdom he's gained every season since.
"People always ask 'How are you gonna be?' or 'What are y'all going to do?' but you really don't know until you get your team together and see them," Moore said. "I don't have a system where I do this or that every single year. I adjust to who we have. … I do preach team to our guys and always have. You can't do it alone. We've tried to build the program to the state we're at right now. We believe in hard work, being a good team and good things happen when you put in the time and you believe in each other."