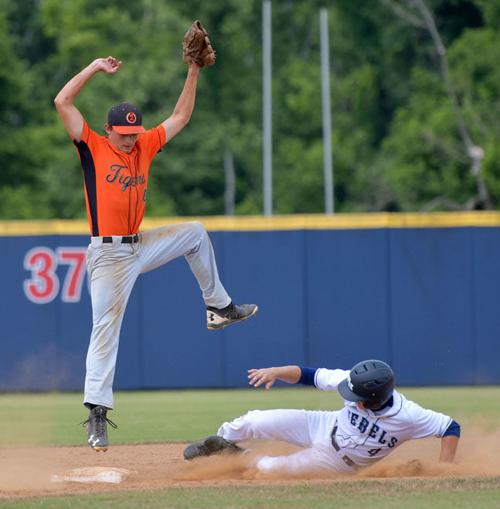 A trio of stalwart seniors helped Honaker High School's baseball team take state silver last season.
Hartley Hilton, Blake Stinson and Chris Marshall earned all-state honors in 2018 as the Tigers went 21-6 and finished as VHSL Class 1 runner-up.
Will Honaker continue to rule the Black Diamond District this spring despite heavy graduation losses?
The Tigers are on top of the preseason coaches poll and Grundy figures to be the biggest challenger to the defending champs. The Council Cobras will not field a team again this season.
The following is a look at each of the four baseball teams in the BDD:
Second baseman Bryson Kendrick, senior shortstop Chase Miller, third baseman/pitcher Shawn Tiller and outfielder/pitcher Levi Miller are the only returning starters for the Tigers.
Kendrick (13 RBIs in 2018), Chase Miller (.315, 41 runs, 22 stolen bases) and Tiller (.376, 22 RBIs at the plate; 4-1, one save, 2.55 ERA on the mound) were first-team all-district selections last season, while Levi Miller (.279, 15 stolen bases; 1-0, 4.84 ERA on the mound) was an honorable-mention pick.
Other than those four guys, the rest of the lineup is unproven at the varsity level.
"We lost a tremendously successful group of players to graduation after last season, including all-state performers Hartley Hilton, Chris Marshall and Blake Stinson," said Honaker coach Chris Anderson. "They not only accounted for 80 percent of our pitching and extra-base hits, but the loss of their experience and leadership will be just as difficult to replace.
"Fortunately, we have some experienced and talented leaders such as Chase Miller, Levi Miller, Bryson Kendrick and Shawn Tiller that are ready to step up and lead a very young team toward a successful season."
Catcher Dylan Barrett, outfielder Evan Justus, first baseman Jayson Mullins, outfielder Dalton Clifton, utility man Caleb O'Neal, designated hitter Connor Wallace and pitcher Jared Goins are first-year starters.
After winning the Black Diamond District championship in football and boys basketball, the Grundy Golden Wave will try to complete the trifecta this spring.
They have a strong shot at accomplishing that feat with seven starters returning.
"I expect us to be competitive and to give 100 percent every game," said Grundy coach Scotty Bostic. "These guys have some experience now and they know what it takes to get the job done. Some of these guys have put in a lot of time in the cage this winter and have improved from last year. We had four seniors last year, but we have a lot of starters returning."
Sophomore pitcher/first baseman Cade Looney, sophomore infielder/pitcher Tyler Grizzle, pitcher/infielder Casey Lawson and shortstop/pitcher Jacob R. McCoy (.515, 11 RBIs) were first-team All-Black Diamond District choices in 2018.
Third baseman Colton Justus, outfielder Jack Cooper (.302, 11 runs) and utility man Connor Cantrell also started a year ago.
Looney, Grizzle, Lawson and McCoy give Grundy plenty of options on the mound.
Clay Anderson, Cullen Nash-Cleek, Isaac Daniels, Ethan Viers and Ethan Blankenship have varsity experience as well.
Sophomore pitcher/shortstop Noah Daniels, senior outfielder Brandon Lester and pitcher/second baseman Connor Welch are the most notable returnees for the Twin Valley Panthers, who went 5-16 last season and qualified for the VHSL Region 1D tournament.
Jordan Shelton, Chase Cordle, Seth Stanford, Isaac Hampton, Xzavier Ward and Jordan Gross will be relied upon to contribute in a major way too.
"We have few seniors on the team, but the one that comes to mind and is a leader for us is Brandon Lester," said Twin Valley coach Adam Keen. "I have a very talented sophomore group and I'm hoping that they will hit their stride this season. Jordan Shelton, I feel like he can have a big year on the pitching mound for us."
The Hurley Rebels are in a unique situation among baseball teams in Southwest Virginia.
"After not having a baseball team for a couple of seasons, the program was restarted last year," said head coach Mark England. "Most of the players had never played baseball on any level prior to last season with a couple of exceptions. Hurley has no Little League, JV or middle-school programs for our kids to participate in so we are at an extreme disadvantage.
"We played a limited schedule with the hope that we could gain experience and play a full schedule this year. We had a lot of growing pains last year and I expect that to continue into this year. Our goal was, and still is, to get better every day. We are not concerned with wins or losses, but instead we strive to become the best players each one of us can be. I can say without a doubt that these players have improved tremendously. Day-by-day and game-by-game they are getting better no matter what the outcome."
Randall Bailey, Jacob Blankenship, Kyle Cline, Seth Freeman, Johnathan Hurley, Chad Justice, Cody Justus, John A. Justus, John Matt Justus, Keaton Matney, Jacob McClanahan, Matt Young and Tyler Young comprise the 13-man roster. Cline is a transfer from River View High School in West Virginia.
Be the first to know
Get local news delivered to your inbox!