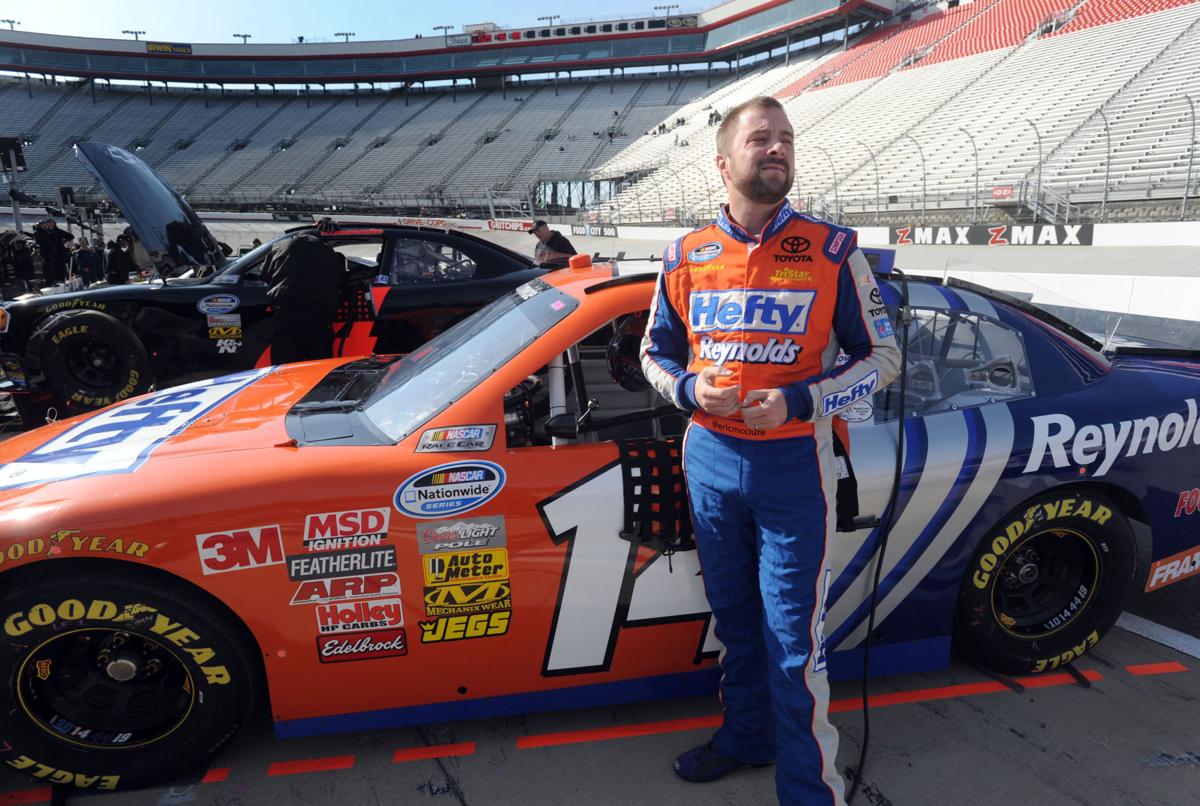 Eric McClure was born into a NASCAR family.
As a youth, he watched races from his house while wearing his very own uniform.
McClure later saw the homegrown Morgan-McClure Motorsports team win 14 times in the Cup series. As a driver, McClure competed in 288 Xfinity events and even formed his own grassroots operation.
The Eric McClure story goes far beyond cold stats, however.
Judging from the attention and outpouring of response since McClure's death on May 2, McClure had a profound impact on many folks in and out of motorsports during his 42 years.
Hunter Baize drove eight races in 2017 for the Abingdon-based Martin-McClure Racing team in the NASCAR K&N East Pro Series. McClure's partner was Hal Martin, a former Xfinity racer who now serves as a driver coach and spotter at Joe Gibbs Racing.
"I was very saddened and surprised to hear of Eric's passing," said Baize from his home in Bremen, Kentucky. "Eric was always kind and upbeat, and we bonded over our love for sports and all things competitive. Eric worked as hard to give me opportunities in motorsports as anyone ever had."
The goal of MMR in 2017 was to capture the K&N season championship.
"And we got off to a very solid start," Baize said. "We were second in the points following a fourth-place finish at Bristol Motor Speedway, and then we blew a tire in the following race and that really hampered our chances. But what we accomplished together, on a fraction of the budget of our competitors, is among my fondest memories in the sport."
Baize said McClure congratulated him and his wife on the birth of their first child.
Those type of personal, behind the-scenes gestures were common with McClure. Since his death, McClure's Facebook account has featured dozens of heartfelt messages from NASCAR associates, fans and friends around the region and country.
McClure not only took the time to sign autographs, but he would also stop to talk with supporters and strike up enduring friendships.
The May 2 online version of People magazine included a short item on McClure's death. The magazine piece also featured the following social media statement from his fiancée, Keira Brinegar Tibbs: "Eric, I will love you until my last breath.... please wait for me until then. I love you more."
A similar passage appeared in the New York Post the following day.
While McClure earned national celebrity status during 14-year run as a NASCAR driver, he remained true to his far Southwest Virginia roots.
McClure spoke often about his formative days at Lonesome Pine Raceway and how he wanted to give back to the sport that he loved so much. That loyalty and extra effort was a big reason why McClure was able to defy the odds in the top-heavy Xfinity series and attract sponsors, including a long association with Reynolds Wrap.
Perhaps the brightest day in racing for McClure came in April of 2016 at Bristol Motor Speedway. That's when he combined with Knoxville driver and current Xfinity Series regular Chad Finchum to win a 125-lap K&N event on a track located 30 miles from Abingdon.
"It's hard to put the Bristol win into words," said McClure in a 2016 interview. "It's special for many different reasons."
In that same interview from the MMR shop located just off Exit 24 in Abingdon, McClure discussed the long-range plans for his team.
"While Hal (Martin) and I always appreciated folks like Morgan-McClure and the (NASCAR) teams we competed for, our appreciation level is even higher now," McClure said.
"We know what we want to achieve from a performance standpoint, as well as an image standpoint, and we've been blessed to experience what we have."