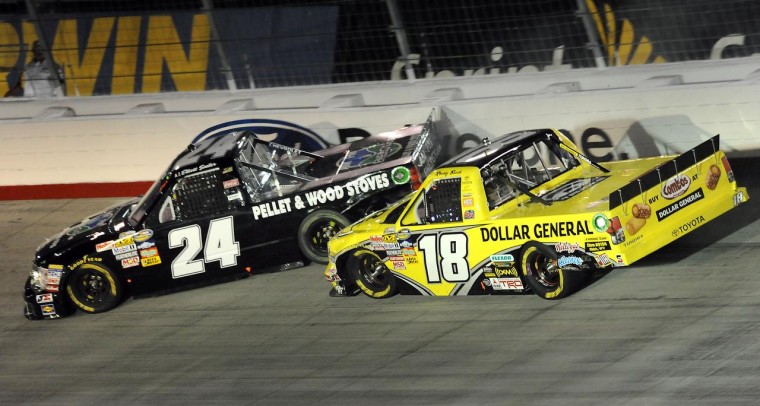 But Elliott Sadler still doesn't count himself as one of Busch's adversaries despite their scuffle midway through Wednesday night's Camping World Truck Series O'Reilly 200 at Bristol Motor Speedway.
"I've never had any issue at all racing with Kyle Busch," Sadler said. "He's a heck of a racecar driver."
Sadler and Busch both were running near the front of the pack for the first half of Wednesday's race when a bump from behind by Sadler sent Busch's right front into the wall.
"The spotter said I was clear," said Busch, who wasn't able to finish the race and wound up 30th. "I was clear at the time. Maybe I was too late, but he hooked me anyway and wrecked me. So I'm not going to put up with it."
Sadler, however, claimed that Busch's spotter later took responsibility for the collision.
"I think he just wrecked himself to be honest with you," Sadler said. "… His spotter actually came to us and told us it was his fault he didn't let him know we were there."
No caution came out after Busch's brush with the wall and moments later on lap 103 Busch charged out of Turn 2 and spun out Sadler, seemingly turning his No. 18 truck for a deliberate second blow as Sadler's No. 24 Chevrolet slid across the track.
Sadler expressed frustration about the move on the radio during the race, but afterward squashed any talk of a brewing feud.
"I understand his frustration coming back and, I kind of when I went into Turn 1, I was kind of waiting for it because I figured he was upset and frustrated, but I can sit here right now and not say one bad word about Kyle Busch," he said.
But Sadler, who was the pole sitter Wednesday and still managed to finish ninth despite the fireworks, said he was disappointed for his team that the skirmish with Busch cost him a chance at a victory.
"Oh God, yes it cost us a chance to win, but it's OK," said the veteran Virginia native. "It's all right. I know he's a very competitive driver and a good racecar driver. Like I said, we've never had any issues before at all, just tonight I think both of us had a really fast truck and we knew whoever got up front was going to be hard to pass."
Busch, however, speculated that his battle with Sadler may have been due to the fact that Sadler races on the Nationwide Series for Kevin Harvick, a Sprint Cup regular who unabashedly embraces his rivalry with Busch.
But Harvick, who won the O'Reilly 200, laughed off the suggestion that he instructed Sadler to attack Busch to prevent him from winning his sixth straight race at BMS across NASCAR's top three series, pointing out that Sadler wasn't even racing for Kevin Harvick Inc. Wednesday night.
"That just shows Kyle's ignorance," Harvick said.
While Sadler may get a few more cheers from Bristol's notorious anti-Busch fans at Friday night's Nationwide race, he said he'll continue to distance himself from any rivalry chatter sure to emerge.
"I race for me to race," Sadler said. "I don't get caught up in this hoo-boo for Kyle Busch."