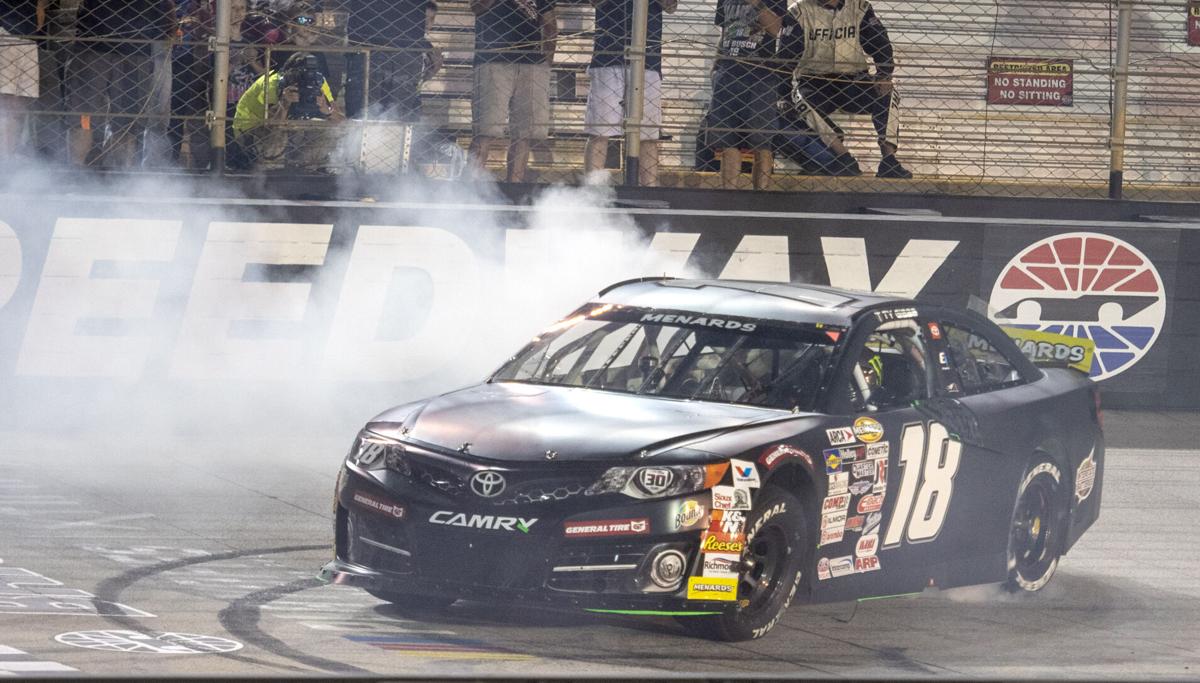 BRISTOL, Tenn. – Ty Gibbs is a slender five-foot-7 teenager, but he's a brute in a race car.
On Thursday night at Bristol Motor Speedway, the grandson of NASCAR power broker Joe Gibbs earned his 10th ARCA Menards win of the season by leading all but three laps of the Bush's Beans 200.
"This is just amazing," Gibbs said.
Sammy Smith, a 17-year-old teammate of Gibbs at Joe Gibbs Racing, finished second and clinched the ARCA East title in the process.
"To have all my guys here along with my teammate and close friend to wrap up his championship, this is a great night for our organization," Gibbs said,
Gibbs, 18, hopes to apply some lessons for tonight's Food City 300 Xfinity race.
"I learned a lot tonight," Gibbs said. "I've got faith in my crew chief and team for Friday."
Smith and Gibbs punctuated their achievements with a dramatic nose-to-nose burnout moments after the race.
"One-two for Gibbs, I can't thank all the guys on these two teams enough," Smith said. "We just had to hang on tonight."
Did the Iowa native have a strong enough car to challenge Gibbs in the closing laps?
"We were a little bit tight, and I just felt like we had a second-place car and that's all I was going to be able to get out of it," Smith said. "I tried there at the end, but it just wasn't enough."
Gibbs, who has led 60 percent of the laps in the 18 races this season, earned the pole Thursday afternoon with a lap of 14.859-seconds at 129.134 mph.
He took advantage of the traction compound on the low side of the track early and was just as powerful on the high side.
Taylor Gray, Nick Sanchez, Corey Heim and Rajah Caruth rounded out the top six.
Defending race champion and four-time Bristol winner Sam Mayer was involved in a lap 30 incident with Jason Kitzmiller. Gibbs managed to avoid that incident by zipping down the middle, but Mayer was forced to take his damaged into the pits at lap 52.
The day began on a down note for Mayer when he blew a tire in practice and had to use a backup car.
"It's just always something," said Mayer, who has faced various gremlins in the Xfinity Series this season. "I want to be positive. But when it hurts this bad, it just doesn't stop."
Mayer also competed in Thursday's Truck race and is entered in tonight's Food City 300 Xfinity race.
The race was slowed by a total of nine cautions.
The first caution came on lap 3 when rookie Richard Garvie (Minneola, Florida) was involved in a single car spin.
Former NASCAR Cup crew chief Tommy Baldwin served as the crew chief for Mason Diaz. The rookie driver from Manassas, Virginia, finished last in the 31-car field.
Thad Moffitt, who led the other three laps, settled for the No. 25 spot after being involved in two wrecks. Chuck Buchanan from nearby Meadows of Dan, Virginia, finished 21st, while 15-year-old Conner Jones was tenth.