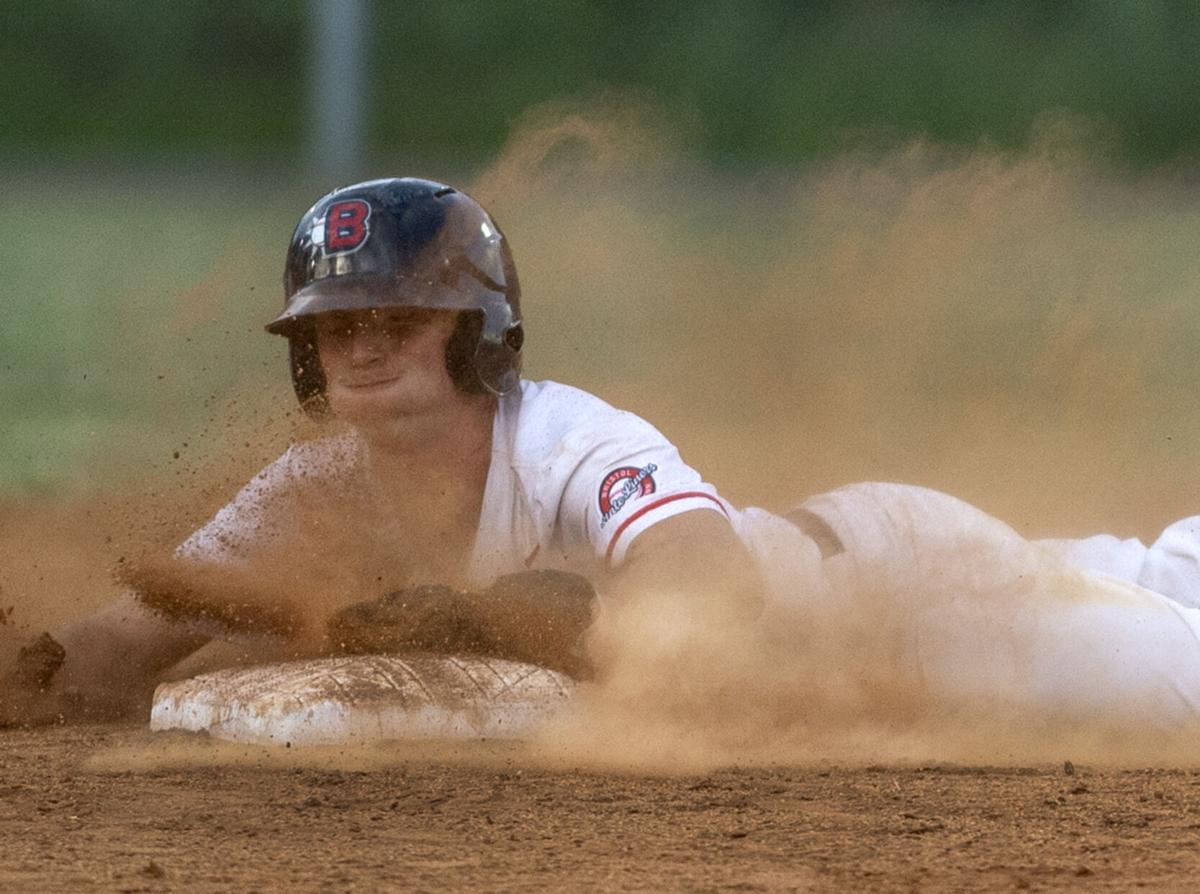 Cort Maynard is a baseball vagabond of sorts, drifting from town to town with bat and glove in tow as he endears himself to members of each new community he enters with the skillful way he uses those tools of his trade.
The 21-year-old third baseman has been a catalyst for the Bristol State Liners this season and deserves strong consideration for a spot in the Appalachian League All-Star Game that will be held in 12 days at Pulaski's Calfee Park.
That Maynard has made a name for himself in the Appy League's inaugural summer as a collegiate wood bat league is fitting as he played a key role during a farewell tour of sorts in the spring.
An event that changed the trajectory of Maynard's baseball career and put him on a new path took place on Feb. 11 at North Carolina Central University.
"They had a meeting in the auditorium where our basketball team plays," Maynard said. "We received a message from our coach [Jim Koerner] saying that we all needed to be there no matter if we had class or treatment or whatever else, so we knew it was something serious.
"We were all going off in the group chat [text message] with just the players about what it could be; if it was related to COVID or if we were introducing a new player, but nobody ever thought it'd be something like that. We were completely blindsided by the decision."
The verdict from university officials was that the 2021 season would be the last for NCCU's team as the NCAA Division I school in Durham was dropping its baseball program due to financial reasons.
"I don't even really remember my reaction," Maynard said. "We were all left speechless and didn't really know how to react. It took me a couple of days for it to become real – where I could comprehend I won't be playing in Durham again next year."
Maynard eventually came to grips with the situation and the junior went out and performed well, starting 46 of the Eagles' 47 games and batting .282 with six home runs and 23 RBIs.
"The emotions involved were like a bad break-up," Maynard said. "At first you're sad and cry with your teammates, your brothers that you've bonded with. Then you get past the immediate shock and you're just mad and want to prove them wrong. I personally reached the point of acceptance and understanding, where I made sense of their decision whether I was happy or not."
His all-out effort was among the things that impressed his coach.
"Cort's love for the game stands out above all else," Jim Koerner said. "There wasn't a day that he didn't come to the field with a smile, great energy and ready to play."
The team actually played its home games at Durham Athletic Park, the former home of Minor League Baseball's Durham Bulls and a landmark made famous in the 1988 film "Bull Durham."
The ride for Maynard and his pals eventually came to an end with a 7-6, 11-inning loss to the Norfolk State Spartans in the finals of the Mid-Eastern Athletic Conference tournament.
"That was by far the most emotional game I've ever played," Maynard said. "We fought as hard as we could, because to us, we were fighting for our lives. It was more of a joyous experience until the final out was made, because we never gave up, but it was an awful feeling when it was over and we couldn't do anything to change it."
He eventually found a new landing spot as he's transferred to North Carolina A&T in Greensboro, a MEAC rival of North Carolina Central.
"North Carolina A&T would talk to me throughout the season or off the field when we played them, so I knew they'd always be a good option," Maynard said. "I didn't really know it was the place for me until I got on a Zoom call with the coaches and my mother and we all clicked and got along and I got to talk with them face to face off the field and start our connection and relationship there."
Maynard is used to adapting.
A native of Charlotte, North Carolina, who played at Olympic High School (also the alma mater of St. Louis Cardinals manager Mike Shildt), Maynard first attended Guilford Technical Community College before transferring to North Carolina Central.
"I've been lucky enough to come out of my shell more the last couple of years because it's made the transitions much smoother," Maynard said. "I've been able to make friends I hope to keep for a lifetime at Guilford Tech as well as NCCU. … The biggest challenge I had with it was just putting myself out there. Going out my way to talk to the other people and putting trust in my coaches that they have my interests at heart."
Maynard's had no trouble introducing himself to his teammates, coaches and fans in Bristol as he sports a .286 batting average entering today's 7 p.m. home game against the Kingsport Axmen. He leads the State Liners in hits (32), RBIs (24) and doubles (nine), while his .398 on-base percentage is also tops.
He usually has the dirtiest uniform on the squad as well.
"Cort plays so hard," said Bristol relief pitcher Ray Berry (Chilhowie) from King University. "He's laying his body on the line to field a ball that a lot of infielders would give up on. I've had a chance to get to know Cort since day one of this league and he has a very impressive professional approach to the game. … He is the type of guy you want to pitch for."
Maynard was the MVP of the fledgling Old North State League summer circuit last year, but has graduated to a tougher league this season.
Once again, he has made the adjustments.
"The atmosphere of the Appy League has felt like we're playing pro ball and that's been what's stood out most for me," Maynard said. "The six games a week [schedule] has been tough. It's been way more of a mental challenge than anything else. Some days you just roll over in bed and don't feel like getting up, because I'm sore or my body is tired, but I also get to play the game I love six days a week, so I'm treating it like a blessing."
Three of his former North Carolina Central teammates – Bryson Hamlet, Brenton Fisher and Daniel Stephens – are also on the State Liners roster as they carry on the legacy of a program that no longer exists.
A fresh start at North Carolina A&T awaits Maynard, but for now he's having a blast in Bristol.
"I just want to say how blessed I am to have been given an opportunity in this league and how I've loved every second of the summer being up here in this environment," Maynard said. "Bristol has treated us amazing with so many awesome fans and the kids that run up after games asking for autographs has been an experience I'll remember forever. There will now always be a special place in my heart for Bristol."
Cort's Docket
The stops in the baseball career of Bristol State Liners third baseman Cort Maynard:
2015-2018: Olympic (Charlotte, North Carolina)
2019-2020: Guilford Technical Community College (Jamestown, North Carolina)
2021: North Carolina Central University (Durham, North Carolina)
2022: North Carolina A&T (Greensboro, North Carolina)
2019: Carolina Coyotes (Old North State League)
2020: Deep River Muddogs (Old North State League)
2020: High Point-Thomasville HiToms (Coastal Plain League)
2021: Bristol State Liners (Appalachian League)