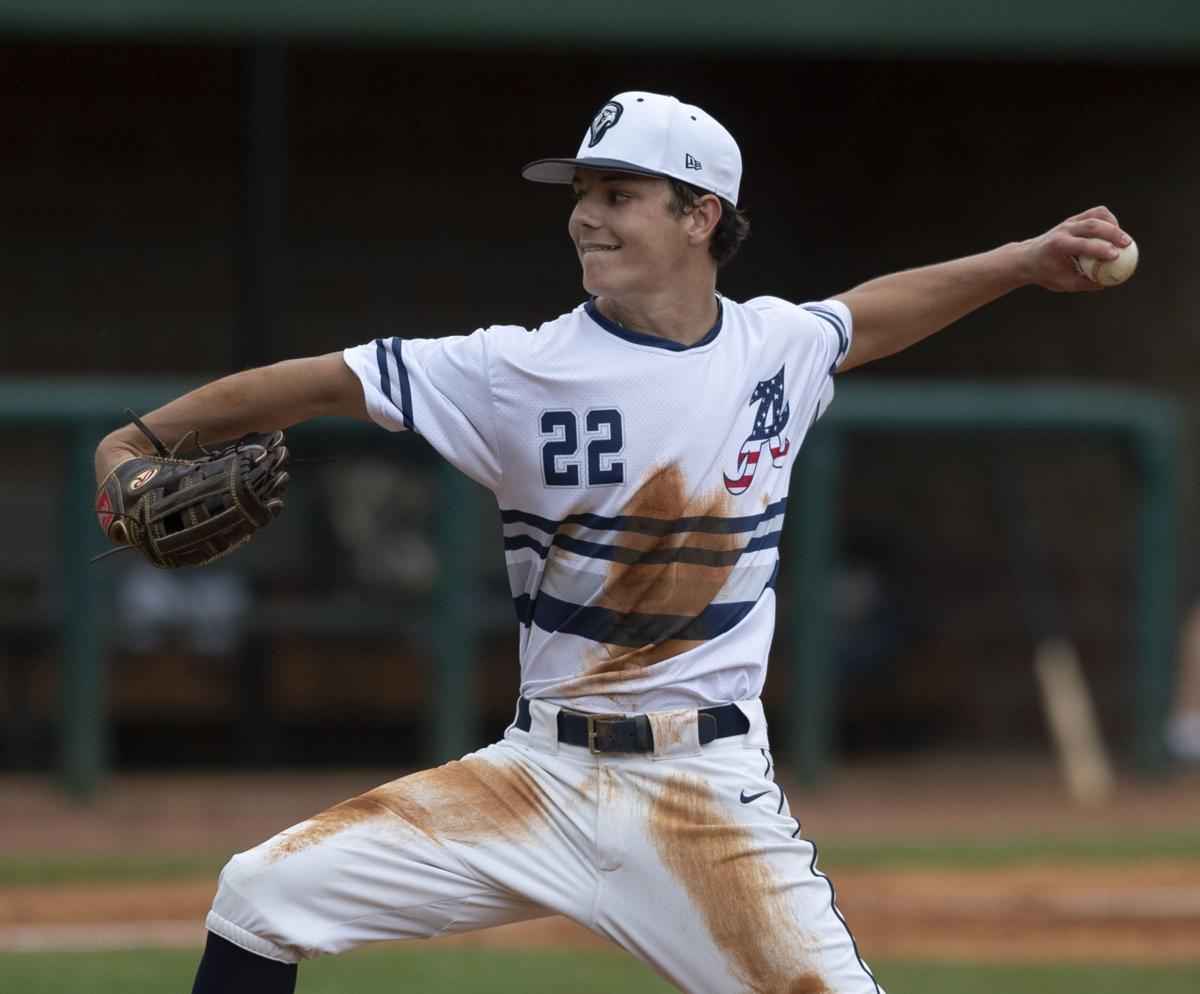 JOHNSON CITY, Tenn. – By shutting down and shutting out another opponent, the A-Town Falcons continued to own first place in the East Tennessee High School Baseball League.
Ethan Ketron and Jake Thacker combined to pitch a two-hitter as the team from Abingdon, Virginia, earned a 5-0 victory over the Volunteers from Church Hill, Tennessee, on Tuesday night at Cardinal Park.
The Falcons (7-1) have won seven straight since suffering a 2-0 loss to the Vikings from Bristol, Tennessee, in their opener. Six of those triumphs have been of the shutout variety.
In total, the Falcons have allowed just three total runs in eight games.
"We just try to be as efficient as possible," said Thacker, who worked the final three innings. "We try to work ahead in the count and trust our defense more than anything. It's fun to pitch when you have a defense like ours behind you."
Impeccable pitching, flawless defense and timely hitting once again was the formula used by A-Town on Tuesday night.
The Falcons scored twice in the first inning thanks to RBIs from Chase Hungate and Ketron. A 2-0 lead is almost insurmountable for a team like this.
Ketron finished 2-for-2 with three RBIs to go along with the four scoreless innings he tossed.
"He played huge," Thacker said. "His leadership's really helped us so far."
The Falcons faced a hurler from Southwest Virginia.
Recent Twin Springs High School graduate Justin Reed started on the mound for the Volunteers. The University of Virginia's College at Wise signee yielded five hits and struck out six in five innings of work.
"I was feeling pretty good on the mound and my arm felt well," Reed said. "My fastball had some control issues [during a two-run fourth inning]. I know a lot of the Abingdon guys and I know they're good baseball players."
J.I. Hayton contributed an RBI groundout and Cole Lambert tripled for the winning team.
"Honestly, their ability to hit the ball the other way impresses me," Reed said.
Singles by Aaron Willis and Rylan Greene were the only hits the Volunteers could manage against the Falcons. Ketron walked the bases loaded with one out in the second inning, but escaped the jam unscathed.
The A-Town Falcons have four regular-season games remaining – including a matchup with the Raiders from Kingsport, Tennessee, today at 5 p.m. in Johnson City – before the ETHSBL playoffs begin.
Abingdon High School was among the favorites to win the VHSL Class 3 state championship in 2020 if the coronavirus (COVID-19) pandemic had not canceled the season.
Competing in the East Tennessee High School Baseball League has been a consolation prize for the A-Town Falcons.
"We're taking it very serious," said Thacker, a rising senior at AHS. "We're treating it as if it's our regular high school season. We didn't have a high school season, so this is all we've got."
A-Town Falcons 5, Volunteers 0
Volunteers 000 000 0—0 2 0
A-Town Falcons 200 210 x—5 5 0
Reed, Britton (6) and Brooks, Willis (5). Ketron, Thacker (5) and Hayton. W – Ketron. L – Reed. HR – none.
Be the first to know
Get local news delivered to your inbox!