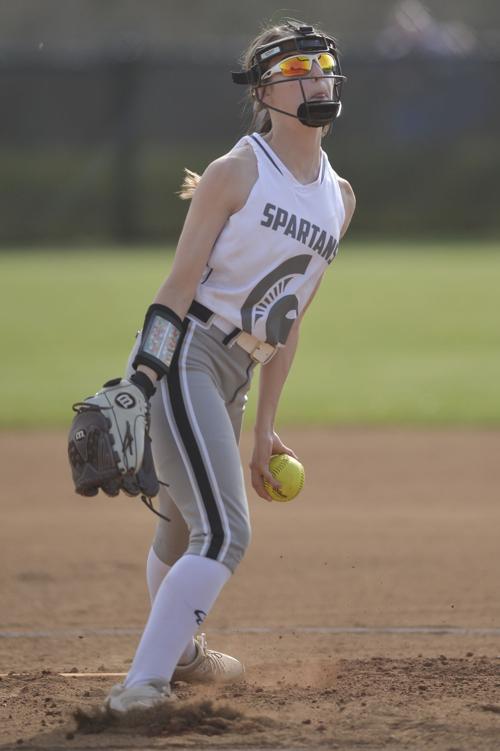 The softball squad at Eastside High School has been on the winning side thus far in 2021.
The Spartans opened the season with an impressive 10-4 victory over Hogoheegee District favorite Patrick Henry and followed that up three days later with a 5-0 triumph over Cumberland District archrival J.I. Burton.
Two tough pitchers and a lineup that can produce runs from top to bottom are among the reasons head coach Suzi Atwood's club is favored to win the Cumberland District's softball title this spring.
The following is a look at each of the six teams in the league:
With six players back who were first-team All-Cumberland District selections in 2019, it's no surprise that the Eastside Spartans are pegged for a first-place finish.
Junior Tinley Hamilton and senior Liz Brace will share the pitching duties once again and both of them are proven. Second baseman Maggie Odle, outfielder Taylor Perry, shortstop Kacie Jones and outfielder Anna Whited were the other first-team all-district players who have returned
Catcher Leci Sensabaugh, third baseman Taylor Clay and senior outfielder Cloey Bailey will also play big roles for the Spartans. Savannah Stanley, Lexi Love, Alyssa Crabtree and Allyson Duty will contribute as well.
With two experienced pitchers and some big hitters anchoring the lineup, J.I. Burton will put a quality club on the field.
Catcher Beylee Jenkins (.531, four home runs, 26 RBIs), third baseman Kaylee Jenkins (.476, five homers, 26 RBIs), outfielder Sareena Sergent (.389) and outfielder McKenzie Tate (.362) should provide plenty of run support for pitchers Bailey Sturgill and MacKenzie Franklin. Beylee Jenkins, Kaylee Jenkins and McKenzie Tate were first-team all-district honorees in 2019.
Kinley Taylor, Kali Durham, A'nyah Hollinger, Kari Durham and Abigail Adams are other players to watch for the Raiders.
"After losing a full season, we will be looking to find the right mix of new players to create a winning formula," said Burton coach Gary Hampton. "The team is working hard and is very excited for the upcoming season. They are a great group of players and should get better and better as the season progresses."
The roster for Rye Cove will feature a blend of experience and youth.
Junior Lexie Rhoten returns as the ace pitcher for the Eagles and also hit .291 during the 2019 season.
Catcher Jasmine Maness (.233), second baseman Madison DeRossett, shortstop Ashlyn Berry (.312), and third baseman Cassidy Roach (.167) saw time on the varsity two years ago.
Freshmen Johnna Turner, Gracie Turner and Olivia Edwards will be counted on to produce, as will Aleshia Hillman, Madeline Love, Emma Gibson and Kourtney Sluss.
Rhoten and Johnna Turner homered in Monday's 28-0 season-opening trouncing of Twin Valley as Rhoten finished with six RBIs.
The Twin Springs Titans appear to be another squad that can tattoo pitching as evidenced by a 14-13 triumph over Holston on Wednesday and a 7-4 victory over Rye Cove on Friday.
Emaleigh Powers had a home run among her three hits, while Michaela Barney (three hits, four stolen bases) and Alyssa McCracken (two hits) also had big performances at the plate against Holston. McCracken, an outfielder, was a first-team all-district pick in 2019.
Megan Dougherty, Jessica Burke, Ryleigh Gillenwater, Abbie Taylor, Alexis Austin, Amica Dooley, Chloe Burke and Angel Dockery will take their cuts at the plate as well.
"We have some playmakers and speed," said Twin Springs coach Mark McCracken. "But more importantly we have a team that's in it together and that's what we were hoping to see."
Freshman pitcher Eden Muncy has all the makings of a future star for the Pioneers and she will look to help Thomas Walker make a major impact in the present.
"Team spirit is knowing and living the belief that what a group of people can accomplish together is much larger, far greater and will exceed that which an individual can accomplish alone," Thomas Walker coach Noelle Owens said. "We win together as a team and plan to make a statement in the Cumberland District."
Rylee Lawson, Gracee Greer, Kaytee Livesay, Kaitlyn Brown, Alexia Adkins, Shelbie Fannon, Caylea Ellis, Adyson Gulley, Christina Hensley and Mikayla Kidwell join Muncy as players looking to help the Pioneers make that statement.
Ace pitcher Janakay Kiser and slugging sophomore shortstop Montana Sutherland are the leaders for the Castlewood Blue Devils, who opened Cumberland District play with a 4-3 win over Thomas Walker on Friday.
"Coming into our first season post-COVID is tough," said Castlewood coach Amanda Charles Musick. "We have dealt with several preseason losses we hadn't anticipated. With saying that, this team is young, but full of excitement. They are wonderful at taking risks and putting themselves in a tight spot to pull through for a run. Our speed and ability to manufacture runs is going to be key in this season's success."
Madison Sutherland, Shea Phillips, Maggie Ward, Bailee Varney, Jill Bush, Destiny Smith and Lou Cardeneas are valuable contributors as well. Madison Sutherland homered in Friday's victory.