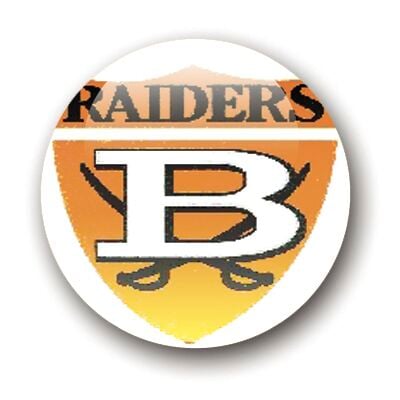 Spring 2021 Record: 4-1 (3-0)
Key returners: Jaymen Buchanan, QB, sr.; Trey Keys, WR, jr.; Esau Teasley, RB/DB, sr.; Xadrian Taybron, RB/LB, sr.; Johnny Williams, DL, sr.; Caleb McCurdy, OL/DL, sr.; Dauntae Keys, OL/DL, jr.
Promising newcomers: Brayden Dutton, WR/DB, jr.; Jaydin Bleeker, WR/DB, sr.; Zaine Lovell, WR/DB, sr.; Colin Hart, RB/LB, fr.; Drew Culbertson, QB/DB, fr.; Carter Stidham, RB/LB, fr.; Ian Tate, WR/DB, fr.; Braylon McConnell, WR/DB, fr.
Key losses: Kaleb Mink, OL/LB; Austin Jones, OL/DL; Elijah Lovell, WR; Trevor Culbertson, WR/RB/DB
Outlook: It's a new season with the same old expectations for one of Southwest Virginia's small-school powerhouses as the Raiders are favored to win a fourth straight Cumberland District title.
J.I. Burton isn't lacking motivation either as the spring 2021 season ended in disheartening fashion. A positive coronavirus (COVID-19) test within the program did not allow Burton to play the Holston Cavaliers in the VHSL Region 1D championship game.
"I think this team's a little bit hungrier to see if we can't get that regional championship," said J.I. Burton coach Jacob Caudill.
A trio of talented 12th-graders lead the way. Jaymen Buchanan is the definition of a dual threat at quarterback, Esau Teasley was an all-state selection as both a running back and kick returner and 6-foot, 295-pound Johnny Williams is a beast on the defensive line.
Tackles Caleb McCurdy and Dauntae Keys are the returners on the offensive line.
Trey Keys, Ethan Hawk, Xadrian Taybron, Brayden Dutton, Jaydin Bleeker and Zaine Lovell are among the many playmakers for the Raiders. There's no secret what this team's strength is.
"Our speed," Caudill said.
Williams will lead the defensive unit along with Dauntae Keys, Trey Keys, Buchanan and 6-foot-5, 265-pound junior defensive lineman Isaiah Sturgill.
Coach's Quote: "I'll take the 28 we got in there any day. They are hard-nosed and we'll go to war every Friday night with them."
Spring 2021 Record: 1-3 (1-3)
Key returners: Abel Dingus, QB, soph.; Ryan Horne, RB/LB/P, jr.; Kyler Ford, RB/LB, sr.; Kye Hale, OL/DL, sr.; Andrew Salyers, OL, jr.; Carter Sloan, OL/LB, sr.; Chase Daugherty, OL, soph.; Mason Elliott, WR/DB, sr.; Eli McCoy, WR/DB, sr.; Colten Kilgore, WR/DB, soph.
Promising newcomers: James Craig, LB, jr.; Thomas Calhoun, TE/DE, soph.; Landon Williams, WR/DB, soph.
Key losses: Conner Gilmer, TE/LB: Noah Dorton, RB/LB
Outlook: The season ended prematurely for the Twin Springs Titans in the spring due to the coronavirus pandemic and the start of this season has been delayed for the same reason as the team was on hiatus for a time due to COVID-19 protocols.
The season-opener at Northwood will now be played Saturday instead of Friday.
When the Titans do take the field, they figure to be one of the Cumberland District's top teams thanks to a talented and experienced squad.
Nine starters are back in the fold on offense, while seven starters return on defense.
Offensive lineman Kye Hale, wide receiver Mason Elliott, offensive lineman Chase Daugherty and wide receiver Eli McCoy were first-team All-Cumberland District selections last season.
Coach's Quote: "This senior class, along with our seniors that have graduated the past three years have continued to build this football program. They have bought in and have trusted the process and it is paying off. We are excited to see what our athletes will be able to do on the offensive side of the ball. We haven't proved anything yet, but we are going to get better day-by-day and week-by-week. We will take our season one game at a time and everything will take care of itself. There is a lot of enthusiasm surrounding our football team and I am grateful for the community support."
Spring 2021 Record: 4-3 (3-1)
Key returners: Eli McCoy, WR, jr.; Braedon Hensley, OL/DL, sr.; Jordan Sexton, OL, sr.; Jordan Gray, WR, sr.; Cobe Collins, DB, jr.; Jake Dutton, OL, jr.; Blake Jones, TE/DE, sr.; Ben Ward, LB, sr.
Promising newcomer: Jaxsyn Collins, QB, jr.
Key losses: Will Stansberry, QB/DB; Nick Raymond, RB/LB
Outlook: If you are looking for Eastside's strength this season look up front as the Spartans have plenty of experience in the trenches.
"We lost one offensive lineman and return the whole defensive line," said Eastside coach Mike Rhodes. "You always want to be strong up front on both sides of the ball."
Leading the way is 6-foot-4, 295-pound senior Braedon Hensley, who anchors both the offensive line and defensive line.
"He's going to be a force no matter who he lines up against," Rhodes said.
Jordan Sexton (5-10, 255) is a four-year starter on the offensive line, while Jake Dutton (6-6, 290) is experienced as well.
Those big bodies will be providing protection for quarterback Jaxsyn Collins, a junior who makes the shift from wide receiver. He'll have two capable pass-catchers to toss the ball to in 6-foot-6, 210-pound junior Ei McCoy and big-play threat Jordan Gray. McCoy was a breakout star in the spring for the Spartans.
Defensively, Cobe Collins, Blake Jones and Ben Ward are hard-hitting linebackers and are among the guys to keep eyes on.
Eastside's preseason roster numbered 40, the most among teams in the Cumberland District.
The Spartans will be tested early and often. The preseason included a scrimmage against Virginia High and a benefit game against defending Region 2D champion Union. Wise County Central and Lee High are the first two regular-season opponents. All those aforementioned squads are Class 2 programs.
Coach's Quote: "All in all, it's looking like a promising year if we can stay healthy. That's always a big if. … We lost a lot of good leaders from last season, but we've had kids step into those roles and are working really hard."
Spring 2021 Record: 5-2 (4-1)
Key returners: Landen Taylor, RB/DB, sr.; Brad Steffey, OL/LB, jr.; Shane Asque, OL/LB, sr.; Weston Stout, OL/DL, soph.; Jacob Maxfield, TE/DL, sr.
Promising newcomers: Seth Sifford, RB/LB, fr.; Slade Castle, RB/DB, fr.; Brayden Houchins, TE/DB, fr.
Key losses: Jeremiah Allen, RB/LB; Mickey "M.J." Carter, RB/DB; Brandon Buetler, OL, sr
Outlook: Castlewood's Landen Taylor was a second-team all-state selection last season and he's preparing to be all-everything for the Blue Devils this fall.
As one of six seniors on a roster that numbers 21, Taylor must provide leadership, offensive production and defensive stops in abundance as the team's top running back and defensive back.
Taylor rushed for more than 500 yards and earned his all-state accolades as a ball-hawking defensive back during the truncated VHSL spring season. Jeremiah Allen was the workhorse for the Blue Devils last season, a role that Taylor will now fill.
Junior offensive lineman/linebacker Brad Steffey, senior offensive lineman/linebacker Shane Asque, sophomore offensive lineman/linebacker Kadan Lasley and senior tight end/defensive tackle Jacob Maxfield also have varsity experience and will start on both sides of the ball.
Running back/linebacker Seth Sifford, running back/defensive back Slade Castle and tight end/defensive back Brayden Houchins are freshmen who figure to start on both sides of the ball.
Senior running back/defensive back Skylar Shearl, sophomore offensive tackle Bradley Ramey, sophomore center/defensive tackle Weston Stout and senior defensive tackle Daniel Monk will also be counted on.
Coach's Quote: "If we can stay healthy with the kids we have in the positions we have them in, I think we'll be fine."
Spring 2021 Record: 2-5 (1-4)
Key returners: Noah Alsup, RB/DB, sr.; Zack Kidwell, DB, sr.; Xander Spears, TE, jr.; Riley McCurry, OL/DL, jr.; Tyler Lee, OL, soph.; Brennan Hensley, OL, soph.; Trey Miller, OL, jr.; Noah Cavin DB, jr.
Promising newcomers: Dallas Doyle, OL, soph.; Jacob McCurry, WR/DB, soph.; Alex Small, DB/WR, sr.; Darrin Gulley, QB, soph.
Key losses: Kenny Ball, RB/LB; Jason Cowden, DL; Jaron Warf, TE/LB
Outlook: The biggest news heading into the season for Thomas Walker was a position change as 6-foot-5, 210-pound senior Zack Kidwell made the move from quarterback to wide receiver.
Sophomore Darrin Gulley is the new signal-caller and the new-look Pioneers impressed on Friday with a 20-6 triumph over Patrick Henry in a VHSL Benefit Game.
Six starters return on offense and four of those are up front in Tyler Lee, Brennan Hensley, Trey Miller and Riley McCurry.
Former Bluefield College standout Tracy Parker is the new defensive coordinator as his unit features five returnees.
The Pioneers will certainly have some confidence as the season begins.
Coach's Quote: "I think overall the kids have really been working their butts off. In the past we might have had levels of talent. I think this year it's just a bunch of kids that are all working hard to be as talented as each other."
Sept. 24 Claiborne County A
Spring 2021 Record: 0-5 (0-3)
Key returners: Andrew Jessee, TE, sr.; Ashton Starnes, OL/DL, sr.; Jackson Barnette, OL, jr.; Jonathon Howell, RB/LB, jr.; Dawson Kern, DB, soph.;
Promising newcomers: Clayton Austin, OL, fr.; Trevor Darnell, OL, fr.; Landon Lane, RB, fr.; Hamilton Osborne, LB, fr.; Dakota Meade, OL/DL, soph.; Payton Darnell, RB, soph.
Key losses: Mason Hardin, QB; Jesse Barnette, OL/LB
Outlook: Rye Cove has one of the smallest rosters in Southwest Virginia, as well as one of the youngest.
There are just two seniors: tight end/linebacker Andrew Jessee and two-way lineman Ashton Starnes and a couple of juniors: running back/linebacker Jonathon Howell and lineman Jackson Barnette.
The rest of the 17-man crew is comprised of freshmen and sophomores.
The Eagles have battled COVID-19 issues in the preseason and won't open the season until Sept. 3
Coach's Quote: "We've got kids that want to be here. They show up, they've worked all summer and they've done what we've asked them to do. … Of course, I'm sure we'll have moments where we realize how young we are, but we'll grow from it and take all that stuff in stride."