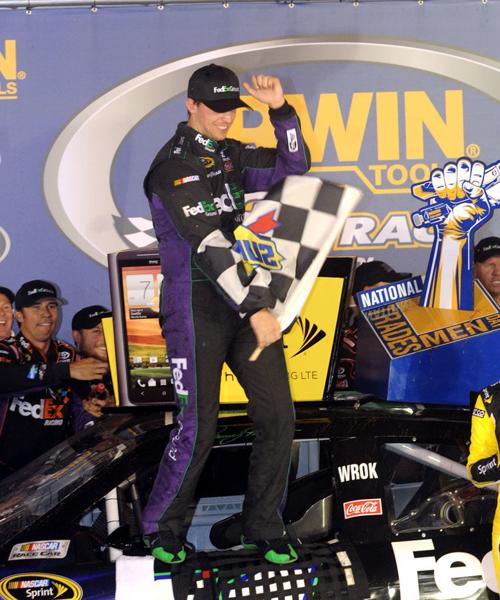 BRISTOL, Tenn. - Denny Hamlin has been called the best driver never to win a points title at the highest level of NASCAR.
"It's a term of endearment I guess, unless you are not mentioned at all, that could be worse," Hamlin said. "We have a lot of accolades. During my course of racing though, they've changed the format of racing for a championship more than any other era.
"It used to be the format was the same. Under other formats we used to have, I would already have a couple of championships. But, it's the rules and what we all play by."
All Hamlin can do is secure his place in the playoffs, which was pretty much a done deal since winning the season-opening Daytona 500, and then try to peak for that one final race at Homestead in November.
"It comes down to the one race and no matter what you did in the regular season, it doesn't matter," said Hamlin, driver of the No. 11 FedEx Express Toyota Camry for Joe Gibbs Racing. "With the format, you have to adapt and it's not a title you like to have, but it's a term of endearment that you're the best who doesn't have a title.
"There's a lot of great drivers without one, Mark Martin being one of them. If you can be mentioned where those guys are, you're in pretty good shape."
There is a reason why Hamlin has such a title. He won at Pocono on the final weekend of July, giving him 34 wins for his career, passing such NASCAR legends at Dale Jarrett and Fireball Roberts along the way. He trails only Jimmie Johnson, Kyle Busch and Kevin Harvick among active drivers.
"It's awesome. Those are the names, the important people in our sport, in the history of NASCAR," Hamlin said. "I don't think I deserve to be in the same breath as any of them to be honest. It's that I'm with a great race team and I've had the opportunity to win a lot of races. Some of them I won and some I didn't.
"Honestly, I've had a great career to this point and want to keep that winning tradition going. We feel like we could have a 5-6 win season pretty easily. We're working towards that and to win the championship, we're doing everything we can."
Hamlin has three wins this season, including at Daytona, Texas and Pocono and could have had more. He recently placed second at New Hampshire when he attempted to get physical with Kevin Harvick, and later was second guessed for not knocking him out of the way.
"There's always the question. I didn't get the outcome I wanted and would have liked to try it again," Hamlin said. "We're trying to win races, win a championship, that's what it's all about, so we give it our all. We gave it our all, we just came up a little short. But, we're really running well and that's what matters the most."
Hamlin isn't just driving for championships. He is also trying to save young lives as part of the FedEx & Safe Kids Talking Points program.
"We want to bring awareness with the school year coming up. We want drivers to be more aware of their surroundings," said Hamlin, who has a home at the spectacular Greenbrier resort in West Virginia. "There are kids walking on the crosswalks, walking to school and walking home from school.
"It's good to be aware and we want to make sure we get these kids in a safe environment and get home safe from school. It's a FedEx initiative to affect 50 million people and it's their 50th anniversary as a company. So, it's great the FedEx cares initiative is kicking off."
Hamlin will land in Bristol for the Bass Pro Shops Night Race on Aug. 17, looking for more victories. He captured the title in the August race at the Bristol Motor Speedway in 2012. He would love to do it again.
"It's definitely a big one for us. That trophy is a special one," said Hamlin, who has started on the pole three times at Bristol, but not since the Night Race in 2015. "It's the same for many years. You talk about Bristol and anytime you talk to a race fan and they ask which race should I go to, it's always the Bristol Night Race.
"We know as drivers we have a lot of eyes watching us at that time. It's one of the most prestigious wins in racing."
Hamlin, who set the track record in Bristol in 2016 at 131.668 miles per hour, had three third place showings in a row at the Night Race before finishing in 14th last August.
He had a good showing in April, leading for seven laps in the Food City 500 before settling for fifth. Of course, the Night Race, even if it is on the same track, changes when the sun goes down.
"There's not a lot of difference because that track changes the least day to night," Hamlin said. "For the most part, we attack it the same kind of way and we've had the same kind of results in both races. I'm not sure we attack it any differently.
"There's just a little more prestige with the Night Race and where it's this close to the playoffs. It should be a lot of fun."
Fun might not be in the vocabulary next season when the Night Race moves to September and becomes the first elimination race in the playoffs.
It will be nerve-wracking for sure because things happen so quickly at that track," he said. "Wrecks happen quickly and there is not a whole lot of time to react.
"You certainly have to be on your toes and hope you have a lot of playoff points going into that race because you can't count on success at a track like that. "