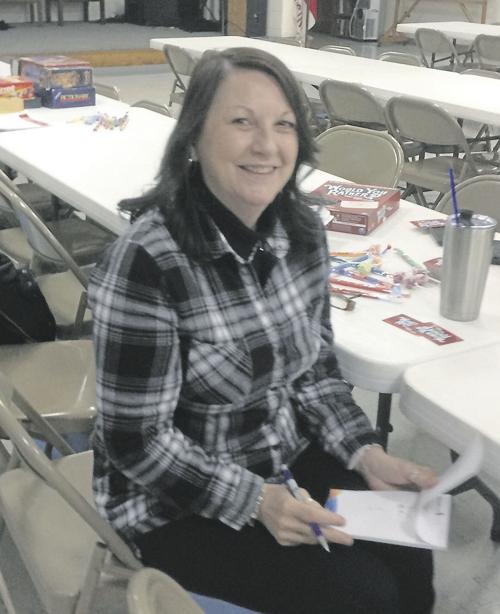 Connie Pierce is going to jail.
The 55-year-old with a history of drug dependency is scheduled to plead guilty to a drug charge April 15. Before they shackle her arms and legs, though, she's determined to help others learn to live successful sober lives through a group she launched in February called Sober Friends.
"I started Sober Friends because I'm in substance abuse classes nine hours a week and the thing that kept coming up was when people get out of drug court or jail or rehab, then what's next?" Pierce said. "There comes a time at the end of whatever you're doing that you have to come back to reality."
The unique group focuses on the social aspect of recovery, rather than on how to get clean — though recovery groups are crucial to living a sober life, Pierce noted. The goal is to help recovering addicts learn to find happiness. Members will learn how to socialize, have fun and simply enjoy life without drugs or alcohol.
"We don't want to recount our war stories," Pierce said. "It's mainly to teach people that there's life out there that doesn't involve drugs or alcohol and the only way to do that is to practice it. You can come here and you don't have to worry about having drugs and alcohol in your face."
Pierce said the group will hold cookouts, plan outings and sometimes just hang out. Eventually, she hopes Sober Friends can become more active in the community. The ultimate goal, she said, is for group members to build friendships and learn social skills that will extend outside the group.
"First we crawl and then we walk," she said.
Pierce knows better life exists because she's lived it.
In 2008, Pierce was released from a jail sentence that also stemmed from a drug charge. She'd been clean since the offense in 2006, but when she came home, drugs were almost unavoidable.
"I kept running into the same thing I went to jail for," she said.
So she moved to Illinois, where her sister lived to help ensure her continued sobriety.
"Life was completely different there. I was in a completely different circle of friends and I didn't know where drugs were there. The fact that I didn't know anybody there, my chances of success were much better than here," she said.
She had a good job, bought a home and put her daughter, Brooke, through college at Drake University in Iowa and Western Illinois University.
"For once in my life, I felt like a successful, productive citizen," Pierce said.
Then it all came crashing down.
She began having problems with her physical and mental health, problems she believes stemmed from years and years of previous drug abuse. Then she lost her job and ended up moving back to Smyth County in 2016.
"I'd say I might have had three days here before I was right back where I started," she said. "That's how I know that no matter how much clean time you've got behind you, if you don't have positive support, then you're going to fail."
She recounted her story to a group of pastors gathered at the Smyth County Community Hospital in late February. Those pastors are trying to find ways to help those facing the same struggles Pierce faces.
"I'm going to give you the face of a methamphetamine addict," she told the group. "And that's me. I've struggled for years and years and years."
Pierce's battle with addiction began in 1987 when her sister was killed in a car crash.
"I never came to terms with that, so I drank heavily for years and then started with cocaine and moved on to meth."
Following Pierce's return to Smyth County, she quickly became a regular user again. With no job, she turned to selling the drug to help satiate her own addiction. In 2017, Pierce was indicted on a charge of possession of methamphetamine with intent to distribute.
"I'm going to jail for about five years," she told the pastors. "And the reason I'm going to jail is because I sold methamphetamine and the reason I sold methamphetamine was to get my own drugs to do."
She doesn't try to minimize her wrongdoing. "I did something wrong and now I have to pay the price."
But she believes the prevalence of meth in the community, coupled with the difficulty recovering addicts face in adapting to life without drugs, makes permanent recovery seemingly unattainable.
"It's everywhere," she told the pastors. "Don't even kid yourself; it's everywhere."
She told the group that even as she was leaving a recovery group, drugs were at the ready.
"I had a person see my car in the parking lot and pull in and offer me drugs," she said. "By the grace of God, I had the courage to say no."
That prevalence makes groups like Sober Friends increasingly important.
"That's the big hurdle people seem to forget. The thing I hear the most is 'there's nothing to do and all my friends are on drugs,' so we need to create an environment where people can learn to live and have fun without drugs and alcohol. We can't go back to our old friends, but a lot of times, people who haven't been where we've been don't understand us."
She's excited to have the group and is ready to learn again how to lead a happy life. They'll all be learning together, she said.
"We're all in the same boat," she said. "We don't want anybody to feel alone or like they don't have any friends."
She plans to spend her time in jail spreading the word about her group. She hopes other community members will launch similar groups in their own communities.
"Jail is not going to be the answer for some people because they come back on the street and they haven't been rehabilitated and I want to give them somewhere to go," she said.
She knows she'll rely heavily on Sober Friends herself, once she's released from incarceration.
"I'm proud that it's going to be there even when I'm gone and I'm proud that I was able to create something that I think is going to work."
Sober Friends meets Thursdays from 5:30 to 7:30 p.m. in the fellowship hall at First United Methodist Church in Marion.