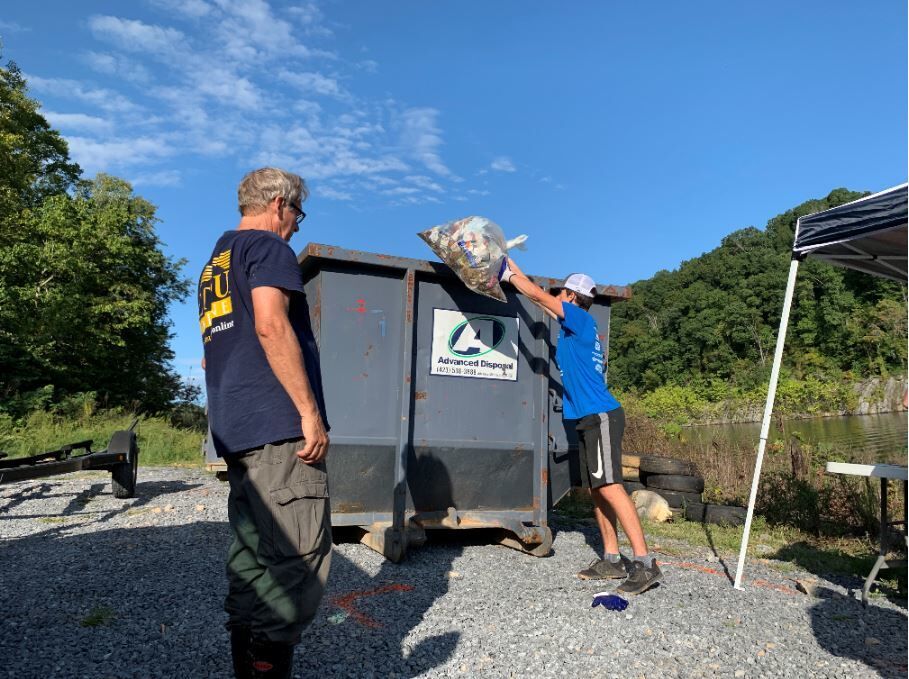 PINEY FLATS, Tenn. — Richard Brosmore had sweated through a good portion of his ETSU T-shirt by the time he reached the open dumpster at Jay's Boat Dock, a little before 9:30 a.m. Saturday. The dock, a gravel-covered spit flanking Boone Lake, was one of three trash collection sites for the 21st annual Boone Lake Cleanup.
The event started at 9 a.m. As other volunteers were just picking up their garbage bags at the check-in tent, Brosmore knotted his already stuffed bags before tossing them over the dumpster's lip. The 69-year-old Piney Flats resident and his daughter, 27-year-old Kirby Brosmore, said they'd gotten an early start with some leftover bags from last year's cleanup.
"We do it every year," Brosmore said at the edge of the parking lot, which had grown crowded with pickup trucks and speed boats on trailers. "It's a great thing to do."
The Boone Lake Association has been running the annual cleanup since 1983.
"Back in the '80s, Boone Lake was horribly polluted," said Gary Parker, a BLA board member and one of the organizers of this year's cleanup.
The annual cleanup is now a community ritual. Last year, the post-event picnic alone drew 275 people, said Val Kosmider, another BLA board member. But Parker and Kosmider said they had no idea how many people would show up for the 2020 cleanup, which had been postponed from its original springtime date and scaled down because of the COVID-19 pandemic.
There was no picnic this time, Parker said. Prizes from the raffle drawing would be mailed to the winners. And there were three cleanup sites instead of the usual six.
Many of the volunteers and BLA members on the dock had masks covering their faces or dangling from their necks.
Kosmider said that while Boone Lake seemed to have less trash than usual, there was a new level of urgency to clean it up.
Since 2014, as the Tennessee Valley Authority has been working to repair the Boone Dam, the company has kept the lake level significantly lower than usual. The repairs are nearly finished, and TVA just announced that it plans to start permanently raising the water level again — starting with a 7-foot increase over the fall.
"A lot of temporary structures that have been established around the lake, a lot of the trees ... on the shoreline, this stuff that's sat there for four or five years, will begin to wash into the lake [when the water level rises]," Kosmider said. "So today we hope to get a lot of that stuff moved from the lakebed."
Motorboats laden with trash bags and loose tires buzzed over the water. One went after a rogue chunk of dock Styrofoam that was bobbing along like a dirty iceberg. Another sat floating in a greasy-looking, foul-smelling patch of water — one of the lake's various garbage slicks. The boat's passengers leaned over the water with grabber tools, plucking out the junk closest to them.
"Floating debris has always been a problem on this lake," said Sam Vinson, sitting next to Kevin Holbrook on the pontoon they were taking around the lake. "Sometimes BLA even pulls washing machines and fridges out."
Vinson is a project manager and Holbrook is a senior manager of civil construction for TVA, which is a partner in the annual cleanup event. Both men oversee a variety of teams working on the dam repairs and lake maintenance.
One of their current projects is to clear plants and trees that have cropped up on parts of the land exposed by the lower water level.
Some of that new vegetation is fine to leave in place and could even provide underwater shelter for fish, they said. Their team is focusing on coves and other areas where that new vegetation could pose safety issues for people when the water goes back up. In those spots, TVA razes the vegetation and chops it into mulch. Sometimes, they treat the plants with herbicide to help with the clearing.
Holbrook pointed out one cove where the project has done work: On one side, where there were multiple lakehouses and docks, the ground was bare and rocky. The opposite bank — which had no houses or docks — was completely covered beneath trees, bushes and grasses.
"We've cleared about 750 acres of vegetation from the lake this year," Vinson said. "Our goal is 900. Last year we cleared about 600."
The two said that as the water level goes up, the vegetation management team will be able to reach some previously inaccessible areas it needs to clear.
Kirby Brosmore, the volunteer who had been collecting trash with her father, Richard Brosmore, said she'd liked the new vegetation that had sprung up in the cove near her family's lakehouse. She and Richard said that they'd enjoyed the butterflies that had begun flocking there. Kirby had even seen a fox among the vegetation.
When TVA had recently cleared the vegetation there, Kirby said she was "kind of shocked."
"It was really ugly once they cleared it — just a foot-deep mulch," she said. "One day it was all gone."
But both she and her father said they were excited about the prospect of the lake rising back to its normal level.
"We are very anxious to get the water back," Kirby said.
Concerned about COVID-19?
Sign up now to get the most recent coronavirus headlines and other important local and national news sent to your email inbox daily.