ABINGDON, Va. — When it's finally all complete, the extended runway at Virginia Highlands Airport will be a multi-million-dollar mile.
That runway will also arrive after years of moving tons of dirt and rock plus rerouting both a road and creek.
According to Airport Manager Mickey Hines, 79, that's all part of the multi-year plan to enhance safety and bring bigger corporate jets into the small airport along Lee Highway south of Abingdon.
Extending the runway from 4,471 feet to 5,500 feet on the airport's southeast side could be complete in fall 2022 or spring 2023, Hines said.
In the short term, construction is expected to begin again by late March or early April, Hines said.
"We're in what's called a winter shutdown," Hines said. "Depending on the weather, we'll issue a notice to proceed, and we'll start back."
Hines estimates the runway extension could cost as much as $24 million.
"The final figures are not in. We have two more budget cycles to go through. We've already spent $20 million."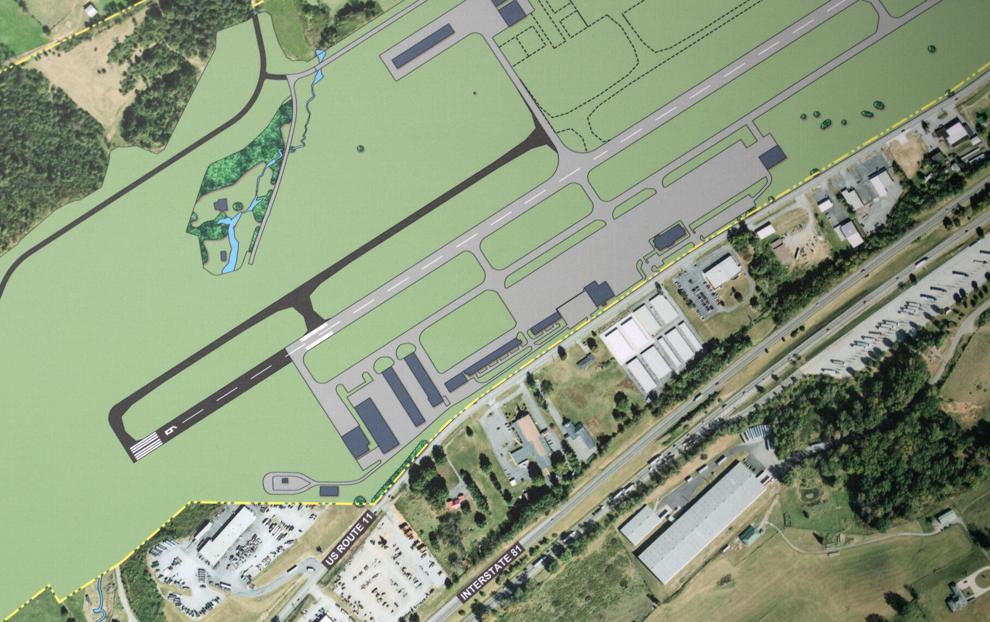 The project has included costs to re-route Spring Creek and put that watercourse into a 1,500-foot-long culvert, Hines said.
It also includes acquiring 55 acres and realigning state Route 611 in Washington County near Interstate 81's Exit 13, Hines said.
Much of the money has come from the Federal Aviation Administration in intervals, Hines said.
"The FAA doesn't dole out all the money at once," Hines said. "You have to do a little bit at a time."
The FAA has provided 90 percent of funding, while 8 percent comes from the state and 2 percent from Washington County, Hines said.
Hines has been working on the runway extension for decades — even before he was named the airport manager in 2008. Previously, he was a member of the Virginia Highlands Airport Authority, which owns the airport.
These days, he says he stays on the job — well past retirement age — so that he can someday see the runway project completed.
"The airport runway extension has been, like, 20 years in the making," said Washington County Board of Supervisors Chairman Dwayne Ball. "They've been working on it a long time."

Extending the runway should allow the airport to accommodate corporate jets with up to 15 passengers, Hines said.
That could help business leaders and "higher-end tourism," Ball said.
In turn, the addition will make the airport more attractive for business, said county Supervisor Saul Hernandez.
"From an economic development standing, you can land larger jets there," he said.
Bigger jets could also bring in more revenue for the county, said Ball.
Besides tax revenue on aircraft, Ball said, "The airport generates a lot of revenue as far as fuel. It's one of the few airports in the state that actually runs in the black. From my understanding, it's one of the few airports that make money."
Though the early history of the Virginia Highlands Airport is not well-documented, it is known that planes have been landing at the site since about 1958, according to the airport website.
At present, the airport houses seven jets and 64 other aircraft, Hines said.
Before the runway opens, some trees on the nearby Moonlite Drive-In property will have to be cut because they are aerial obstructions, according to FAA standards, Hines said.
"The terrain goes up, and you have trees out there."