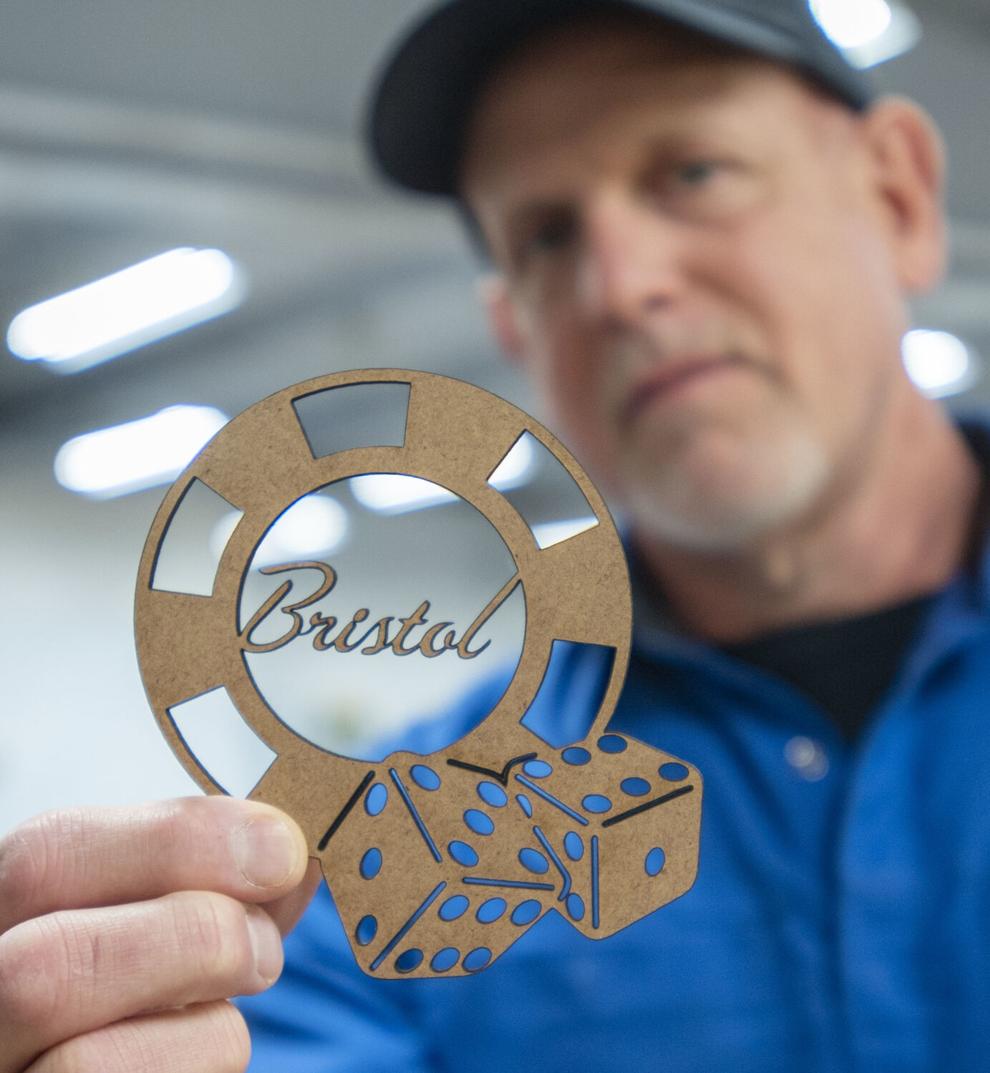 Two Twin City entrepreneurs are supplying products to Hard Rock International and hope for even more visibility when the firm's Bristol resort opens.
Karen Hester, owner of the Southern Churn in downtown Bristol, and Fred Sexton, owner of Bristol Artisan Co., are the first local business owners to become contract vendors for the Florida-based international restaurant, hotel and casino management company.
Hester is currently providing homemade fudge for a Hard Rock casino in Tampa, Florida, and Sexton is producing large steel napkin holders bound for a new Hard Rock casino in Gary, Indiana, that is slated to open May 14.
Hester engaged with Hard Rock officials during the campaign for voter support for the Bristol Hard Rock Resort and Casino, which was overwhelmingly approved and is expected to open in late 2022.
"I got a call in December and they [Hard Rock] wanted to do a Zoom call in the store," Hester said. "We did the Zoom call and I was frantically showing them all the fudge and how we make it. Our store was packed that day and, within the next week, they placed a PO [purchase order]."
The fudge is shipped out packaged in half-pound pieces in a box with the Southern Churn logo and information.
"We shipped that first order the week of Christmas and … it sold out in the first week," Hester said, adding they have received five subsequent orders.
Hard Rock International officials hosted a vendor fair last fall at the Bristol Mall to meet with local business owners interested in working together. Both Hester and Sexton participated.
"While Hard Rock is a global brand, we also work hard to ensure we engage the local communities we are in and support the flavors and cultures of the region," Tracy Bradford, Hard Rock executive vice president of administration, said in an email.
Hester said the opportunity to market elsewhere was surprising.
"It was our full intention to work with them [Hard Rock] and be able to prepare fudge whenever they come to Bristol, but it certainly was a pleasant surprise to be contacted in December, fill out the application process and become a vendor — then be able to already have a foot in the door towards earning the business for the other Hard Rock casinos across the country as well as the exciting one coming here," Hester said.
The Southern Churn has been in business six years and currently supplies wholesale products to other business in the Carolinas and operates a "robust" fundraising program for local teams and events.
"We have increased our capacity and are getting ready to do a buildout on our kitchen to give us more space and enable us to produce higher volumes of fudge," she said.
Just across the state line, Sexton's Bristol Artisan Co. — open for about a year on state Highway 126 — plans to complete its first order of the napkin holders this next week.
Sexton also volunteered to aid the Hard Rock voter campaign last fall.
"I made a couple of metal signs and gave to them [Hard Rock] and I think that helped get me on the radar," Sexton said. "They asked me to look at a couple different things, but I have a purchase order for these stainless steel napkin holders. I'm making 80 of those for them and will be shipping them next week. … Hopefully, if I don't screw this up, I'll have the opportunity to make them for the Bristol location and others."
Sexton began with a flat piece of 11-gauge stainless steel, designed, measured and carefully fabricated them into substantial units weighing 7 pounds apiece.
His Blountville Highway business includes fabricating a number of items from wood and metal.
"I build furniture. I build signs and doo-dads. I have a line of products called "track tubes" — a product for woodworkers. They fit into the notch of a saw-horse. I had them made in California, but I brought this manufacturing back to Bristol now," Sexton said. "With the track tubes, there is a suite of products I designed and sell all over the country."
Sexton, who has been producing products for about 10 years, said Hard Rock is a "great opportunity."
"Hard Rock is not the only cart I'm hitching my pony to, but hopefully it will drop a few dollars into the bucket a few times a year," he said.
Although not a native, Sexton said he appreciates the Twin City.
"I love this town. I love Bristol. The people who I've met here, I've made so many good contacts and resources; the city has been so good to me," Sexton said. "I looked in Kingsport and Johnson City and didn't get that same kind of reception."