Three Bristol families discuss their struggles and health problems associated with the strong smell that is believed to be coming from a landfill.
Like all traditional monsters, it tends to wait until sundown. Then, it slinks along the streets of both Bristols, slipping through fences, wandering across yards and fields, finding its way into houses through chinks in windows and doors. Finding the people inside.
To some of the noses it reaches, it smells like full-throttle decay — garbage, rotten eggs, roadkill. Other people say it resembles nail polish remover or burning rubber, something acrid and industrial.
It's gotten bad enough that many Bristol-area residents simply call it "the smell," and if you mention that the smell has been waking you up at night or making you gag in the morning, a good portion of Bristol will probably understand. It's been waking them up and making them gag, too.
Bristol, Virginia officials say they're actively working to repair and improve the city's Shakesville Road landfill, where broken pipes, gas emissions and excess water could be generating the foul odors, according to a consultant for the city. That engineering work — for which City Council recently shelled out $140,000 — is expected to be finished next week.
Meanwhile, the smell has bothered some residents so much that beyond forming a large Facebook group, pushing city officials for action and pelting state environmental agencies with complaints, they've begun tracking when and where it strikes.
Using a crowdsourcing app called Smell My City, residents documented their encounters with the smell more than 460 times between Jan. 16 and March 1. That means that more than 460 times over the past two months, someone in the Bristol area has noticed the odor enough to stop what they're doing, open the app and log when, where and how they're experiencing it.
The Bristol Herald Courier downloaded the app's smell reports for the Bristol region for the period between Jan. 1 and March 1, removing several submissions that were clearly trolling the program. The cleaned data contained 468 entries.
The experiences they paint aren't pretty, starting with users' descriptions of the smell. The most common word choices include "sewage," "rotten," "chemical," "gas," "putrid," "garbage," "burning" and "methane." Some of the descriptions are far more specific or emotive, though.
"Acetone in the middle of the night!" reads one from Feb. 16.
"Gross, burnt rubber and skunk," somebody wrote Jan. 26.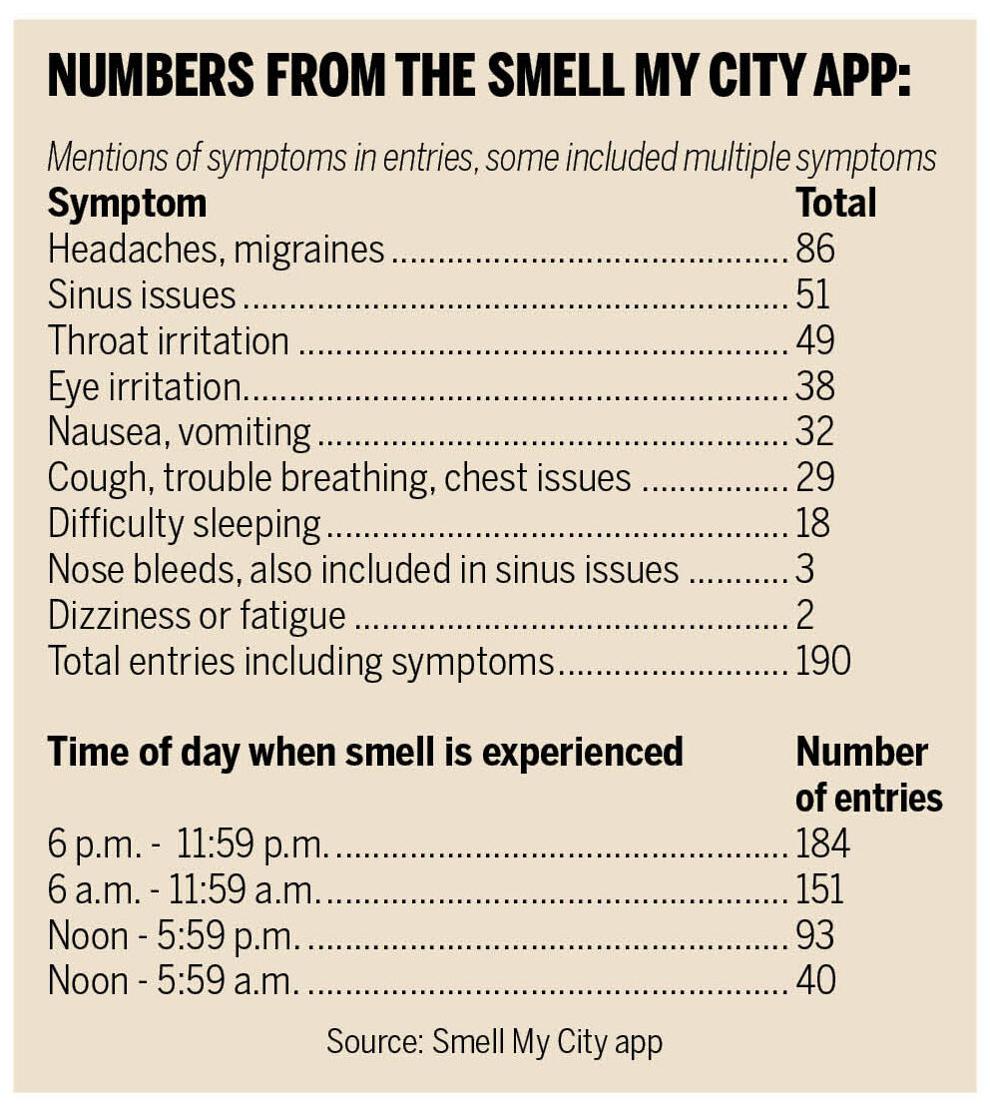 In a particularly bleak and emphatic Feb. 17 entry, one resident described the smell as "death. Gas, trash, and death."
Even bleaker are some of the physical ailments Bristol residents have reported experiencing when they notice the smell.
"Headache all day (I never get headaches normally). Severe congestion. Went outside and my throat, mouth and lips have a burning sensation," one person reported Jan. 25. "[I've] never experienced anything like this."
About 41% of the 468 entries included physical symptoms. Headaches took the lead: they were mentioned in 86 of the reports, or about 18%. Sinus problems and throat irritation were also frequent complaints, as were eye irritation and nausea.
And in both the Smell My City reports and the community Facebook group — which is called "Bristol City-VA/TN Air Pollution Community Page" — a slew of residents have made it clear that the smell has made it hard or impossible for them to sleep.
"3 nights in a row hardly any sleep. The smell is extremely nauseating and now headaches with that," one person recorded in the app Feb. 9.
"Another terrible night on Georgia [Avenue]," Irene Nunn, a Bristol, Tennessee resident wrote on the group's Facebook page Thursday morning. "No one should have to be exposed to this. My husband has been sick all night!!!!!!"
City Manager Randy Eads, who said he reviews the Smell My City reports daily, said in late January that air samples taken by the city haven't revealed any kind of culprit, chemical or otherwise, that could be driving those symptoms.
Those results might not mean much, though: Eads also said that the air sampling device used to take the samples was designed to measure hazardous chemicals in confined spaces, not air quality outdoors. He said the city has been working with an expert to find the best device for outdoor air monitoring.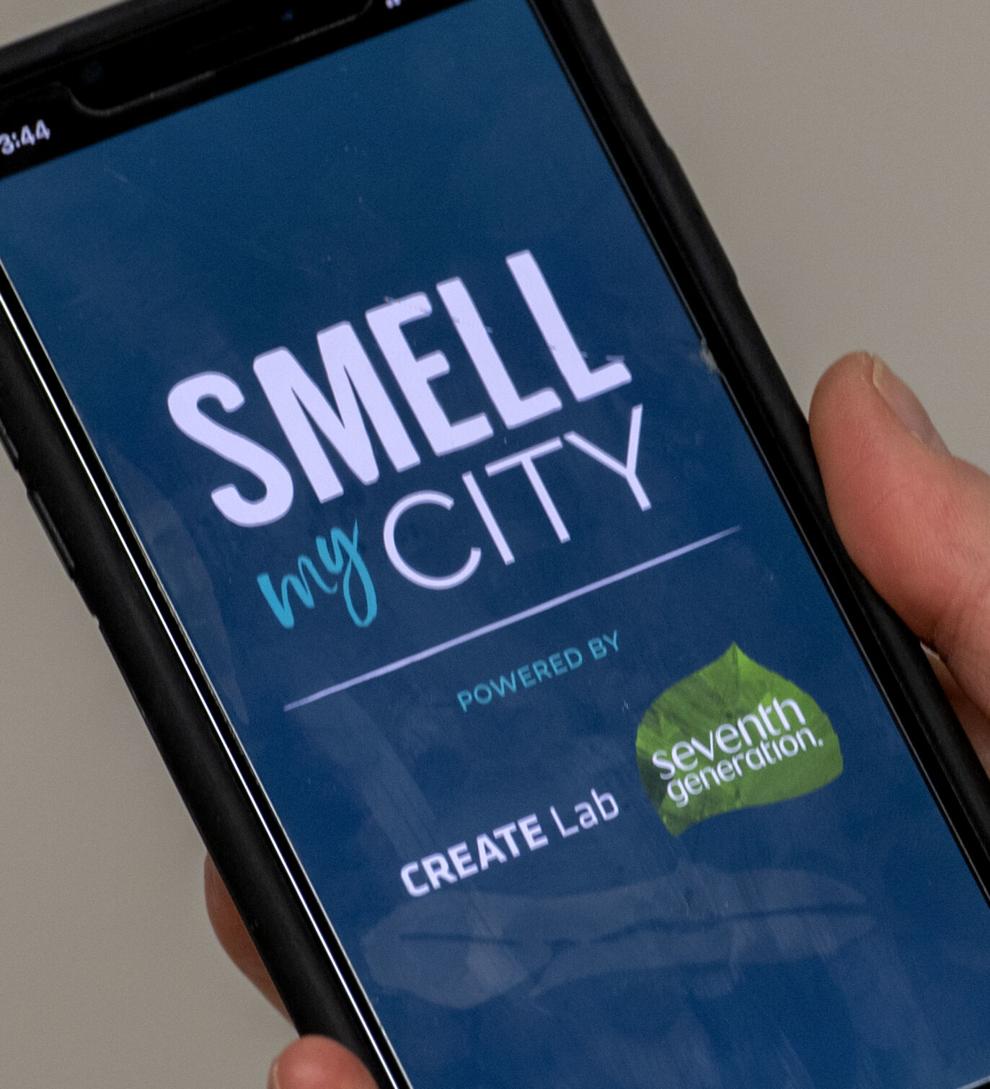 The data also revealed five days when the stench was particularly pervasive. With 35 entries each, Jan. 19 and Feb. 11 tied for the day with the most smell reports from Bristol-area residents. The smell also got around town quite a bit on Jan. 29, Feb. 4 and Feb. 6: Each of those days had more than 20 Smell My City submissions for the area.
But Jan. 29, a Friday, seems to have been the most intensely smelly day of late, at least by the app's entries. In addition to capturing the time, location, details and symptoms associated with the stench, the Smell My City app also asks users to rank its rankness on a scale of 1 to 5, with 5 the worst — "About as bad as it gets!" in the app's key. Jan. 29 collected 16 level-5 entries, more than any other day in the past two months.
Eads, who also uses the community Facebook group to share updates about the city's response to the smell, said in a Wednesday post that the landfill improvements are "still on schedule to have everything completed the week of March 8."
But city officials have said they don't have a full guarantee that those structural improvements will be enough to stamp out the stink.
What is certain, from the Smell My City entries as well as individual residents' Facebook posts and accounts, is that Bristol-area residents have reached a breaking point with the smell. They want it gone, and now.
"[Can't] sleep, [can't] eat, affecting work," a Smell My City entry from Feb. 13 said in the symptom description. "We may have to move out of town. And sue on our way out."