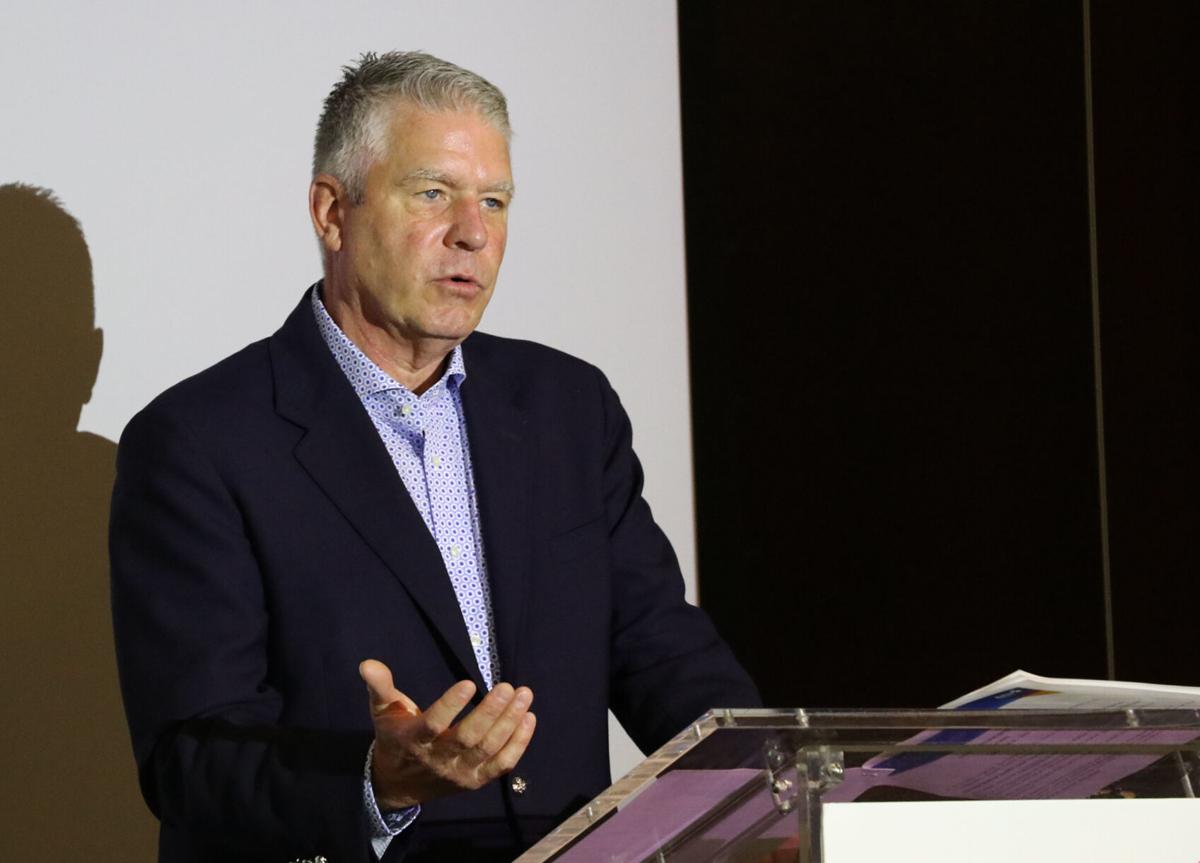 Area COVID vaccination rates continue generally lagging behind state and national averages, but Ballad Health officials were optimistic Wednesday about several trends.
The region's seven-day COVID testing positivity rate fell to 8.5% Wednesday, the lowest in several months and the first time in single digits since March 1. That combined with a second straight week of decreasing cases has officials hoping the recent surge due to the 'more virulent" B.1.1.7 variant is beginning to fade.
"I do think we're starting to a see a decline in cases. Either we're getting closer to herd immunity or people had COVID or we're getting more vaccine out. We are absolutely hoping and praying we do not see another surge," Ballad Chief Operating Officer Eric Deaton said during the weekly news briefing.
Ballad announced it will again suspend regular briefings unless circumstances worsen, but will continue reaching out to the region.
"We're going to continue to closely watch every county, to look at the data in the 21-county region we serve. We will still have weekly calls with the mayors to give feedback to them, provide them information based on what's happening in our health care system," Deaton said. "Just because we're suspending our press conferences, we still want to provide data and key patient information to our communities. We'll continue to do that."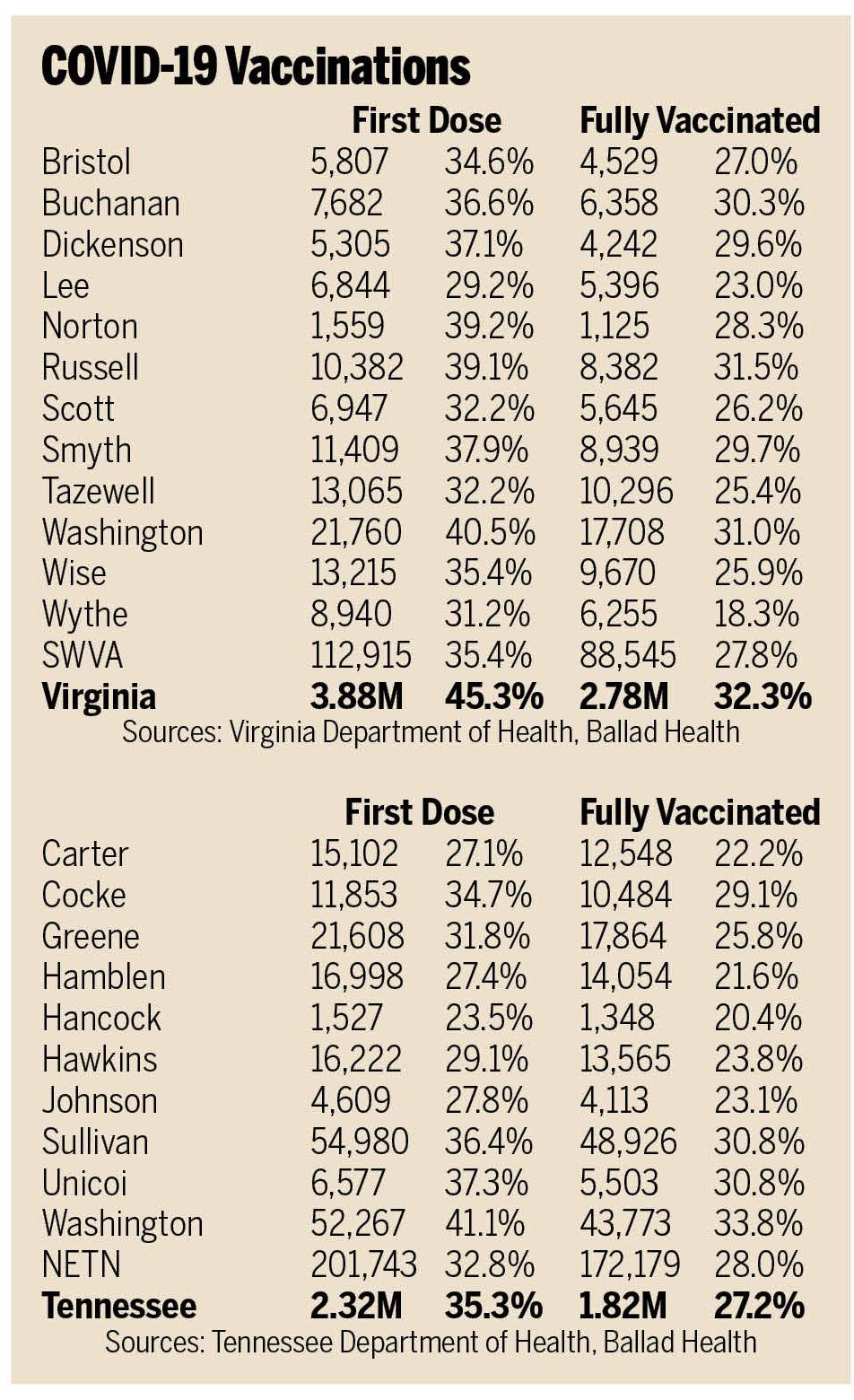 A third of Northeast Tennessee and Southwest Virginia residents have received the first of two injections against the novel coronavirus while less than 28% are fully vaccinated, according to health department figures from both states.
Nationally, nearly half of all Americans — 44.7% or 148 million — have received the first dose and 32.3% or 107 million are fully vaccinated, according to the Centers for Disease Control.
Across 10 Northeast Tennessee counties, the average is 32.8% for first injections while 28% of residents are fully vaccinated. State rates are 35.3% and 27.2%, respectively.
Tennessee ranks 48th nationally according to the CDC, while Virginia ranks 16th.
Only four of 10 Northeast counties rank above 30% on first doses, led by Washington at 41.1%, Unicoi at 37.3% and Sullivan at 36.4%. Those are the only Northeast counties with more than 30% of their population fully vaccinated.
Across 10 counties and two cities of far Southwest Virginia, 35.4% of residents have received the first shot while 27.8% are fully vaccinated. Washington County continues to post the highest rates, at 40.5% and 31%, respectively, but has experienced only minimal increases over the past week.
Like much of the nation, most counties across the region have seen vaccination rates rise by only 1-3 percentage points during the past two weeks. The Virginia rate climbed by about five percentage points during that time.
"More than 254,000 people have been fully vaccinated," Chief Infection Prevention Officer Jamie Swift said. "But I feel every vaccine dose is a reminder this is not enough. … Our vaccination centers are open almost every day, and we welcome walk-in appointments at all of our centers now. If scheduling is an issue, just walk right in, and we'll get you taken care of."
Deaton remains "optimistic" that the region can meet President Biden's goal of vaccinating 70% of American adults by July 4. He also urged people to do their own research or speak with their doctor if they have concerns or questions about the vaccines.
On Wednesday, Ballad treated nearly 200 COVID cases with 110 hospital inpatients, including 28 in intensive care units and 19 on ventilators, plus another 80 treated at home through telehealth. That is an increase compared to Monday but slightly less than one week ago.
Ballad has treated more than 1,600 with in-home monitoring, Deaton said.
"Having over 100 people in our hospitals with COVID continues to be a stress on our system. We have a higher number of patients in ICU than in other areas; this is higher than what we've seen in the past," Deaton said. "The average age of COVID patients in our hospitals last week was 65 years of age and it's down to 60 years of age now. Again, younger people being hospitalized."
The B.1.1.7, or UK, variant continues to be responsible for the majority of the region's cases, Deaton said.
There were 53 COVID deaths in April, which is the lowest total since July 2020.
"We do feel that we'll probably always have COVID patients in our hospitals; this could go on for maybe even another year," Deaton said.
While the region's 8.5% seven-day COVID testing positivity percentage is a marked decline, it's only an average and some counties remain high. Sullivan County's seven-day rate was 15.4% Wednesday after adding an average of 32 new cases daily for the past two weeks, according to the Tennessee Department of Health. Washington County in Tennessee was at 10.2% with a rate of 14 new cases per day for the past two weeks and Hawkins was 12.7%.
There were over 1,100 active cases in Northeast Tennessee, as Sullivan reported more than 550; Washington had nearly 300 and Hawkins more than 160.
In Southwest Virginia Wednesday, the Mount Rogers Health District counties were at 8.9% while Cumberland Plateau and LENOWISCO districts were each at 4.6%. The state average is 4.3%. Mount Rogers, which includes Bristol, Washington and Smyth counties, is directly influenced by Sullivan County, District Health Director Dr. Karen Shelton previously said.