FREDERICKSBURG, Va. — A day before the wedding, Gail Winkler took the gown out of its bag for a final inspection. No one had seen it except for her and workers at the Spotsylvania Towne Centre shop that sold it.
The seamstress at That's My Dress had showed her how to loop the train onto a row of pearls to create a bustle, but now, for the life of her, she couldn't find the gems amid the sea of organza.
Winkler had stopped by the florist to pick up the cake topper, but it looked different than she remembered, and it was going to cost extra for what she really wanted. It was 1 p.m., three hours until the rehearsal, and she still needed to make a trip to the grocery store.
She needed to pick up a gift certificate for the woman doing her makeup. And her daughter was calling because she couldn't make out Winkler's handwriting for the seating arrangements.
Sixty-one years after saying "I do" at a desk before an alderman in a Pittsburgh city office, Gail Winkler was finally feeling the stress of a bride-to-be.
LOVE AT FIRST SIGHT
The story began on a Friday night at a skating rink in Pittsburgh. Gail, 13, had just finished eighth grade. She and a friend changed into their skating skirts, leaving their things in a pile nearby.
Ron Winkler was celebrating his 17th birthday when he saw her. The spotlight above the wooden rink circled her like a halo. She was, he would say later, the girl he'd seen in his dreams. He sent his friend to find out who she was and confiscated her belongings.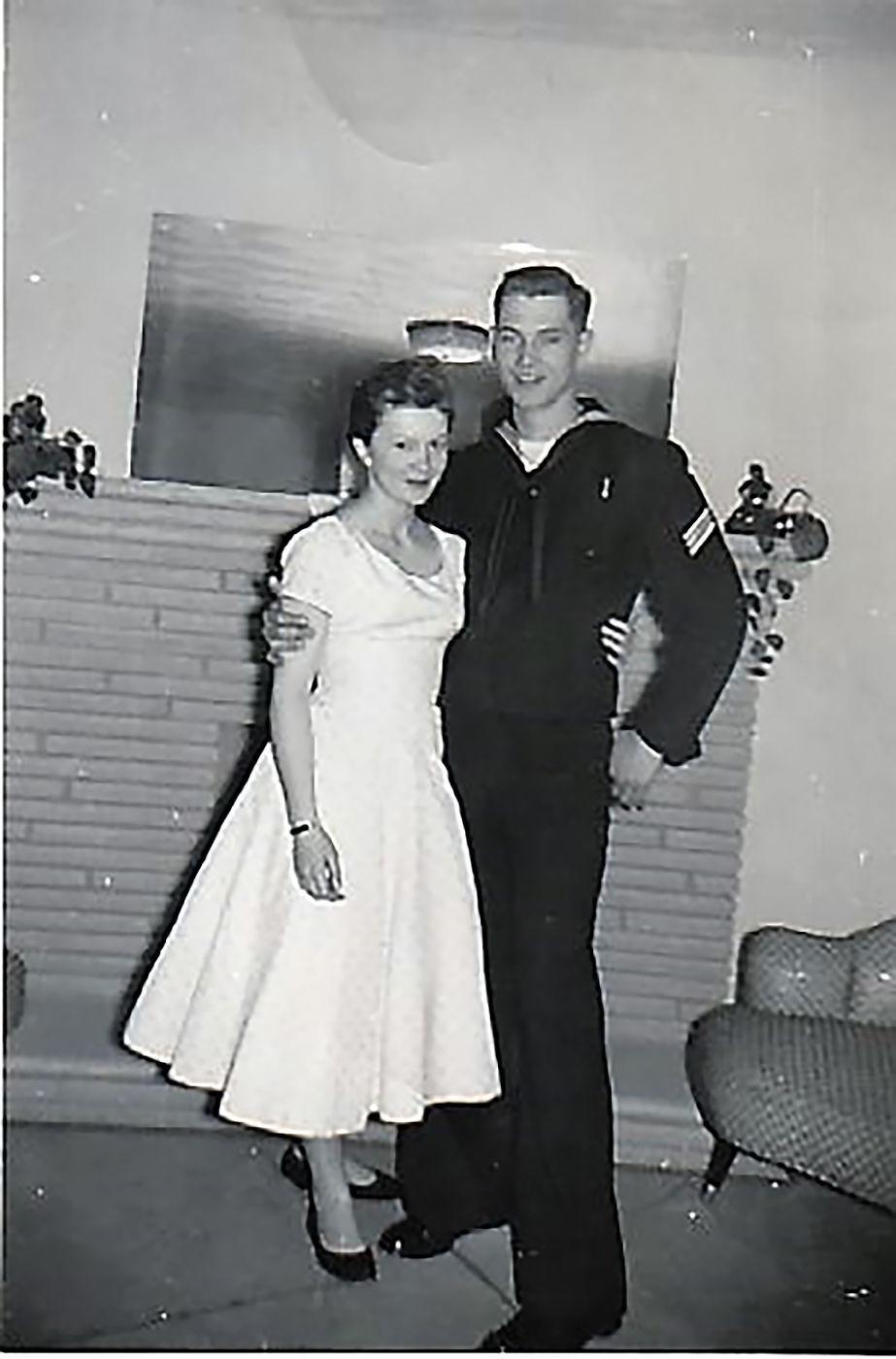 He'd give them back, he told the girl, if she let him walk her home. They talked in front of her house for three hours, until 2 a.m. The next day, Ron Winkler told his friend he'd met the girl he was going to marry.
They were inseparable until Ron Winkler joined the Navy, which sent him to Washington. He hitchhiked home to see her every chance he got.
On July 13, 1957, two years after they met, they were married with just their mothers in attendance. Gail Winkler was 15. All she can remember about the ceremony is saying "I do."
The 19-year-old groom remembers staring at the alderman in confusion when he asked if it was a double-ring ceremony. "I didn't know what he was talking about."
The newlyweds spent the day in Pittsburgh. The groom went back to Washington. The bride went home. A few months later, they scraped together enough money to rent a room in Alexandria from a family friend.
"We could barely afford a Popsicle," Gail Winkler said, and that was the truth. It was a good month when they could get a frozen treat before their funds ran out.
The couple welcomed their first child, a girl, two months after their first wedding anniversary. By then, they had their own place, and Ron Winkler's four-year enlistment was coming to an end.
He got a job at IBM. A second girl came, and then a third, and they named her Roni Gail, figuring she was their last child.
She wasn't. Two more followed, boys this time, with 16 years separating the first child from the last.
Meanwhile, Gail Winkler, who'd left school when she married, went back for her GED. Ron Winkler went to college and got a civilian job with the Navy, and along the way, they bought their first home—a brand new, five-bedroom house in Woodbridge, big enough for all the babies that would come.
They stayed there 40 years, long after the last child had left home and the first of five grandchildren came along.
Never in any of those decades, Gail Winkler said, did she ever think of anyone else, or regret her marriage at 15. She didn't even regret the fact that she'd missed out on a church wedding.
When one of her children suggested a vow renewal to mark their 25th wedding anniversary, Ron Winkler was dead-set against.
"I got married once," he said. "I'm not doing it again."
A CHURCH WEDDING
Ron Winkler wouldn't have changed his mind about that, until he heard his wife say she'd dreamed about a church wedding as a little girl. He'd always tried to give her everything she wanted, as long as he could afford it.
A wedding, he figured, was something she really wanted.
They'd been married 60 years by then. They'd traded their house in Woodbridge for a duplex in the gated, 55-and-older community of Falls Run in Stafford County, where almost every day they listened to love songs on the mixed CDs Ron Winkler made.
The years had not been without their troubles. Ron Winkler had worked long hours when his children were small. Their families did not like each other—did not approve of the marriage at all.
"My dad didn't like her until he was 80 years old," he said.
Her mother had agreed to let them marry because she knew there was no sense in trying to keep them apart.
Now it was early 2018, and Gail Winkler was having a time. Rotator cuff surgery left her arm in a sling and confined her to a chair every night for two months.
"I was crying my eyes out," she said, when her husband came up to her.
They could finally have a church wedding, he told her, the one she'd dreamed about as a little girl. She could get all dressed up and invite their family and friends.
Gail Winkler was reluctant at first. She didn't know the first thing about planning a wedding. She didn't even know where to go to look for a dress.
She turned to the internet, where a search took her to That's My Dress Bridal and Prom at Spotsylvania Towne Centre. She decided to stop by.
Soon, she'd settled on a long-sleeved ivory gown with a glittering, lace-covered bodice and a frothy skirt of taffeta and organza. She bought a veil dotted in tiny crystals that caught the light, and a pearl-studded tiara.
She called up her children and told them their plans.
"If you're not there," Gail Winkler said, "you're out of the will."
She picked the color pink—for her attendants' dresses and the roses in their bouquets and boutonnieres and the tulle bows that would decorate the pews of Christ Lutheran Church in Fredericksburg.
Sixty-one years earlier, Gail Winkler had worn a white dress embroidered in pink.
Roni Gail Modica, their middle child, made the invitations and the four-tiered wedding cake covered in coconut and topped with live flowers and greenery. She made the bows and the placecards and found the pearls her mother couldn't in all the layers of the gown, buttoning them into a bustle when it was time.
THE LUCKY COUPLE
Their youngest son, Jason Winkler, walked the bride down the aisle. Up front stood their oldest boy, named for their father, and their second-born daughter, Kristi Santee, all of them surprised by the display of their parents' love so late in life.
Until they took to the dance floor during a reception at the Hospitality House in Fredericksburg, Modica had never even seen her parents dance.
Yet here they were, exactly 61 years from the day they were married, standing hand-in-hand inside a church on a mild summer afternoon, looking at each other and trying not to cry. Here was Ron Winkler, who'd just turned 80, pulling two printed pages from the jacket of his tuxedo, hands shaking, recalling the story of how they'd met all those years ago.
"Gail always said that was her lucky night," the groom said. "She was right. Somebody was lucky. It was me. I don't have the power to give you all you want and more, but I'll always be the man in love with you."
Then he quoted from their favorite songs, the ones they still play in their kitchen.
"You'll always be the miracle that makes my life complete," he said. "You'll never find a love in all the world as true as mine."
Then, the secret of their love, of 61 years together, captured in a song recorded more than a decade after two teenagers married inside a town hall:
"Kiss an angel good morning," Ron Winkler said, "and let her know you're thinking about her when you're gone. Love her like the devil when you get back home."
From the pews, friends and family laughed. Great-grandbabies fussed. A woman whispered how romantic he was.
Gail Winkler already knew.