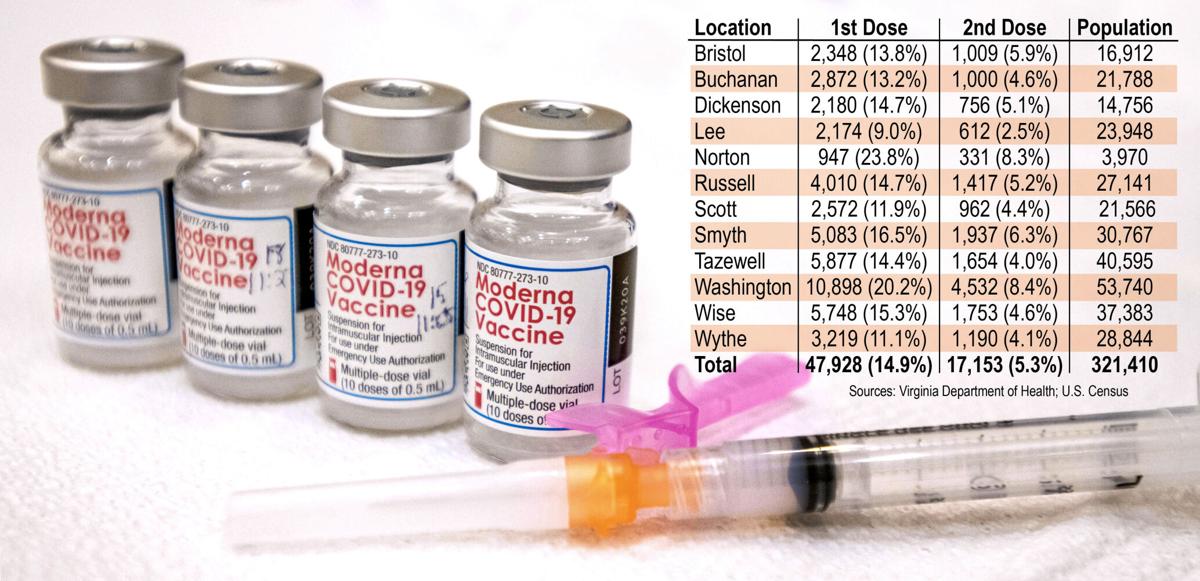 About 15% of far Southwest Virginia residents have received their first vaccination against the novel coronavirus, which ranks above state and national averages.
Nearly 48,000 people living in this region's 10 counties and two cities, or 14.9% of more than 321,000 residents, have received the initial injection of either the Moderna or Pfizer vaccines through Tuesday, according to the Virginia Department of Health.
Virginia's statewide average is 12.3%.
More than 17,000 people, or 5.3% of Southwest Virginians, have received both doses and are fully vaccinated against the virus, compared to Virginia's statewide rate of 4.1%.
About 11.5% of the total U.S. population has received the initial vaccination, and 4.2% have received both, the Centers of Disease Control reported Tuesday.
"We're really pleased we got an early start on vaccinations because, since Jan. 20, we've been severely cut back in our proportion of vaccinations to 4,000 vaccines total per week between Wythe County and Lee County — serving 16 localities," Dr. Karen Shelton, director of the Mount Rogers Health District, said Tuesday. "That's all health departments, hospitals, pharmacies and community partnerships. We're almost a month now in severe restriction in our allocation. We were leading the state on a lot of our vaccines, but we've had to really slow it down."
More than 65,000 vaccines have been administered across the region, or 4.6% of the 1.39 million doses administered statewide.
In January, Virginia began allocating vaccines based on population rather than demand. All three of this region's health districts — Cumberland Plateau, LENOWISCO and Mount Rogers — combined comprise about 4% of Virginia's total population, so this region now receive 4% of the vaccines available, or about 4,000 new doses per week.
"We're giving all 4,000 each week, but we know we could be giving four to five times that each week with all our community partners," Shelton said.
Even that may be cut back.
"We were told next week we might have a further reduction in vaccines," Shelton said. "Their [state] concern is there were pockets of Virginia that got a slow start, so they want to make sure everyone in Virginia had an opportunity — in those first tiers of phases and now for the elderly and seniors — to try to get those essential workers vaccinated.
"We just finished our second doses for teachers last week and this week we're getting second doses for other schools and day cares. We're about a month ahead of some of the state on that," Shelton said.
About a month ago, the three local health districts jointly launched an online registration portal for residents wishing to sign up for the vaccine.
On Tuesday, the Virginia Department of Health launched a new website for residents to preregister for the COVID-19 vaccine. Residents who previously preregistered through their local health district have been automatically imported into the new system and do not need to register again, according to a written statement.
However, state officials said it may take "several days" for every name to appear on the centralized system because data migration will continue throughout the week. Additionally, heavy usage was expected to impact the site Tuesday, and anyone unable to log on should continue trying, state officials said.
Today, Gov. Ralph Northam is expected to discuss the online options and the state's launch of a toll-free hotline number for anyone who prefers to schedule an appointment by phone.
The state health department warned this will remain a lengthy process.
"Demand for the COVID-19 vaccine currently far outstrips supply, and it is expected to take several months to reach all who want to be vaccinated," according to Tuesday's statement from the Virginia Department of Health. "Virginia is prioritizing people who qualify for Phase 1B, people age 65 and older, frontline essential workers, those living and working in homeless shelters, correctional facilities and migrant labor camps, as well as individuals with high-risk medical conditions."
Virginia leaders were widely criticized last month when the state ranked last among all states in administration of its vaccines.
On Tuesday, Virginia ranked ninth among 50 states, having administered 1.35 million of the 1.59 million doses it has received, or about 85%, according to Becker's Hospital Review. There is some lag time in reporting as the state Health Department reported administering more than 1.39 million doses as of Tuesday morning.
Tennessee ranked 41st nationally Tuesday, with 967,000 of 1.36 million doses administered. Among other neighboring states, West Virginia ranked first, North Carolina ranked 19th, Kentucky 28th and Maryland 39th.
Other vaccination options
Beyond county and city health departments, physicians and pharmacies are also taking vaccination appointments, but those supplies remain limited.
All Ballad Health Medical Associates patients can call their physician's office directly, including primary care offices, specialty clinics or urgent care centers, to schedule an appointment.
Southwest Virginia Food City stores are scheduling vaccination appointments, based on vaccine availability, which has been "very limited," according to a Food City statement.
Vaccinations are available by appointment at Food City pharmacies in Abingdon, Big Stone Gap, Bluefield, Bristol, Chilhowie, Claypool Hill, Clintwood, Damascus, Galax Grundy, Independence, Lebanon, Marion, Pennington Gap, Pulaski, Radford, Weber City and Wise.
In Radford and Pulaski locations, patient eligibility is determined by the health district.
In Washington County, Virginia, vaccination appointments are available at Michael's Pharmacy and Pharmhealth Express Pharmacy & Wellness in Abingdon and Glade Pharmacy in Glade Spring.