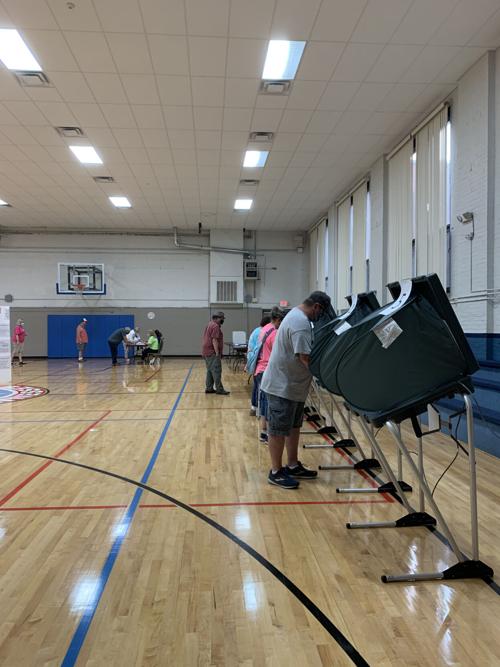 Despite occasional showers and the vague but pervasive threat of COVID-19, Sullivan County's polls stayed busy for Thursday's primaries and county general election.
"Turnout has been steady here throughout the day on Election Day," said Jason Booher, the county's administrator of elections, outside the Sullivan County Offices in Blountville Thursday evening.
Booher, sporting an American flag-themed neck and face covering, said the Election Commission had already received a little more than 13,000 ballots during early voting. With Election Day ballots factored in, he expected the total number of votes to surpass 20,000.
"We had a strong turnout during early voting. About 13,000 people showed up, a little over 13,000," Booher added. "We'll get close to that number today. ... So we'll finish somewhere north of 20,000 [ballots]."
The parking lot and sidewalks outside Bristol's Slater Community Center, one of the county's 25 polling locations, were nearly empty just before 5 p.m. But inside, all six of the polls set up on its indoor basketball court were occupied.
Several more people were waiting in line, standing on orange "PLEASE WAIT HERE" stickers and blue tape marks spaced 6 feet apart around the edge of the court — a safety measure to prevent the spread of COVID-19.
Other safety measures put in place by the Election Commission included giving voters single-use pens and requiring election officials and workers to wear masks, face shields or both. Most of the voters also seemed to be wearing masks; at around 5 p.m., only one entered the polling area without one.
Meanwhile, at Anderson Elementary School, poll workers offered voters hand sanitizer and appeared to be frequently wiping down the voting booths and other commonly touched surfaces.
Haley Warf and Michael Gartin, who are both 37 and live in Bristol, said they came to Anderson prepared with masks and their own hand sanitizer. But Warf said it was reassuring to see the safety measures in place at the polls.
"I saw them wiping down the machines after us and I was very pleased to see that," said Warf, who teaches at Northeast State Community College, after she and Gartin finished voting and left the building.
The unofficial election results for the competitive school board and constable seats in the county general elections hadn't changed as of Friday. Meanwhile, some state primary results had changed, albeit not enough to affect the outcomes.
Friday's numbers still showed Diana Harshbarger winning the Republican nomination for Tennessee's 1st Congressional District — but by 19.18 percent, or 18,069 total votes.
Timothy Hill and Rusty Crowe followed Harshbarger, with 16 percent of the vote each on Thursday night. But by Friday, Hill had come in second with 16.69 percent of the vote, while Crowe had 16.10 percent.
The Democratic primary results for that seat hadn't changed: Blair Walsingham still won with 52.7 percent of the vote, even though she was uncontested. Chris Rowe and Larry Smith, who had both suspended their campaigns, still got 33.63 percent and 13.67 percent of the vote, respectively.
Harshbarger and Walsingham will now face off for the 1st Congressional District seat in the Nov. 3 general election.
U.S. Rep. Phil Roe, R-Johnson City, who is retiring from that seat, praised Harshbarger for winning the GOP nomination.
"I congratulate Diana Harshbarger on a hard-fought victory in the primary and pledge to do everything I can to help ensure she wins the general election in November," Roe said in a Thursday night email statement.
"As Republicans, we now need to all come together and unite for our common cause. COVID-19 is a challenge unlike any our nation has ever faced, and we need [common-sense] conservative leaders to step up and help ensure America comes back stronger than ever. I know Diana will be such a leader for East Tennessee and will help President Trump keep America great," Roe said.
Be the first to know
Get local news delivered to your inbox!