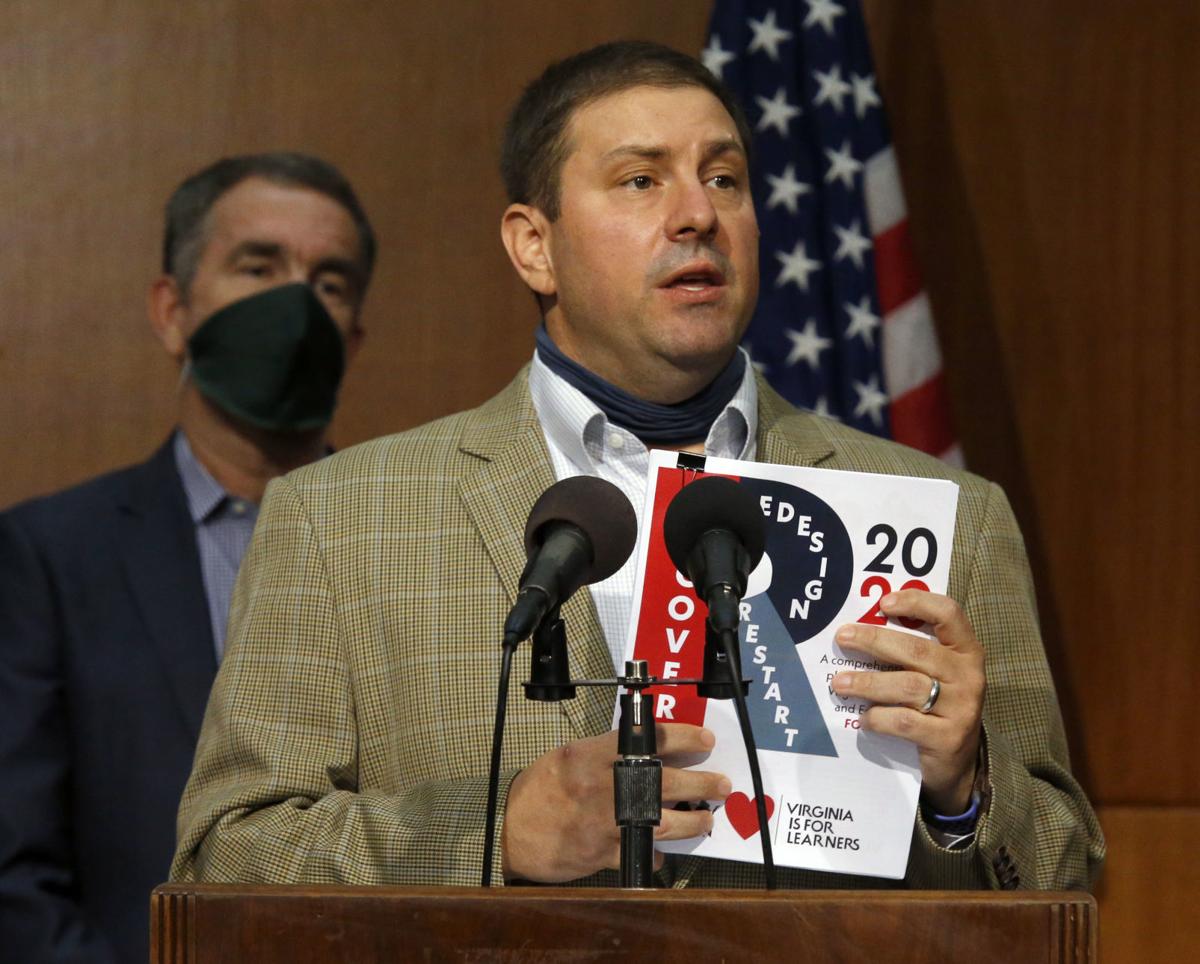 Virginia Republicans on Wednesday called for students to return to school buildings five days a week this fall, citing new guidance from the American Academy of Pediatrics.
GOP lawmakers said during a virtual news conference that Gov. Ralph Northam should prioritize in-person learning for all students in the state, wading into a debate over when and how to return students to school buildings that shuttered in March in response to the coronavirus pandemic.
"We want to open schools safely, and we can," said Sen. Siobhan Dunnavant, R-Henrico.
Said Sen. Jill Holtzman Vogel, R-Fauquier: "The reality is that being in the classroom on a normal schedule, five days a week, with the same kids all day, is less risky than a disjointed schedule where people spend a couple days in school and then the rest of the day or rest of the week out of school with different groups of people."
The Northam administration accused Republicans of "playing politics."
"This is about public health. While Governor Northam wants nothing more than to have children back in school this fall, recent surges in other states make it clear we need to proceed cautiously," Northam spokeswoman Alena Yarmosky said in a statement. "We must continue to prioritize safety — not just for students and their families, but for teachers, staff, and communities across the commonwealth."
She added: "No one — not state legislators, and not the president of the United States — should be playing politics."
The state on Monday revised the guidance it gave to local school systems on reopening, allowing for students to be as close as 3 feet from one another if they wear face masks and are not showing symptoms of the virus. Recommendations from the American Academy of Pediatrics, which has urged schools to have students physically present this fall, spurred the change. Previous recommendations from the state and Centers for Disease Control and Prevention suggested staying 6 feet apart.
The revised guidelines, according to Republicans in a joint news release, "still leave too much confusion about what is expected of school districts from an instruction standpoint."
School systems across Virginia have yet to finalize reopening plans, a situation Richmond schools chief Jason Kamras described Wednesday as "playing a game of 3D chess." Districts in the Richmond area are considering proposals that would allow students to continue learning virtually if their families are not comfortable sending them back to school.
The decision on how and when to reopen rests solely in the hands of local school boards, the updated guidance reiterates.
Republicans asked Northam to rescind the guidance he has issued and instead push for more in-person instruction, along the lines of what the pediatrics association is calling for.
"School districts need leadership from our governor, and instead they have been told to figure out their own plans," said Del. Kirk Cox, R-Colonial Heights, a retired government teacher and former speaker of the House. "This is a time for creativity, flexibility, and new approaches to learning. School districts have been left hamstrung by confusing policies and guidelines."
Cox added: "At the end of the day, we are leaving behind Virginia's children who are going to have an entire school year disrupted. Remote learning should not be the end-all, be-all, but rather a choice for students."
GOP lawmakers also said they want, among other things, more paid leave for teachers and staff for coronavirus-related issues; raises for teachers; and more funding for Virtual Virginia, an online learning network the state already expanded to help with the transition to remote learning.
The legislators also said they'll push for immunity for school districts from lawsuits related to the virus and reopening, which education officials have been concerned about. Lawmakers want that immunity policy to be taken up during the August special session of the General Assembly.
(804) 649-6012
Twitter: @jmattingly306
Concerned about COVID-19?
Sign up now to get the most recent coronavirus headlines and other important local and national news sent to your email inbox daily.