A wildfire at Pilot Mountain State Park in North Carolina's Surry and Yadkin counties grew to about 500 acres by midday Monday. It is expected to cover as many as 900 acres with controlled burns aimed at creating breaks in the blaze to keep it from spreading beyond a perimeter established by firefighters, an N.C. Forest Service spokesman told the Winston-Salem Journal on Monday evening.
"It has been increasing throughout the day," said Jimmy Holt, forest service ranger for Guilford County, in an interview at the foot of the smoke-shrouded mountain.  "We have good, solid containment lines around the base of the mountain. That's where we're going to hold it at and catch it. "
Forest service firefighters began setting the controlled fires Monday, he added.
"That's going to keep it on state park property, keep it on the mountain," Holt said. "We want homeowners to understand it's not going to leave park property, and no homes or private property is in danger at this time."
No buildings within the park, including the visitor center, are threatened, he added.
"We've taken measures to triage those structures to create good, defensible space on those," Holt said.
Holt reiterated earlier reports that the fire, which started Saturday near the park's Grindstone Trail, was "human caused in some form." Law enforcement officers will investigate in an effort to pinpoint what sparked the blaze, he added.
Eighty to 90 firefighters were battling the fire Monday, he said. All parts of the park remain closed.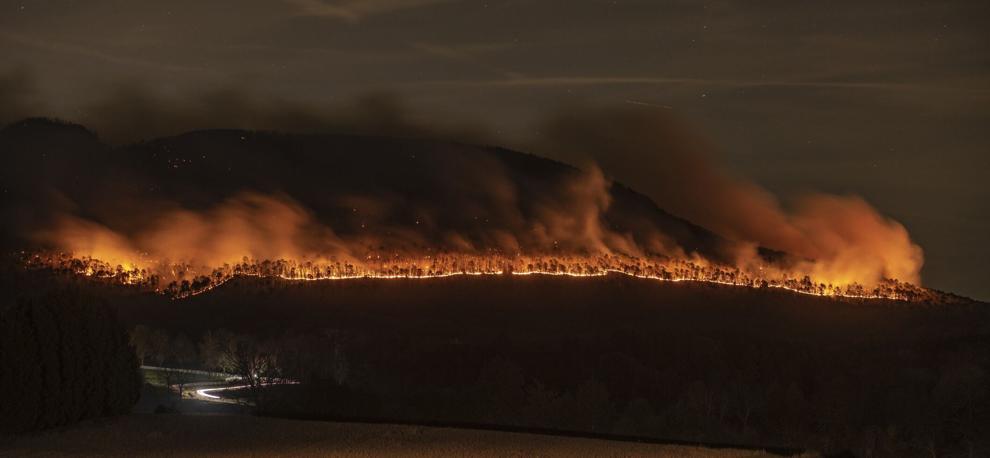 Clouds of smoke, turned orange by the setting sun, hung over the Winston-Salem skyline Monday evening. Forsyth County officials urged residents not to call 911 to report smoke in the area — unless flames were visible.
Dry, breezy conditions that helped fuel the blaze over the weekend continued Monday, prompting the National Weather Service's Raleigh office to issue an advisory discouraging outdoor burning in much of central and eastern North Carolina.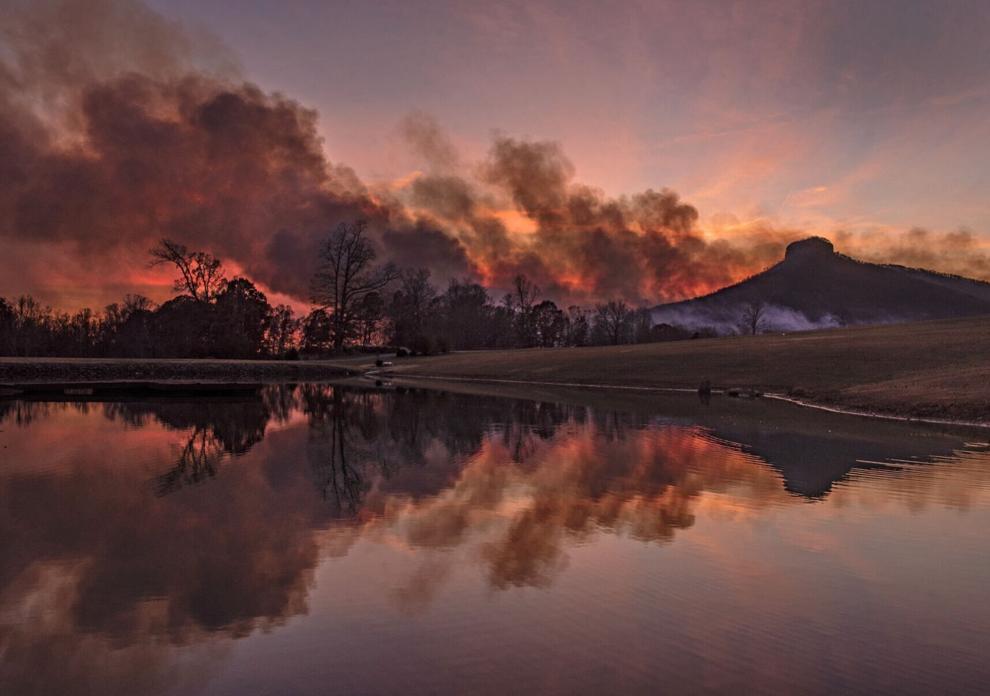 North Carolina officials issued a statewide outdoor burning ban effective at 5 p.m. Monday, citing the dry conditions that are prevailing in the state.
The National Weather Service said that relative humidity would fall into the 25% to 35% range late Tuesday morning through early Tuesday evening, and that winds could gust up to 20 to 25 miles per hour during the same period, leading to an increased risk of dangerous fire growth.
John Deem, jdeem@wsjournal.com, covers climate change and the environment in the Triad and Northwest North Carolina. His work is funded by a grant from the 1Earth Fund and the Z. Smith Reynolds Foundation.
336-727-7204