Among those who watched Makiah Burke graduate Saturday from Spotsylvania High School is Jennifer Rojohn, who — as Ms. Reynolds — was Makiah's kindergarten teacher at Fredericksburg's Hugh Mercer Elementary. 
"I will feel like a proud parent," said Rojohn beforehand. "I will probably be a crying mess as well!" 
There will be many reasons for her tears. Not only was Makiah in Rojohn's very first class as a public-school teacher in 2010, but he has kept up a tradition of visiting her at the beginning and end of every school year since kindergarten, even as she moved from Fredericksburg City schools to Prince William County, Essex County and finally to Stafford County, where she is assistant principal at Stafford Elementary.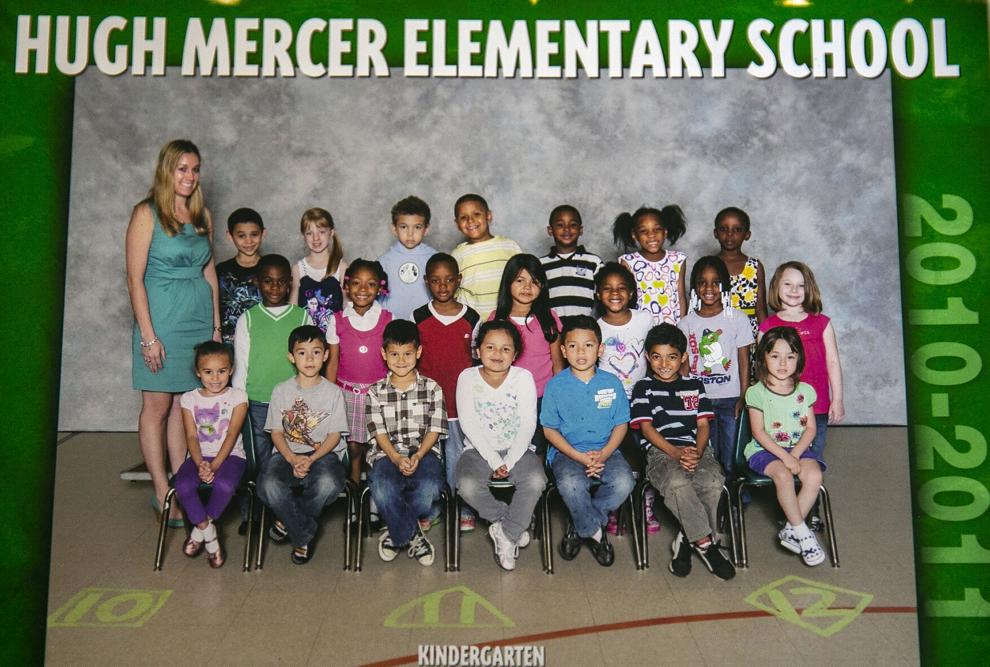 "When I say he loves this woman, I mean he loves this woman," Makiah's mom, Chrissy Burke, said. "I don't get hugs like (he gives her)!" 
She said Makiah connected with Rojohn in part because she was his first teacher ever, but also because of the kind of teacher she was, even at the very beginning of her career. 
"She was the type of teacher who was structured but would still love on you," Burke said. 
Rojohn said the students in that first kindergarten class will "always and forever" be an important part of her educational career because they learned and grew together. 
She said she always told the class that they were a family. 
"We care for each other, and we love and protect one another. We can fight like family but at the end of the day we are family," she told them. "I really meant that, and I think we were able to accomplish that within those four walls." 
Hugh Mercer Elementary at the time only housed kindergarten, first and second grades, so it was easy for students from Rojohn's kindergarten class to come back and visit her the next year. 
"Most students stopped visiting when they graduated and went to Lafayette Upper Elementary School," Rojohn said. "But not Makiah; he kept the tradition going. Year after year, he would come to visit me wherever I was teaching." 
Burke said they would never tell Rojohn when they would be coming. One year, they walked into Lafayette Upper Elementary for the beginning of school to visit and staff told them Rojohn wasn't there anymore. 
"That was devastating to him," Burke recalled. "I told him, 'We'll find her.' We were in the car heading to football practice and he spent the entire drive Googling to find where she was at." 
They located Rojohn in Prince William County schools and Makiah asked his mom if she could take off work so they could visit. 
She did, and they haven't missed a visit since, except for one in the spring of 2020 due to the pandemic. 
Rojohn said their visits became a tradition she looked forward to at the beginning and end of every year. 
"He never told me when he was coming, so it was always a surprise, but it was a surprise I could count on," she said. "When he would come, I would walk him around, like a proud momma, and introduce him to everyone."
The two would talk about how school was going for Makiah. 
"Makiah would open up and share his experiences from over the year. I loved hearing both the good and the bad, as we could always reflect on what he did well and what he could have done better on," Rojohn said. "When we met at the beginning of the year, I would end our conversations with words of encouragement and affirmations, and at the end of the year, we would go over his experiences and how they helped him grow into the young man he has become."
Burke said she also counted on Rojohn to keep her son motivated to stick with his goal of going on to college and playing football.
"I would have her kind of help me out and tell him, 'You know, you gotta do this if you want to go to school,'" Burke said. 
Rojohn said she always knew Makiah would succeed, and he has — he will attend Bridgewater College in the fall. 
Just as she has impacted Makiah's life, he has impacted hers.
"He is a reminder that we as teachers DO have an impact on our students' lives, even if we don't initially realize it," Rojohn said. "I have cherished our relationship and the tradition we have created and maintained over the last 13 years."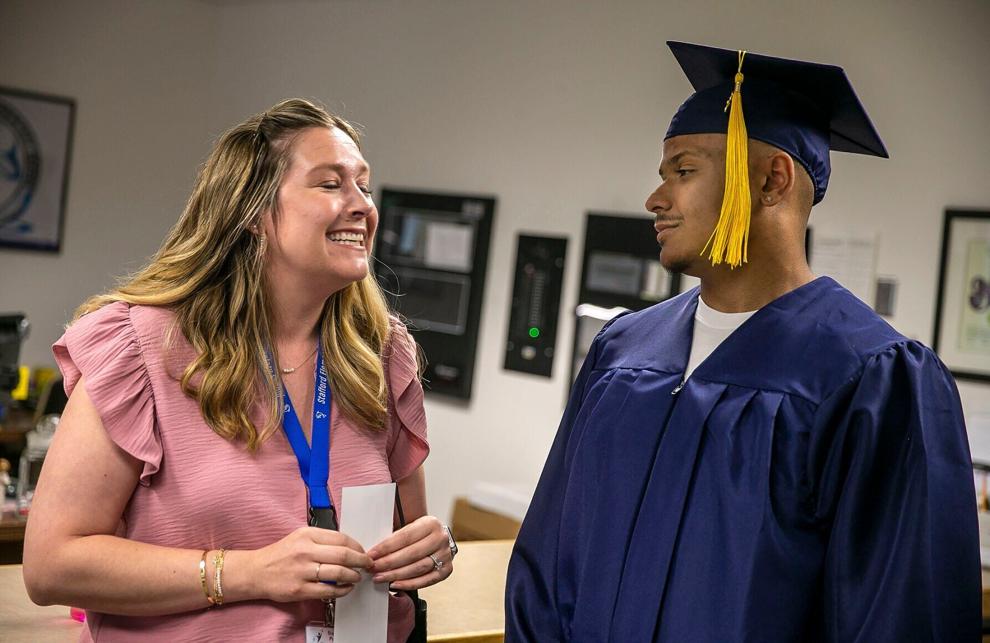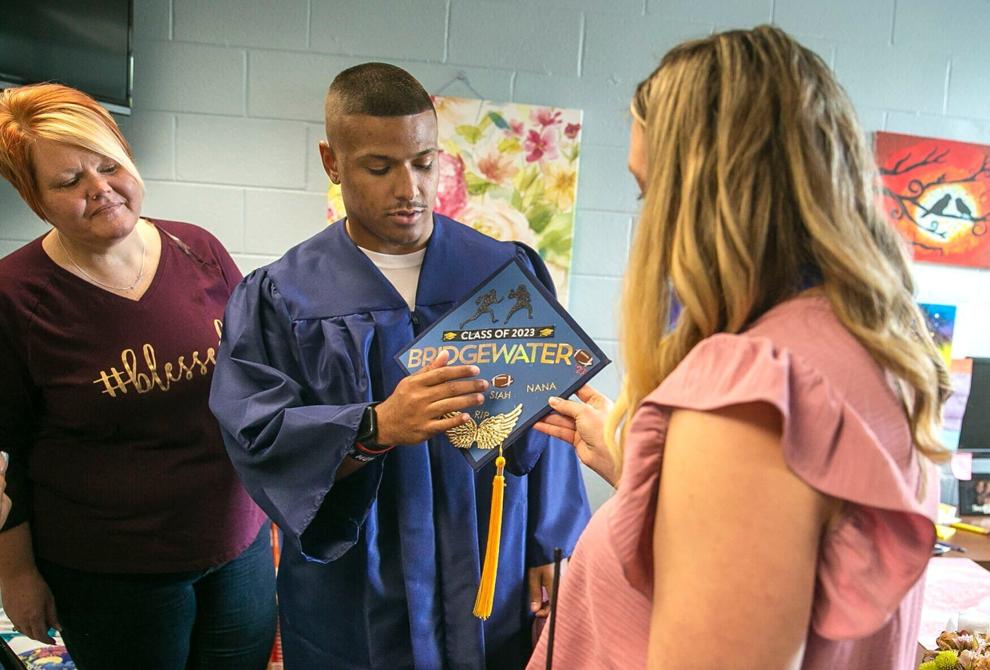 The bonds she forms with students and families are what has kept her in the frequently challenging education profession for 13 years, she said. 
"I always say you cannot grow students unless they know you care about them, and I do. Having lasting connections with students like Makiah reminds me why I do this job and why I keep getting up each and every day and returning to work each and every year," she said. 
Burke said Rojohn has played a role in her son's life that no one else can fill. 
"There's no one that ever can replace her," she said. "Not another teacher, not a parent, aunt, uncle, nothing. There is a special place in his heart for her."
Adele Uphaus: 540/735-1973
@flsadele