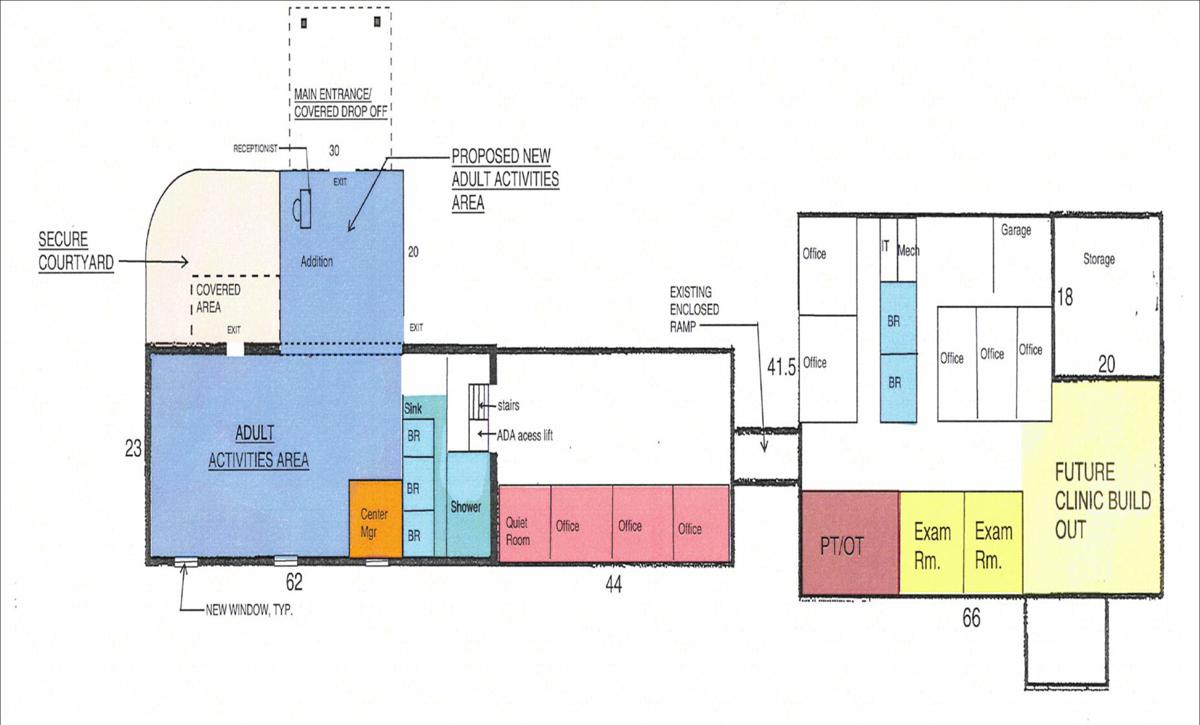 A nonprofit that's expanding its service footprint plans to serve some of this region's most frail elderly residents while bolstering the economy and serving as an experiential learning site. The Marion Town Council gave a nod of approval to the agency's plans Monday evening.
The Appalachian Agency for Senior Citizens (AASC) plans to house a Program of All-inclusive Care for the Elderly (PACE) Center in Marion's former police department building at 555 S. Main Street. The Virginia Department of Medical Assistance Services has given the go-ahead to AASC to expand its PACE services into Bland, Smyth, Washington and Wythe counties and the city of Bristol.
AASC, which is headquartered in Cedar Bluff, has been serving senior citizens with a variety of programs for 45 years. It employs more than 200 people.
PACE assists "individuals who are 55 and older who are eligible for nursing home care to remain safely in their homes." According to AASC documents, "The typical PACE participant is very similar to the average nursing home resident. On average, the member is 75 years old, has 10 medical conditions and is limited in ... activities of daily living."
AASC's business plan for the Marion-based operation says, "The PACE program philosophy aligns with the agency's belief that aging is not a choice; however, aging well is. The board ... and staff at AASC firmly believe in fostering programs aimed at helping seniors stay within their homes and community as long as possible with dignity and grace."
That plan notes that AASC has received numerous requests for service from residents in this area.
For 12 years, AASC has provided a PACE program to residents of Buchanan, Dickenson, Russell and Tazewell counties.
The program for those counties began with eight participants. After a dozen years, it has served 310 participants and has a current census of 105. The operation's budget is $10 million. AASC operates on a budget of $17 million. According to documents provided to the town of Marion, AASC is debt free with no outstanding liabilities and an investment portfolio.
While beginning this project, AASC is near the end of a $2.5 million project to build an adult daycare center in Falls Mills.
PACE services are far-ranging from personal care and homemaking needs to medical services and transportation and socialization.
Brian Beck, AASC's chief financial officer, told the Marion Town Council on Monday that he's confident of the nonprofit's ability to develop and operate a PACE program for the Mount Rogers region. Beck, who's been with AASC for 10 years, said the agency has tripled its full-time employees in that period.
For the Marion center, he projected that PACE will employ 13.4 full-time positions by the end of the first year and about 67 employees at the end of its fifth year.
Beck said, "While we are a social services organization, we do grow and engage in economic development."
At startup, which is expected next fall, Mount Rogers PACE would employ a center manager, clinic nurse practitioner, clinic RN and home care coordinator, social worker and activity coordinator in addition to personal care aides, homemakers and drivers.
The program would be supervised by AASC's medical director. AASC, which is directed by a board of directors, expects to be providing care for 27 individuals by the end of 2022.
The AASC proposal notes a lack of services in this region. It says, "There are no other providers of home care and few social support services for people who fit the PACE demographic."
The Mount Rogers PACE region, it says there's one adult day center, which serves 10 participants. It also notes that District Three Governmental Cooperative has 125 clients on its waiting list for homemaker services.
Beck also said the organization is regularly audited by the Centers for Medicare and Medicaid.
The CFO told town officials that the Emory & Henry School of Health Sciences in Marion has expressed interest in working with the PACE program to give its students practical learning experience.
AASC already has alliances with E&H, ETSU, King University and several other institutions of higher learning for other programs.
In its proposal, AASC said, "By partnering with local colleges and universities, this PACE concept could be a cutting-edge model for other PACE programs across the country."
The nonprofit also plans to develop working relationships with area hospitals, District Three, Mount Rogers Community Services, county departments of social services and other entities.
Referrals to the program can come from any of those institutions as well as family and residents themselves.
AASC plans to not only buy but also expand the former police department. Construction is expected to begin early in 2021 and take about six months with the center ready to open by Sept. 30, 2021. Renovation costs are projected at $350,000 to $400,000.
In response to a request for proposals, AASC offered to pay Marion $315,000 for the building. The council unanimously accepted the offer.
The proposal came with the full recommendation of Marion's director of community and economic development, Ken Heath, who said he'd been working with AASC for about three years on these plans.
With the council's vote, Heath called the decision a Christmas gift that will keep giving back by paying dividends for years to come.
Beck told the officials, "We're excited to work in this community."