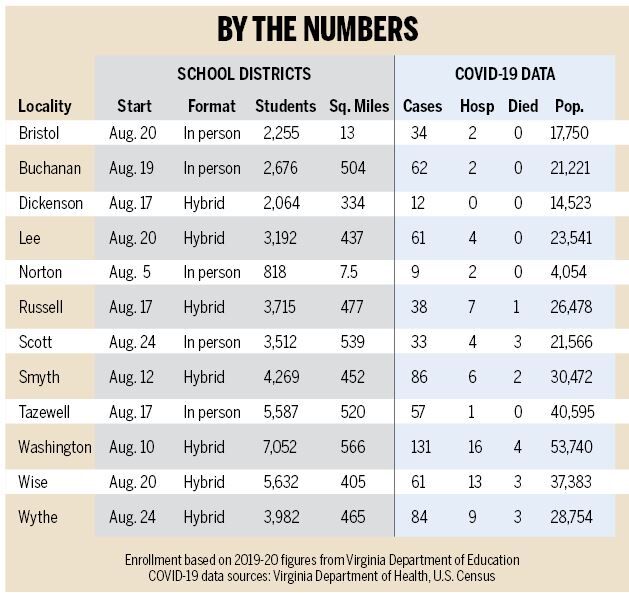 School divisions across Southwest Virginia will rely on an array of creative ways to resume instruction next month, and officials universally agree that all plans remain subject to change due to ongoing concerns about COVID-19.
The total number of cases across Southwest Virginia has risen in recent weeks, but infection rates in the 10 counties and two cities in far Southwest Virginia remain at a fraction of 1% of total population.
The state Department of Education previously declared that local school boards should chart their course of operations for the 2020-21 academic year based on public health and other guidelines, but coursework would be graded, and standardized testing is expected to occur next spring.
At present, school divisions in Bristol, Norton, Buchanan and Scott and Tazewell counties intend to begin the fall semester with most students in classrooms four days per week. Other area divisions have announced hybrid models where students would be in schools part of the time and learning remotely — via the internet — the remainder. Divisions are also offering a totally remote or virtual learning option.
"No matter what happens, this year is going to be challenging because of the uncertainty, because what we're doing is different," said Bristol Virginia Superintendent Keith Perrigan. "Even though we provided a lot of training, we're going to be learning as we go — offering a fully remote model while we're also offering a fully in-person model. The challenges are not insurmountable, but I anticipate this will be the most challenging year that any educator has ever had."
Bristol students are scheduled to return to class Aug. 20 with a four-day schedule Monday through Thursday. Fridays are designed to give teachers time to plan, custodians a chance to deep-clean buildings and administrators a chance to review health and other data.
Daily temperature screenings, face masks, social distancing and other steps will be required to comply with state and federal health guidelines.
While local case counts remain low compared to more densely populated areas, any local spike could prompt further changes, Perrigan said.
"I think we'll have to be very flexible — not just between now and Aug. 20, but after Aug. 20, when school starts. We are just dealing with the first phase of COVID. If you listen to the experts, there could potentially be a second phase. When you compound what flu could do combined with COVID, I think our schedule will have to be very flexible, maybe throughout the entire school year," Perrigan said.
Metrics factoring into all decisions will include the 14-day average of new positive cases per 100,000 residents, positive test rates and data from neighboring Washington County, Virginia, and Sullivan County, Tennessee, Perrigan said.
"Final decisions about reopening and/or remaining open will be made with input from local health officials," he said.
Just over 60 miles to the north, Norton city schools are expected to reopen Aug. 5 with about 80% of its students in the classroom and 20% online, Superintendent Gina Wohlford said.
"We will have all students in the classroom who choose to do so. We will have the virtual option for parents who opt out to do the virtual academy — so they have a choice," Wohlford said. "We did a survey, and about 20% indicated they wanted to be virtual. … Since our board meeting Monday, we've been contacting all our parents, and it's still about an 80-20 split."
Norton has about 775 students enrolled for this fall with about 95 elementary and 60 high school students opting for exclusively virtual learning, Wohlford said.
Model classrooms have already been set up to comply with distancing guidelines, and unnecessary furniture is being removed.
"Right now, about 225 are planning to attend at the high school. That is a number you can figure out how to social distance," she said, adding this one time its advantageous to be a smaller system. "For the most part, we've been able to set up for the 6-foot social distancing in almost all our classrooms. The ones we haven't, we've moved those classrooms to larger areas such as our cafeteria. Because we're serving food in the classroom, we can use the cafeteria as a classroom."
The first few days will primarily be dedicated to acclimating students and staff to mask wearing, social distancing, revised seating, eating in classrooms and other changes, she said. Instruction is expected to begin during the second week for all students, with Fridays dedicated to planning and virtual learning for all students.
"This is something we will be looking at weekly with our data from what the nurses input plus attendance data. Our planning team will meet weekly and assess where we're at before moving forward for the next week," Wohlford said. "It will have to be very fluid."
Neighboring Wise County plans a hybrid model, with one group of students in classrooms each Monday and Tuesday, another group in class Thursday and Friday and the remainder participating online, Superintendent Greg Mullins said.
"The transportation piece was real critical," Mullins said, adding they received an overwhelming response to a summer survey. "We took the numbers who needed transportation in the morning, those that would need transportation in the afternoon and took a look at what that would mean in terms of social distancing on buses."
The combination of transportation needs, social distancing guidelines for classrooms, square footage of rooms and buildings and other factors combined to prompt their decision to split students up.
Wise County also delayed its planned opening from Aug. 6 to Aug. 20.
"We are just beginning to see an increase, an uptick in cases in our county and some surrounding counties," Mullins said. "That gives us extra time to see where we are a month from now and to continue to refine our online learning platform and do some additional training with our teachers."
Days when students are not in class, lessons will be available online, but they don't necessarily have to be completed during the traditional school day.
"These [online] lessons certainly would be available to do that during real time with their teachers, but it may be when Mom or Dad, Grandma or Grandpa gets home at 8 that night that they pull up Google Classroom, and that's when they would do their lessons," Mullins said.
Dickenson, Lee, Smyth and Washington counties are among those planning a hybrid schedule similar to Wise, with students rotating between in-person instruction two days per week and distance or online learning the others. All plan to use Wednesdays for remediation, planning and cleaning facilities.
"The one lesson we are all learning in dealing with COVID-19 is that this is a constantly changing situation; that one question has a domino effect of bringing other questions and that answers may and will change due to changes in CDC, VDH and VDOE guidelines and circumstances around us," Dickenson County Superintendent Haydee Robinson said in a Facebook post about that division's plans. "We understand that these constant changes are very frustrating for parents and staff members alike."
In its plan, Smyth officials say reverting to a "100% distance learning situation is likely."
In Bristol, Virginia, Perrigan said, "If we [Bristol] end up going fully virtual at some point, that would have a huge impact on our families," Perrigan said. "If we go fully virtual, it's because there's a health metric in our community that causes us to believe its unsafe to have all our kids in school."
Perrigan, who also heads the Coalition of Small and Rural Schools in Virginia, said that is doubly challenging for some divisions.
"The biggest concern for rural school divisions [is] if you're providing a hybrid model or a virtual model, and all your families don't have broadband access," Perrigan said.
Mullins said Wise officials were surprised most of its students have devices — a tablet, laptop or home computer and some type of internet access.
"The high 70s percent of our students have access, have devices and are ready to go," Mullins said, adding that school officials are working with local internet providers to expand service.
"In situations where it's not possible, we're going to have all that [lessons] preloaded on devices that will go home with these kids. … We'll have thumb drives with material loaded on it, resource materials that we can enhance what we're doing at home. We feel like we can deliver instruction to everybody," Mullins said.
Additional state funding for the Virginia Department of Education's Virtual Virginia program was among the items cited in response to a recent legislative survey issued ahead of the General Assembly's Aug. 18 special session, according to state Sen. Todd Pillion, R-Abingdon.
Virtual Virginia offers online courses, digital content and professional development to schools, students and educators,
Nearly 77% of respondents said funding to help schools open and acquire supplies and resources to keep children, teachers and staff safe ranked first. Pay increases for teachers, additional paid leave for teachers and staff for COVID-related issues and increased funding for Virtual Virginia receives substantial support.
"As a father with four children in the public school system, I understand just how important reopening our schools is to nearly every family in Virginia. As a legislator, I know we cannot expect our schools and families to do this alone," Pillion said in a statement. "I appreciate the incredible work our school officials are doing as they figure out how best to serve their students, parents, faculty and staff. I am eager to get back to Richmond for the August 18 special session and support proposals that make sure they can do this safely and effectively."
Concerned about COVID-19?
Sign up now to get the most recent coronavirus headlines and other important local and national news sent to your email inbox daily.