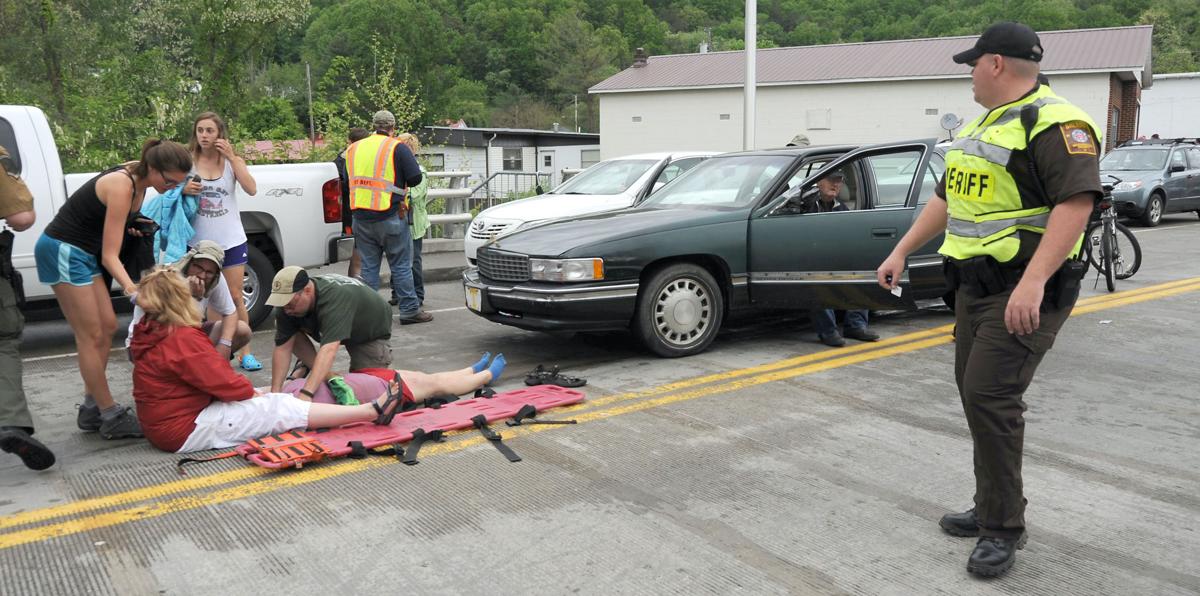 DAMASCUS, Va. — Despite thousands of hikers passing through town every year, it's been nearly four years since a pedestrian has been struck in Damascus, Virginia, and seven years since dozens were hit in the annual Trail Days Festival.
"We have a lot of foot traffic and bicycle traffic in town," said Damascus Police Chief Mike Hounshell. "The crosswalk complaints are probably one of the most voiced complaints I hear. Luckily, in my time here, we have not had a pedestrian-involved accident."
The Appalachian Trail and Virginia Creeper Trail bring many hikers through the center of the small Washington County town. The last time a pedestrian was struck by a vehicle was in October 2016, according to data from the Virginia Department of Motor Vehicles, which keeps track of crashes in the state.
Hounshell said a 6-year-old boy ran off the Creeper Trail and onto Douglas Drive. Near the intersection with Fritz Street, the boy got away from his parents and was struck by a vehicle. His injuries were only abrasions, the police chief said.
Before then, a number of people were hit by a vehicle driven by a man believed to have suffered a medical emergency during the annual Trail Days Festival in May 2013. The DMV data shows six people were injured, but there were reports of dozens being struck.
In the town of about 800 residents, Hounshell said he often gets complaints about vehicles not stopping at crosswalks.
"One of the issues we see is the pedestrian is up on the sidewalk, and it's difficult to tell if they are crossing," Hounshell said. "We also see driver inattention and not slowing at the crosswalk."
Hounshell advises pedestrians not to take for granted that someone is going to stop at the crosswalk.
"Pedestrians have to be aware that a parked vehicle near the crosswalk could be blocking a drivers' view of you, so don't just assume you can go," he said.
Damascus has taken some steps to improve pedestrian safety. The town purchased speed signs alerting drivers of the 25 mph speed limit. The signs also give officials an idea of the traffic volume and the speed of each vehicle that passes. 
"We purchased the crosswalk signs that sit in the middle of the road to alert drivers of the crosswalks," Hounshell said. "We try to make sure the street lights are working near the crosswalks so the area is visible for both pedestrian and vehicles."
Police officers patrol the crosswalks.
"I really think if folks would sit back and think if they could live with themselves if they hurt or killed someone trying to cross as a result of their reckless behavior, more care would be given," Hounshell said.
Bicycle traffic also presents challenges, the chief said.
"Most bicyclists don't know that riding a bike is just like if you were in a car," he said. "You must obey the same rules as vehicles. You cannot ride bikes on sidewalks, and you must ride with traffic and obey all traffic laws. A person on a bike is not considered a pedestrian unless he or she gets off and pushes, and that makes it difficult when folks think they can cross on a bike in a pedestrian crossing."
Police also receive complaints about near collisions involving bikes and pedestrians. As a result, the town has put up signs advising riders that they cannot ride on the sidewalks.
"Luckily, our bike shops do a great job telling families the rules and the safest places to exit the Creeper Trail to return to their shops," Hounshell said.
Paul Dhoore operates the Hikers Inn on Laurel Avenue, the main street through Damascus. He said he's not aware of any issues in the center of town but is concerned about one particular section of the Appalachian Trail.
"The section of the [Appalachian Trail] between the gas station and the Creeper Trail has no sidewalk at all, and that's hazardous for pedestrians, especially since thousands of AT through-hikers, section-hikers and locals walk that stretch every year," Dhoore said. "So in my opinion, the only thing that needs to be improved for the safety of pedestrians, is that half-mile of road without sidewalk."
Lisa Quigley, executive director of the Virginia Creeper Trail Conservancy, said improvement projects along the trail have helped pedestrian safety. Most accidents on the trail occur on the trail and not at intersections, she added.
Quigley said the Virginia Creeper Trail Advisory Board, which consists of trail owners and adjacent property owners, meets every other month to discuss safety issues, upgrades to amenities, new construction and other issues.
"VDOT has been particularly responsive to safety concerns on or near the trail," Quigley said.
She recalled a much-needed safety enhancement project of the state Route 91 bridge and construction of the Creeper Trail spur beneath the bridge at the intersection of U.S. Highway 58 and state Route 91 in Damascus. The Advisory Board worked closely with VDOT to get the $2.4 million project off the ground and in place quickly.
"This project turned around a very perilous crossing for trail users into a safe and attractive alternative that has dramatically improved safety by avoiding a very busy road crossing used for cyclists and pedestrians," Quigley said.
The safety of hikers on the trail is an ongoing process, she added.